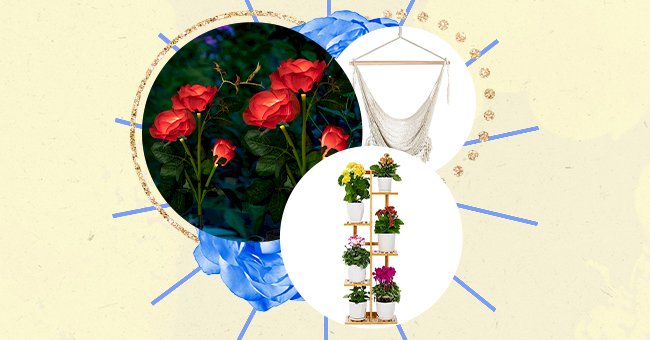 The Best Under $40 Outdoor Decor Pieces To Shop On Amazon
The onset of summer means spending more time outdoors. Therefore, revamping your outdoor space with ultra-chic and budget-friendly decor pieces becomes all the more important.
Regardless of the weather, refreshing your space is never a bad idea. But, of course, we're talking about fun additions and unique decorative gems, including throw pillows, outdoor lights, hammock chairs, and so much more.
Whatever you prefer, you will find something to please your heart and spruce up your outdoors. Below, find the best under $40 outdoor decor items on Amazon to welcome the summer season.
Blue Page Set of 2 Cotton Black and White Stripe Neutral Throw Pillow Cases
You can express your elegant taste in decor by choosing these neutral pillowcases. Moreover, their black and white stripe design will add a minimal and stylish touch to your outdoor setting.
Chihee Soft-Spun Cotton Hammock Chair
It's time to make your outdoors more relaxing with this Nordic-style hammock chair. Furthermore, you can hang this swing chair anywhere, including your garden, balcony, terrace, and attic.
Undoubtedly, it will provide you a snug sanctuary where you can enjoy your favorite book or a drink of your choice.
Lampat 25Ft G40 Globe String Lights
You can easily illuminate your outdoor space with these chic globe string lights. They can be placed in any setting, from patios and backyards to balconies and rooftops. Besides, they'll be a perfect addition to an intimate house wedding.
2 Pack Outdoor Rose Solar Decorative Lights
Give your rose bushes a romantic touch with the Rose Solar Decorative Lights. Interestingly enough, these solar flower lights are waterproof and weather-resistant so that no bad weather can ruin your garden party or wedding setting.
Heath Outdoor Products CF-133 Clementine Oriole Feeder
With this Health Outdoor Products Clementine Oriole Feeder, you can make friends with birdies and revamp your outdoors. Moreover, it comes with a removable glass cup and hanging chain so that you can place it anywhere you like.
Bamboo Plant Stand Rack 5 Tiers
It's time to give your plant babies some love with the Bamboo Plant Stand Rack 5 Tiers. Because of its space-saving, chic design, you can place it anywhere to add elegance to your space.
Likewise, it can hold plant and flower pots, souvenirs, books, and other decorative pieces.
Exclusive Home Curtains Indoor/Outdoor Solid Cabana Grommet
How about transforming your outdoor space into a dreamy romantic setting? Of course, we're talking about your secret fantasies coming to life because these Exclusive Home Curtains will turn your home into a vacation resort.