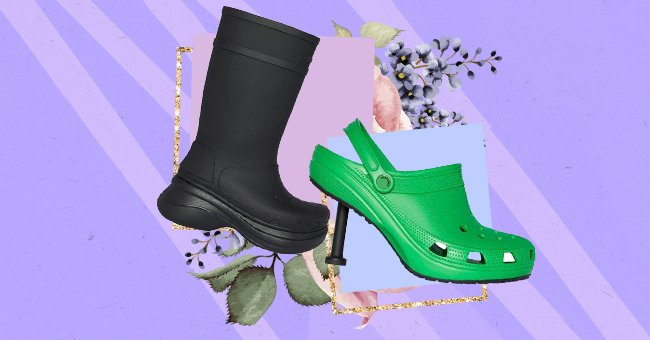 The Funniest Social Media Reactions To The Balenciaga Crocs 2.0
In 2017, Balenciaga and Crocs collaborated to create platform shoes that left people with mixed reactions. This year the luxury brand is back at it again with a Balenciaga Crocs 2.0, and reception from social media users is a mixed bag.
Balenciaga's Spring 2022 showcase —titled "Clones"— caused a buzz not uncommon for the luxury fashion brand. The collection included some of Balenciaga's signature tailoring contrasted with some playful pop-culture nods, but the revitalization of its notorious collaboration with Crocs was undoubtedly surprising for spectators.
The most recent iteration of the Balenciaga, the popular clogs are rubber-heeled mules and chunky rain boots. The shoes come in all black and lime-green colorways.
Balenciaga Crocs 2.0
While the internet may have expressed a confused uproar in response to the footwear, if numbers don't lie, one can't help but be intrigued by the shoe. After all, those revamped platform clogs reportedly sold out in pre-orders.
It can't come as a complete surprise with the current resurgence in the comfortable clog. The Crocs agenda has been rife, especially over the lockdown where the shoe skyrocketed in popularity, generating buzz on Instagram and TikTok. In addition, the shoe has had multiple successful collaborations, including one with Justin Beiber.
From the humble Birkenstock to dad sneakers, the rise of "ugly shoes" is imminent. Despite this, Balenciaga's utilitarian rain-boot and the sky-high Croc pump are getting mixed reactions.
Social Media Reactions To The Balenciaga x Crocs
For some people on Twitter, their mixed feeling towards these shoes could best be portrayed with a classically indecisive gif.
Some Twitter users were just hoping that this collaborative piece by Balenciaga was a hoax. "LMAO please say sike," one person said.
It appears that more than anything, people aren't feeling like this was a that was a necessary change to the croc. The drop left many with questions.
"Balenciaga baby, what is this?"

One TikTok user asked via Twitter.
Admittedly, the rain boots generally went down significantly better than the heeled clog which received a majority of the flack. Regardless of what side of the "ugly shoe" debate you hang your coat, one thing is evident that the topic is in and of itself is bound to garner widely differing reactions.