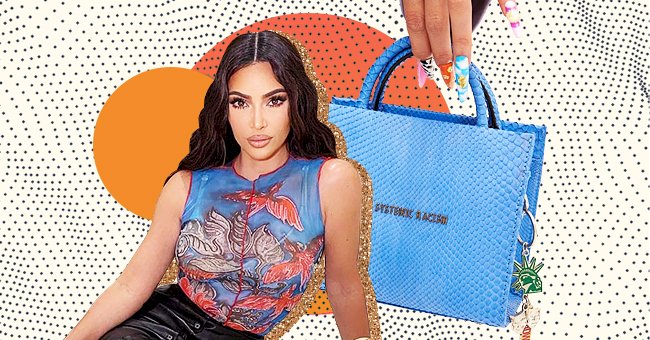 The Genius Behind Kim K's Bold 'End Systemic Racism' Bag
Brandon Blackwood is the hottest new name in fashion and social justice. The young, black designer saw an opportunity to bring some attention to the issues that matter in 2020.
Brandon Blackwood is a New York-based designer who has been designing bags for several years. His social media following is quite impressive, so he can address social issues to a broad audience.
This year's Black Lives Matter protests pushed Blackwood to fight racial injustice with fashion. His famous 'ESR' tote has sold out consecutively, and Kim Kardashian even supported the brand's message in a post.
Meet Brandon Blackwood
Brandon has been in the fashion space for years before his signature mini tote blew up on Instagram. The young designer is of Jamaican and Chinese descent and has spent his life in New York and Tokyo.
In 2015, Blackwood created a four-piece bag collection that caught the attention of publications like Vogue. The esteemed collection propelled Brandon's brand, which makes leather goods and accessories.
All About The Bag
We saw the fight against systemic racism reach a devastating peak this year during protests. Brandon, who has been affected by racial injustices, felt awful about continuing his work during this time.
His connection to the cause and drive to impact against the inequalities birthed the 'ESR' tote. Blackwood soon launched a neutral bag with 'End Systemic Racism' engraved on it, and it instantly went viral.
A Meaningful Instagram Hit
Fashion bloggers, influencers, and regular stylish women flocked to purchase the $50 accessory. This tote even sold out on four occasions before receiving the famous Kim Kardashian West stamp of approval.
"Systemic oppression is displayed throughout all walks of life, including fashion.

Says Brandon Blackwood
Brandon's creation highlights the need for people to speak out in their respective industries. Systemic racism exists in all spheres of life, and the bag became a suitable accessory to create awareness of this.
Fighting Systemic Racism With Fashion
The Brandon Blackwood 'ESR' tote sends a loud and clear message without having to say a word. Although the bag's design is bold enough, Blackwood takes things a step further by donating its proceeds.
"Offering pro-bono legal aid and counsel to POC tackling civil rights cases, I wanted the funds to [directly] fight against systemic racism and oppression. And that's what this organization does."

Says Brandon Blackwood
Money made from this bag's sales contributes to the Lawyers Committee For Civil Rights Under Law. The committee offers pro bono legal aid to POC, which directly bolsters the fight against systemic racism.