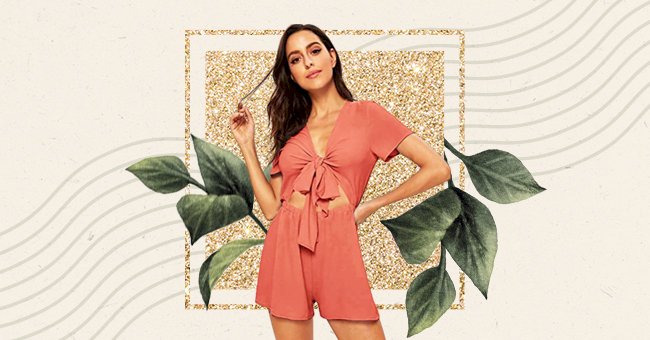 The Most Comfy & Stylish Summer Dresses To Upgrade Your Wardrobe
If you're looking for ways to update your summer closet, we're here to help. These ultra-chic, soft, and comfortable dresses will become your go-to options for the beach, picnics, and everything in between.
Have you ever felt uncomfortable in a gorgeous dress? Sometimes in our efforts to look pretty, we can end up with a strained, hurtful experience. So the question arises, how can one fix such wardrobe woes?
Allow us to take you into the world of stylish and comfortable fashion choices. We're talking about dresses that feel like a second skin and exuberate classy vibes. Please take a look at our selection of the comfiest and chic summer dresses on Amazon. Happy shopping!
SweatyRocks Tie Front Short Romper
This SweatyRocks Tie Front Short Romper dress will help you tread in style. Its flattering v-neck and sexy self-tie front are enough to drive people wild. Pair it with a straw hat and platform wedges.
Relipop Mini Dress Romper
Wear this gorgeous Relipop Mini Dress Romper to your next Sunday brunch, and you'll be turning heads and stealing hearts. Moreover, it comes with a ruffle hem and baggy sleeves, so you look classy at all times.
DvaeMalligo Denim Romper
Is it even possible to get tired of denims? This sexy casual DvaeMalligo Denim Romper dress is giving us major summery vibes. Pair it with a wide-brimmed hat and your favorite stilettos, and you're all set to rock and roll.
Relipop Floral Romper
Relish in the feel-good vibes this summer with the Relipop Floral Romper dress. Its pretty floral print makes it an elegant choice for any occasion, including casual and formal.
Kirundo Pleated Dress
You can pair this charming Kirundo Pleated Dress with a straw bag and beach hat. Choose from a wide range of pastel and vibrant colors, and look put together with your favorite sunnies.
Fowsmon Ruffle Dress
Dress up or down and flatter the crowd with this Fowsmon Ruffle Dress. Its long sleeves, ruffle style, and loose-fitting will keep you comfy all summer. Pair it with knee-high boots and a sunhat.
Tommy Hilfiger Sleeveless Shirt Dress
Look classy and sporty on a budget with this Tommy Hilfiger Sleeves Shirt Dress. You can pair it with white sneakers and a sporty cap to finish off your look.