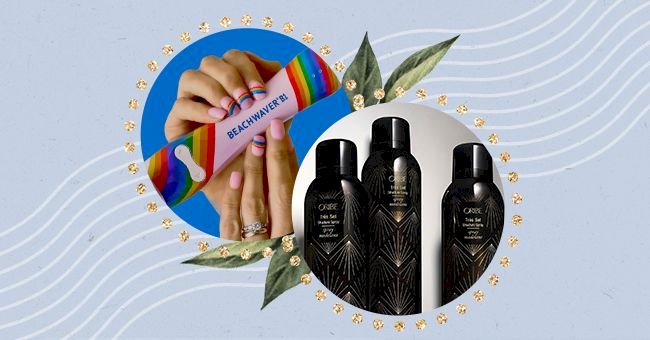 The Most Exciting New Hair Products Launching In June
If your bad hair days are messing things up, maybe it's time to spruce up your hair care routine. Luckily, this month's product lineup has everything you need and more, so you can welcome the summer season in style.
The month of June marks the official start of warm weather. As you all know, seasonal changes also call for updates to our beauty, skin, and hair care routine. And the best way to introduce some newness in your life is by investing in new products.
Because the heat and humidity aren't always kind to our hair, it's best to rely on products that will keep you protected on the go. Next, take a look at all the hair care products that should be on your radar this month and all summer long.
Oribe Très Set Structure Spray
While texture sprays come in all shapes and sizes, Oribe's Très Set Structure Spray follows a different philosophy. This mist-to-mousse formula adds body, volume, and bounce to the hair, leaving it soft and shiny.
Moreover, it also acts as a heat protectant, shielding the hair cuticles from heat and humidity.
Amika Dynamic Duo Dry Shampoo Lover's Set
Dry shampoos are gradually gaining popularity because of their effective formulas and non-greasy texture. So if you're planning to add one to your hair care routine, look no further than Amika.
The brand's Dynamic Duo Dry Shampoo Lover's Set is designed to provide gentle cleansing to your scalp and hair. This hair treatment helps wash away excess oil, dirt, and product buildup, giving your hair a freshness boost.
Beachwaver B1 Love
In honor of Pride, Beachwaver has collaborated with the It Gets Better Project to empower LGBTQ+ youth. This innovative styling iron is a part of the brand's limited-edition Love Collection and is a must-have summer hair product.
100% Pure Texturizing Dry Shampoo
100% Pure is known for creating clean, natural, and cruelty-free products. This Texturizing Dry Shampoo is packed with bamboo silica, biotin, and provitamin B5. Together, these powerful ingredients cleanse the scalp and add volume and strength to hair strands.
Rusk Fresh Pomegranate Color Protecting Hairspray
All the continuous dying and bleaching can damage our hair's natural texture and shine. Rusk Fresh Pomegranate Color Protecting Hairspray contains pomegranate extracts, which shield the hair from UV rays, dryness, and color fading.
Phyto Color Permanent Hair Color Dye
If you've missed numerous salon appointments in a row, grab your Phyto Color Permanent Hair Color Dye. It comes in 15 different shades and contains botanical pigments which soothe and nourish the scalp.
Kérastase Curl Manifesto Curl Enhancing Leave-In Cream
We end our June product lineup with this exciting Curl Enhancing Leave-In Cream from Kérastase. This hydrating hair treatment not only adds definition and volume but also hydrates and detangles the hair. It's time to rock your curls, baby girl!