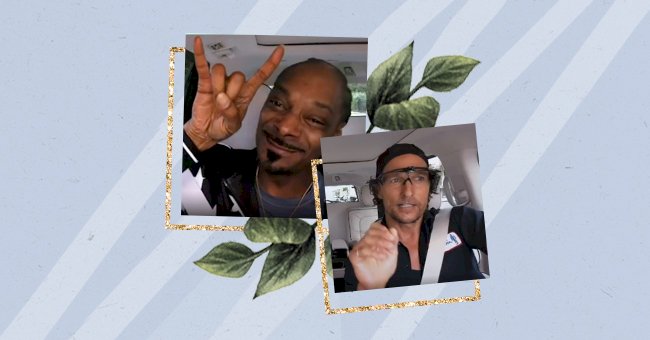 The Top 10 Celebrity 420 Celebrations
This Tuesday, stoners around the world took some time out of their days to celebrate 420. The unofficial holiday has many eager participants, and they include some of your favorite celebrities.
Hollywood must have been a smoke cloud with all the celebrities taking part in 420 festivities on Tuesday. Many famous stars have been open about their cannabis consumption and aren't shy to celebrate publicly.
420 has grown into a globally recognized unofficial smoking date with various events and activities. It has become a popular celebration. Read more to take a look at how ten stoner celebrities enjoyed 420 this year.
Whoopi Goldberg
Whoopi celebrated this 420 by announcing that she is launching her own cannabis brand called Emma & Clyde. The EGOT winner announced Black Cannabis Magazine's 420 issue cover.
Snoop Dogg
Snoop Dogg released a series of animated NFT's and hosted a virtual 420 event with Weedmaps this year. The weed-centered event included a star-studded lineup of singers, rappers, and comedians.
Demi Lovato
Demi lit an extraordinary bong on her Instagram story and captioned it 'Happy 420' on Tuesday. Lovato recently revealed that she was California Sober after being entirely sober in an episode of her latest documentary.
Chelsea Handler
Chelsea spent her 420 enjoying the outdoors and the company of her dog while smoking a joint. The swing moment comes a day after Chelsea's Time op-ed about expunging cannabis-related criminal records.
Alicia Silverstone
Alicia threw it back to an iconic 'Clueless' moment for 420 this year, and it was epic. Her character Cher makes celebrating 420 look so chic. Who wouldn't want to be rolling with their homies in an Alaia dress?
Wiz Khalifa
Wiz celebrated by sharing some much-needed advice on the Twitter timeline. He also performed at Snoop Dogg's 420 'Even Higher Together' event alongside his crew, Taylor Gang, and several other artists.
Kerry Washington
Kerry Washington may not seem like a cannabis enthusiast, but her character on 'Little Fires Everywhere' is. The actress didn't miss out and celebrated the day by sharing an image of her character lighting up a pipe.
Lauren Jauregui
Former 5th Harmony band member Lauren Jauregui celebrated by sharing a sultry picture of herself smoking. The caption called for the legalization of weed and freeing the people currently arrested for selling weed.
Tove Lo
Pop singer Tove Lo celebrated her 420 by announcing the release of her 'Stay High' merchandise T-shirts. 'Stay High,' also known as 'Habits,' is one of the Swedish musician's best-performing songs.
Matthew McConaughey
Movie star Matthew McConaughey celebrated 420 with his stoner friend and former co-star, Snoop Dogg. The duo cruised while singing along to Willie Nelson's 'On The Road Again' and Snoop's 'Drop It Like It's Hot.'