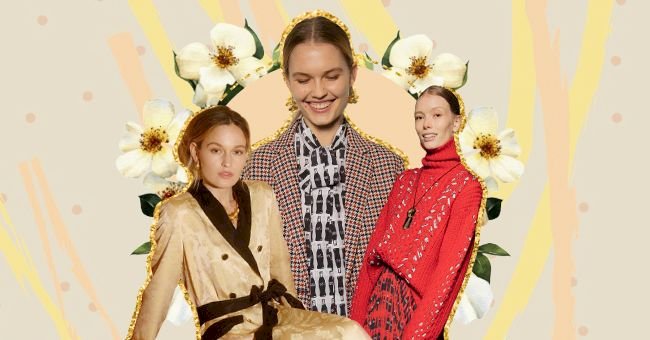 The Top 10 Looks From NYFW Fall-Winter 2021
From Markarian's luxe floral dresses to Prabal Gurung's classic polka-dots and Ulla Johnson's handknit tunic, the digital NYFW served major style goals for 2021. We are already falling for the gorgeous fall-winter lineup.
The pandemic may have followed us in the new year, but the fashion front is all set to carry on with the show. While the thrill of live action is missing from the runway shows and ramp walks, we have the virtual event coverage to catch up on the most iconic style moments.
This year, we have a perfect blend of classic, modern and fusion dresses dominating the fashion charts, so there's plenty to consider for your on-trend wardrobe upgrade by the year end. These are our top ten favorite looks from the NYFW's fall-winter collection for 2021.
1.Markarian Floral Smoking Dress
This dreamy Markarian Dress features a floral design and a thigh-high slit, perfectly balancing elegance and style. The black borders and front belt looks mesmerizing on golden base, making this jacquard smoking dress an excellent pick.
2.Markarian Floral Jacquard Gown
Black has a timeless magic which is hard to match, just like this stunning black gown with swarovski crystal trim. The cut-out-shape and floral pattern take beauty to a whole new level.
3.Alice+Olivia Grunge Meets Glamor
Black makes an appearance again, this time with Alice+Olivia's GossipGirl collection. It brilliantly showcases the amalgamation of uptown glamor and downtown grunge with that added iconic factor.
4.Prabal Gurung Polka-Dots
Polka-dots are a wardrobe staple, regardless of the transition in seasons and fashion arcade. Prabal Gurung's tribute to this classic trend features off-the-shoulder black dress and full length black and white fitted bodysuit.
5.Victor De Souza Vintage Dress
This old world-inspired collection features vintage-themed outfits with short body shirts and long, flowing skirts. The sporadic floral pattern across the entire skirt length looks mesmerizing.
6.Jason Wu's Coca-Cola Inspired Dresses
This poppy red high-neck paired with a long, flowy skirt is one of the many stunning fabric pieces featured at Jason Wu's fall-winter collection inspired by the global brand Coca-Cola. It featured oversized blazers, warm parkas and long dresses in the fall color schemes of black, purple, red and blue.
7.Ulla Johnson's White Knitwear
This pure white handknit tunic knitwear is warm, cozy and elegant. Johnson's knitwear collection featured mongolian cashmere and lofty baby alpaca knits woven into gorgeous sweaters and tunics.
8.Glemaud's Ode To Hope Orange Dress
Experimenting with warm and bright color palettes to highlight the spirit of hope, Glemaud's fall-winter collection is a welcome sight for sore eyes. This refreshing orange shirt and pant pair is a splendid option for minimalists.
9.Alyx Studio Divine Blue Dress
This light blue, backless short body dress is a stunning departure from the long, flowy fabric and knitwear pieces. It comes with a sleek and stylish finish, full-length sleeves and a fitted design to highlight your silhouette.
10.Markarian One-Shoulder Dress
Inspired by the artsy vibe of the Roman era, this floral brocade dress is an ode to timeless elegance and class. The floral pattern and high attention to detail make this designer wear a staple for parties.