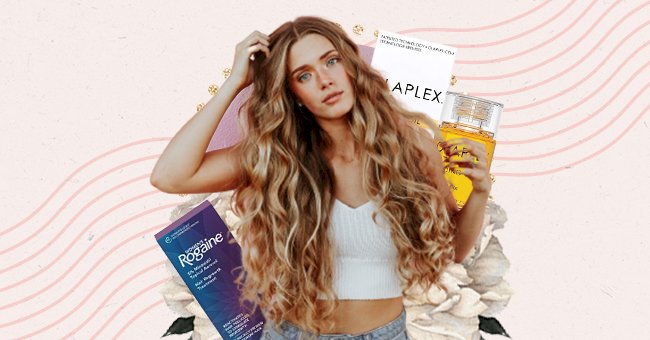 The Top 5 Hair Growth Oils For Longer, Thicker Hair
Having longer, thicker hair strands is everyone's dream. Surprisingly, there are excellent formulas available in the market which reduce breakage and promote healthy hair growth.
"Look for a formula that's light enough to penetrate the scalp without leaving a residue on the hair fiber...formulated to increase cellular turnover, reduce inflammation, respect the natural balance of the scalp's microbiome, and can be shampooed out."

added Bridgette Hill, certified trichologist and creator of Root Cause Scalp Analysis.
On average, hair growth takes time, coming down to approximately half an inch per month. While there's no magic potion to help with drastic hair growth overnight, here are the best hair oils that can contribute to longer, healthy hair over time.
Rogaine Women's 5% Minoxidil Foam for Hair Thinning and Loss
Rogaine Women's 5% Minoxidil Foam is an all-rounder for hair growth. It contains minoxidil, the only FDA-approved hair growth ingredient in the US. This foaming solution is suitable for treating thin hair and hair loss.
Minoxidil helps in regrowing the hair by boosting hair protein production and follicle activity. It also contains botanical extracts and AHA, which gently exfoliate and nourish the scalp to promote healthy hair growth.
The Mane Choice The Alpha Multi-Vitamin Scalp Growth Oil
The Mane Choice Scalp Growth Oil is a nourishing formula enriched with multivitamins and essential nutrients. It helps recharge inactive hair follicles and rejuvenates the scalp to stimulate hair growth from the tip.
It is a lightweight and non-greasy hair oil that provides deep hydration without feeling sticky. This multivitamin hair treatment contains nourishing oils and vitamins C and D to promote healthier and longer hair strands.
Essy Naturals Natural Hair Growth Oil with Caffeine and Biotin
Essy Naturals Hair Growth Oil has over 4,000 raving five-star reviews on Amazon. It is scalp nourishing formula that fortifies thin and weak hair, making it stronger, thicker, and healthier over time.
This hair oil contains vitamins, antioxidants, and nutrients that help in stimulating the scalp and hair follicles. It is packed with castor and rosemary oil and caffeine and biotin to provide deep hydration to the scalp and restore the fuller, longer hair look.
Briogeo B. Well Organic + Cold-Pressed 100% Castor Oil
Castor oil is considered one of the most effective hair growth oils. It helps in retaining moisture, softens and strengthens the hair strands, and promotes a healthy scalp.
Briogeo Castor Oil works in revitalizing the hair strands. It can also be used on your skin, like your eyelashes and eyebrows, to provide a healthy supply of hydration and help lock in moisture.
Olaplex No. 7 Bonding Oil
If the excessive styling and heat have taken their toll on your hair, try this reparative Olaplex No. 7 Bonding Oil. This weightless formula makes the hair soft and manageable while also strengthening the hair strands.
It contains moringa and sunflower oils which rejuvenate the hair, restoring its lost shine and silky-smooth texture. This bonding oil also protects your hair by minimizing damage and breakage.