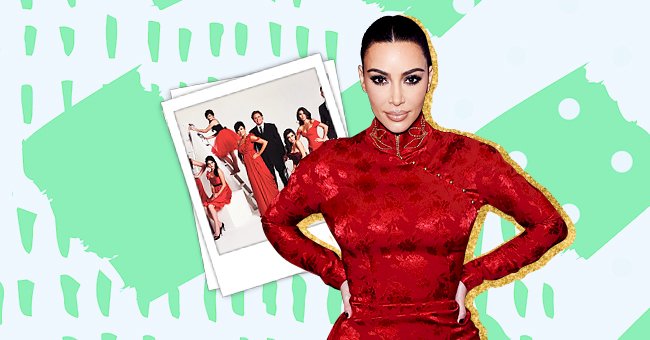 The Top 5 Kardashian Christmas Cards
It isn't Christmas without a greeting card from our favorite families. The Kardashian Jenners have treated their fans and friends to spectacular family Christmas cards for over 40 years.
We've all been part of the Kardashian Jenner family since the premiere of their show in 2007. Since then, we've kept up with our favorite TV family and have even been added to their Christmas card list in the process.
We look forward to a Kardashian Christmas card every year, but this year may be different. Since we may miss out on a card in 2020, let's take a look at our five favorite Kardashian Christmas cards from the past.
Full Glam In 2008
This year was the beginning of an era for the Kardashian clan just a year after their first season. Keeping Up With The Kardashian's was a success on television, and the family produced stars overnight.
Kim, Khloe, and Kourtney had the world wrapped around their fingers with their fun and real storylines. The glamorous Christmas card truly showcased their rise in success and several magazines' spreads to come.
The Crazy Card In 2013
By 2013 the Kardashian family was not afraid to do anything over the top, and their card showed it. The Kardashian Jenners had already had their fair share of scandals and wild stories to turn into art.
The card shot by David LaChapelle features tons of Easter eggs, such as Kanye West on Rolling Stone covers. This card may be bizarre to some, but we love the extreme display of the Kardashian fame.
Kardashian Kids In 2015
After their notable absence in the Christmas card game in 2014, the family came back a little differently. The 2015 Christmas card was an adorbale display of the four Kardashian kids dressed in all black.
The Most Interesting To Look At In 2017
The Kardashians gave us not one but twenty-five gorgeous pictures from their Christmas shoot in 2017. This Christmas card famously did not go down very smoothly, with scheduling differences causing fights.
Kim famously proclaimed that Kourtney was the 'least interesting to look at' after being difficult about the shoot. Although there was plenty of family drama, the outcome was gorgeous, which is all that matters.
Cozy With The Kardashian Wests In 2019
We're guessing that Kim was avoiding more scheduling conflicts when she organized her family shoot last year. The card only included Kim, Kanye, and their four children in one of the cutest Christmas cards to date.