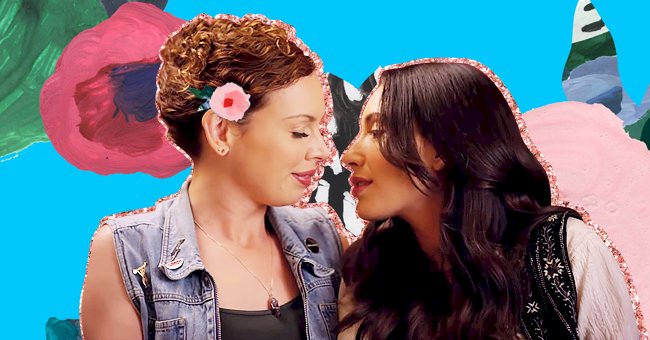 The Top 5 Steamy LGBTQ+ Movies To Add To Your Watch List
If you are looking to watch a steamy movie that isn't cis-hetero centered and you don't know where to start, don't despair. We've compiled a list.
You may have noticed that Netflix has a sexy category. You may be curious about what's worth watching in said category.
Netflix can be overwhelming with all of its options. Sometimes you don't even know where to begin. Here's a list of five steamy LGBTQ+ movies you'll want to watch.
1.'Good Kisser' (2019)
You know, when you are in a long-term, committed relationship, you start to get really comfortable with your boo thang. That's pretty much this film.
Jenna (played by Kari Alison Hodge) and Kate (played by Rachel Paulson), in an attempt to fire up the old furnace, so to speak, invite a third over for a night. The stove works now.
2 .'Duck Butter' (2018)
Imagine going out with for a casual night of drinks. You meet a stranger, and you decide right there and then that you'll spend the next 24 hours together. Doing what you ask?
Getting to know one another and having uninterrupted and frequent sex. Sound crazy? That's Duck Butter.
3. 'The Feels' (2017)
At Andi (Constance Wu) and Lu's (Angela Trimbur) joint bachelorette party, Lu let's slip that she's never experienced an orgasm before.
Feeling embarrassed, Andi sets out to rectify that before getting married, even if it takes all weekend. Sounds like a plot to a steamy film, to me.
4. 'God Own's Country' (2017)
Josh O'Connor, who is now known for his stellar portrayal of Prince Charles on Netflix's highly acclaimed, The Crown, plays a lamb farmer named Johnny Saxby in 'God Own's Country.'
Well accustomed to nights of binge-drinking and casual sex, his world is spun on its head when Romanian migrant worker Gheorghe Ionescu (Alec Secareanu) shows up to help for the new season.
5. 'When Night Is Falling' (1995)
What do you get when an uptight woman who likes to play by the rules and a free-spirited circus performer? A lot of broken rules, that's what.
The protagonist, Pascale Bussières, is well portrayed by Camille Baker. She went on to win a Genie Award for Best Performance by an Actress in a Leading Role.