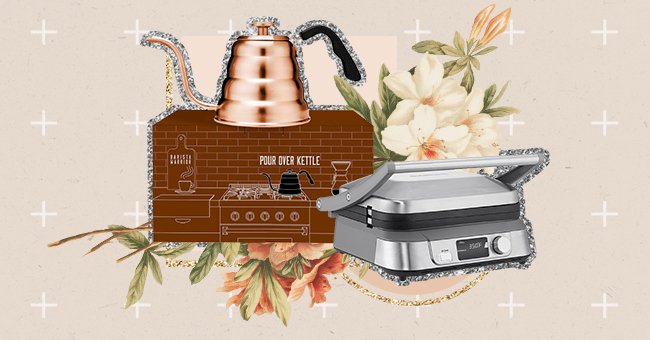 The Top-Rated Kitchen Products To Shop From Amazon's Most-Loved Section
If you're tired of using the same old kitchen utensils, it's time to invest in something new. From a dual-zone technology air fryer to a stainless steel electric griddler, these kitchen gadgets are worth a place on your counters.
Our kitchens deserve to look prim and proper at all times. That's because we spend ample time either cooking or planning our daily menu. Therefore, having a myriad of exciting kitchen accessories at your disposal can make a world of difference.
We scoured Amazon's most-loved section to find the top-rated kitchen products for you. These best-sellers from the "home and kitchen" section will revolutionize your time in the kitchen. Happy cooking!
Barista Warrior Stainless Steel Pour Over Coffee & Tea Kettle
This Stainless Steel Pour Over Coffee & Tea Kettle comes with a built-in thermometer and gooseneck spout. It allows you to brew your coffee and tea at an optimal temperature. Moreover, it's made from premium quality steel and is rust and leak-free.
Marble French Rolling Pin With Stand
Appease your inner chef with the Marble French Rolling Pin With Stand. You can use it to prepare delicious pizzas, pasta, cookies, pies, and what-not. Unlike classic wooden rollers, it's easy to clean and convenient to use.
Lodge Color Enameled Cast Iron Dutch Oven, Pumpkin, 6-Quart
With a five-star rating and over 26,000 raving reviews, this Lodge Dutch Oven is worth checking out. It comes in 12 different colors and is an excellent choice for cooking soups, stews, pasta, and mixed veggies.
Retro Stainless Steel 2 Slice Toaster
Replace your plastic toaster with this Retro Stainless Steel 2 Slice Toaster. It comes with extra-wide toasting slots to fit larger bread slices and bagels. Also, it features a removable slide-out crumb tray, which collects the breadcrumbs for ease of cleaning.
Eurolux ELCJ-1700 Electric Citrus Juicer Squeezer
You can now prepare refreshing fresh juices at home with this Electric Citrus Juicer Squeezer. It is compact and easy to use and allows for maximum juice extraction.
Cuisinart Electric Griddler, Stainless Steel
Make your summer deliciously fun with this stainless steel electric Griddler. It features an LCD and easy-to-navigate digital controls for ease of access. You can prepare anything from steaks and grilled sandwiches to paninis and veggies.
Ninja DZ201 Foodi 6-in-1 2-Basket Air Fryer With DualZone Technology
An air fryer can be a worthwhile investment for your kitchen. This Ninja Air Fryer comes with two independent baskets so that you can cook two foods simultaneously. Moreover, its dual-zone technology allows both your meals to be prepared together.
It also comes with six customizable programs, letting you prepare a plethora of dishes. So surprise your family with wholesome meals, from starter and main course to desserts.