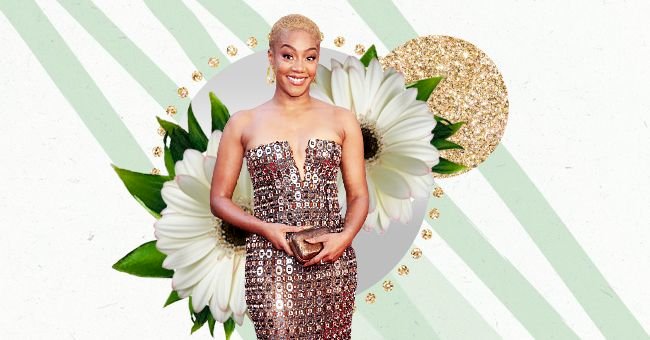 Tiffany Haddish Stuns Fans With Blonde Hair At Golden Globes 2021
The 78th Golden Globe Awards, which honored the best in American television of 2020 and film in 2020 and early 2021 took place last night. Of all the guests who stunned the red carpet, Tiffany Haddish took her fans by surprise.
We can all remember that in July 2020, Tiffany took to Live Instagram to cut off her hair by herself because she wanted to see her scalp. By her third video, she had a friend who helped her trim her hair further down with a clipper.
This move shocked fans as they didn't know what to expect and how she would be styling her hair after that. For Tiffany, this was a move she had always longed for, and she finally did it. However, on the Golden Globes red carpet, Tiffany revealed she had gone blonde, and the look was stunning.
What Tiffany Haddish Wore To The Golden Globes
Tiffany Haddish presented the Best Animated Motion Picture award in a custom strapless Alberta Ferretti brown-and-silver column evening gown as styled by Luxury Law. The dress featured rows of ornate, mirrored gems to create a mesmerizing and alluring pattern.
The 'Girls Trip' star and comedian styled the look with a pair of textured oversized gold hoops from Messika Paris, a matching, equally-glittery clutch, and black pointed-toe pumps. Tiffany looked beautiful with her short blonde hair, glowy nude makeup, and a nude glossy lip for glam.
Tiffany's New Hair Color
On the red carpet, much to most of her fans' delight, Tiffany debuts her short blonde hair. To match her honey-blonde cut, her makeup had a bronze tone to it, and even her nails fell in line with her look.
Celebrity hairstylist Ray Christopher handled the hair which was colored before the event. He opted for honey-blonde curls and used Sh-Rd Protein Cream and Red Ginseng Activating Shampoo to sculpt her hair.
Fans React To Tiffany's Look
While fans were initially skeptical about her haircut, this look was something they all loved, and we love it too. Most of them took to Twitter and Instagram to share their love for her hair.
"If @Mattel would make a Tiffany Haddish at the #GoldenGlobes barbie, I would purchase 2. One for my walls and one for someone's child"
When she flaunted her look on Instagram, she wasn't sure if she liked it but she was sure she was into it. And her fans are even into it more as there were compliments from gorgeous, to stunning and more flying over the net about her looks,