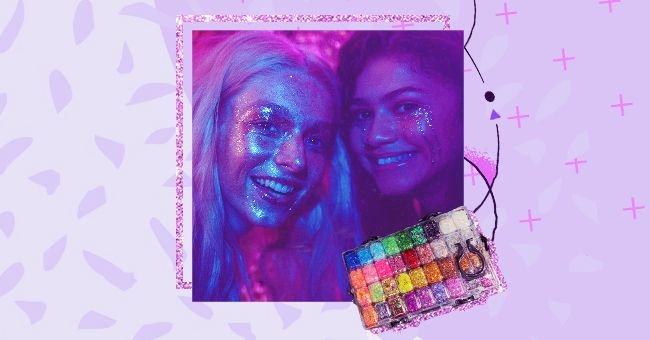 TikTok Uncovers Dupe for $250 Glitter Palette Used On 'Euphoria'
Good quality makeup can come at a price that most people aren't able to pay. Thankfully, dupes exist to offer us more affordable alternatives to recreate our favorite professional makeup looks.
The beauty world saw a shift in makeup trends a few months after HBO released Euphoria in 2019. The show's unique costume and makeup started to influence how young adults approached beauty.
Although the show's expressive makeup looks are inclusive, the price tags for its products aren't. Fortunately, you can count on TikTok to find an affordable dupe so that everyone can stay on-trend.
Glitter Goals
When you think of Euphoria, you don't merely think about a young adult television show. Euphoria influenced a new wave of experimentation with beauty, especially out of this world makeup.
Rhinestone eyebrows, glitter tears, embellished wings, and colorful eyelashes were trendy and desirable. Maddie, Kat, Jules, Cassie, Rue, and even Nate's most memorable looks used glitter, making it the show's staple.
The brand created the palette for professional makeup artists, which would also explain the pricing. Fortunately, TikTok user @saracappelli51 shared a dupe discovery that would soon trend on the app as an accessible option.
TikTok Dupe
A TikTok user called @saracappelli51 shared her affordable glitter palette discovery with her followers. The hairstylist and professional makeup artist identified a $65 Designer Dust palette as a suitable dupe.
In the videos, Sara compares the two palettes' attributes, showing the benefits of buying the dupe. She presents the Ultimate 24 Face Sprinkles Palette as she speaks, showcasing the color range and sparkle.
"So as we know I purchased the $250 glitter palette that they used on Euphoria...and I found a better one for much cheaper! They may not be the exact same color story, but this is going to be better for the type of glitter applications people are using,"

Says Sara Cappelli
Sara explains that the dupe's chunkier glitter pieces will make the application consistent for beginners. Lastly, she explores the details of the lockable seal packaging that keeps glitter safely contained and clean.
Palette Differences
Many makeup lovers have been misidentifying the same makeup palette that artists used on Euphoria. Although dupes can give us excellent results of identical makeup looks, we are still curious about the original.
Lemonhead L.A may have produced an excellent pro palette, but the official shades are part of an affordable set. The brand launched a Euphoric Pro-Squad glitter gel set inspired by Euphoria.
The $98 Euphoric Pro-Squad glitter gels include exact colors used in the show. The Euphoric set is more affordable than the Spacecase pro palette and will give you the show's quality if that is your preference.
With three glitter options available, anyone can experiment with Euphoria inspired looks no matter their budget. We hope to see more Euphoria inspired makeup TikTok videos from this wide selection.