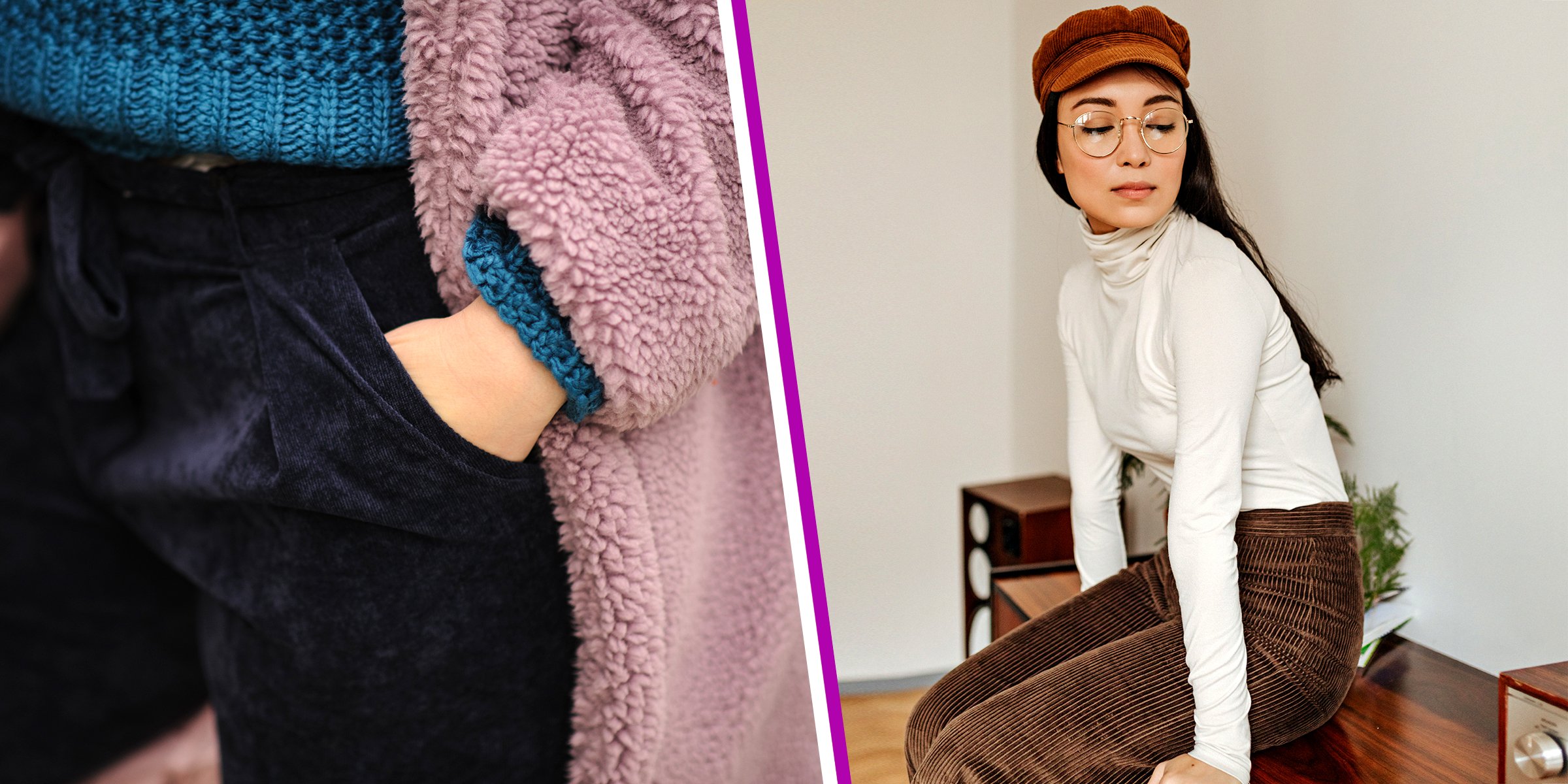 A woman in corduroy pants | Source: Shutterstock.com
Tips on How to Style Corduroy Pants and Look Fashionable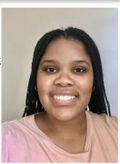 From flared to oversized, tips on how to style corduroy pants are essential for successfully rocking the chic trend during the winter season. And some celebrities like Kendall Jenner and Harry Styles have already shown fans how.
As Autumn leaves fall and the temperature transforms to winter's nippy chill, it signals the call for anything thick and warm– yet stylish– which includes corduroy pants.
A wardrobe and fashion show staple, the timeless winter piece is both practical and trendy. It can be dressed down in flats or sneakers or brought to life with a pair of heeled boots or red bottoms.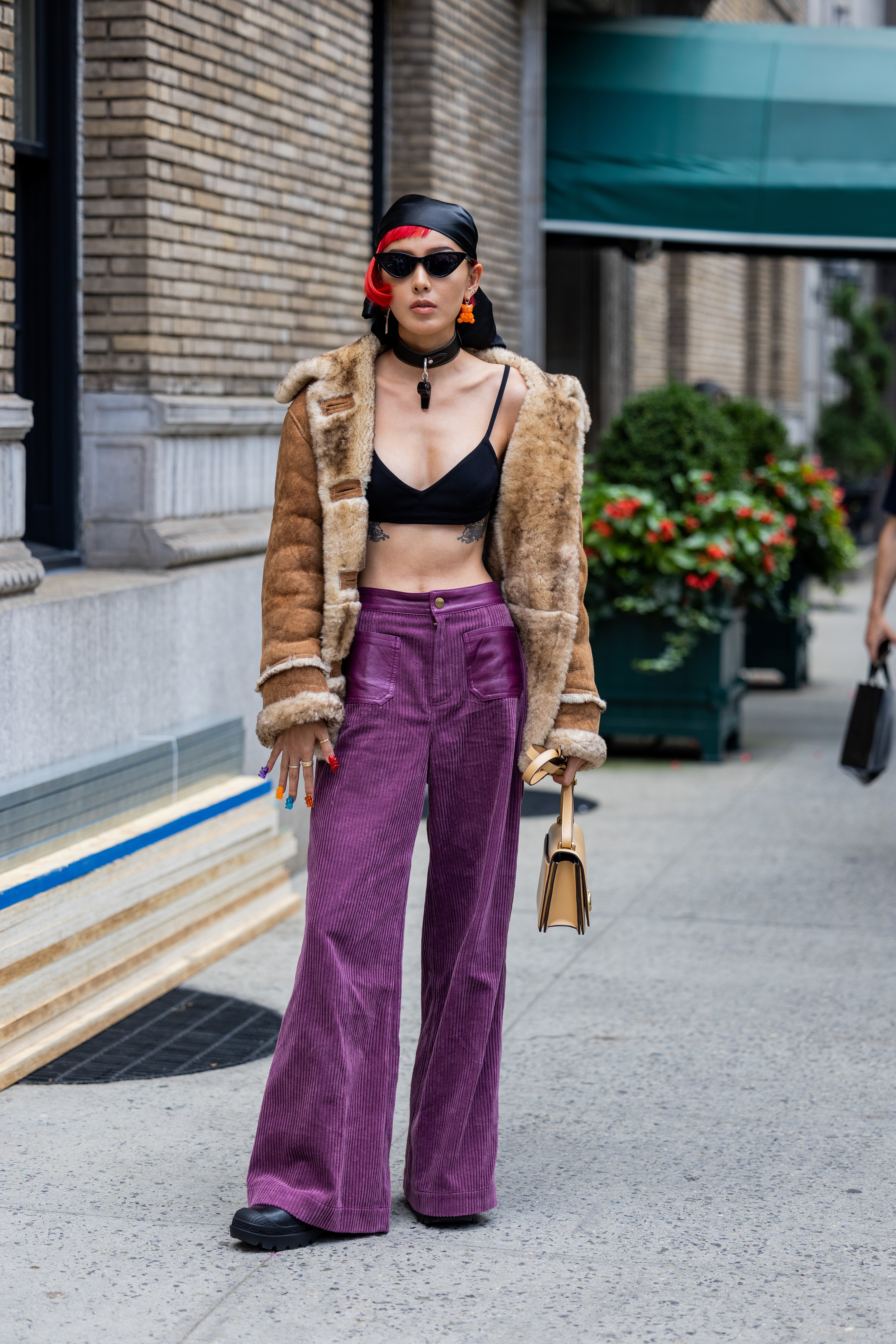 A woman photographed wearing purple corduroy pants on the streets of New York on on September 12, 2022. | Source: Getty Images
Choosing the Right Type of Corduroy Pants
From fashion shows to award shows and concert stages, beloved celebrities have proved the vintage look is back with flared pants. And to achieve a '70s-inspired outfit, flared corduroy pants are the way to go.
They can be paired with a turtle neck or platform shoes to achieve a retro look, accessorized with a cabby hat, or followed by a stripped shirt and chunky belt.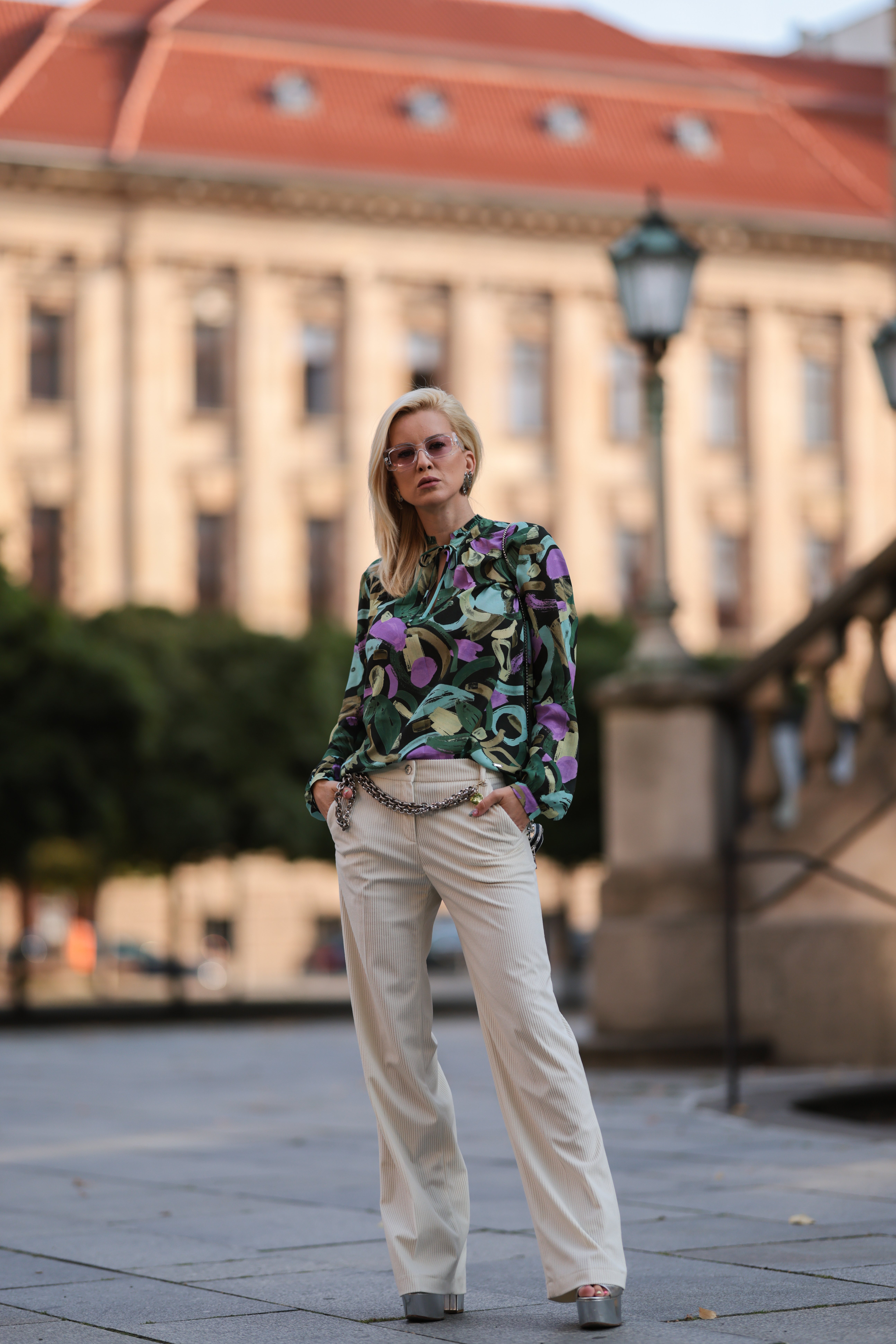 Palina Kozyrava wearing beige corduroy pants during Berlin Fashion Week Spring/Summer 2023, on September 06, 2022, in Berlin, Germany | Source: Getty Images
An icon in the fashion game, Harry Styles proved flared corduroy pants were in when he was spotted out and about sporting a pair of flared corduroy pants in 2020. Leading fashion magazine Vogue wrote:
"Corduroy clothing is a timeless winter wardrobe essential for a reason; its sturdy, warming fabric is sure to fight the chill on even the coldest of days."
For the younger crowd, baggy pants and cropped tops have been all the rave for a while. So, to add a millennial flare to a classic trend, loose-fitting jeans can be replaced with a pair of oversized corduroys and paired with a little shirt, strapless or long-sleeved.
Best Top Ideas for Pairing with Corduroy Trousers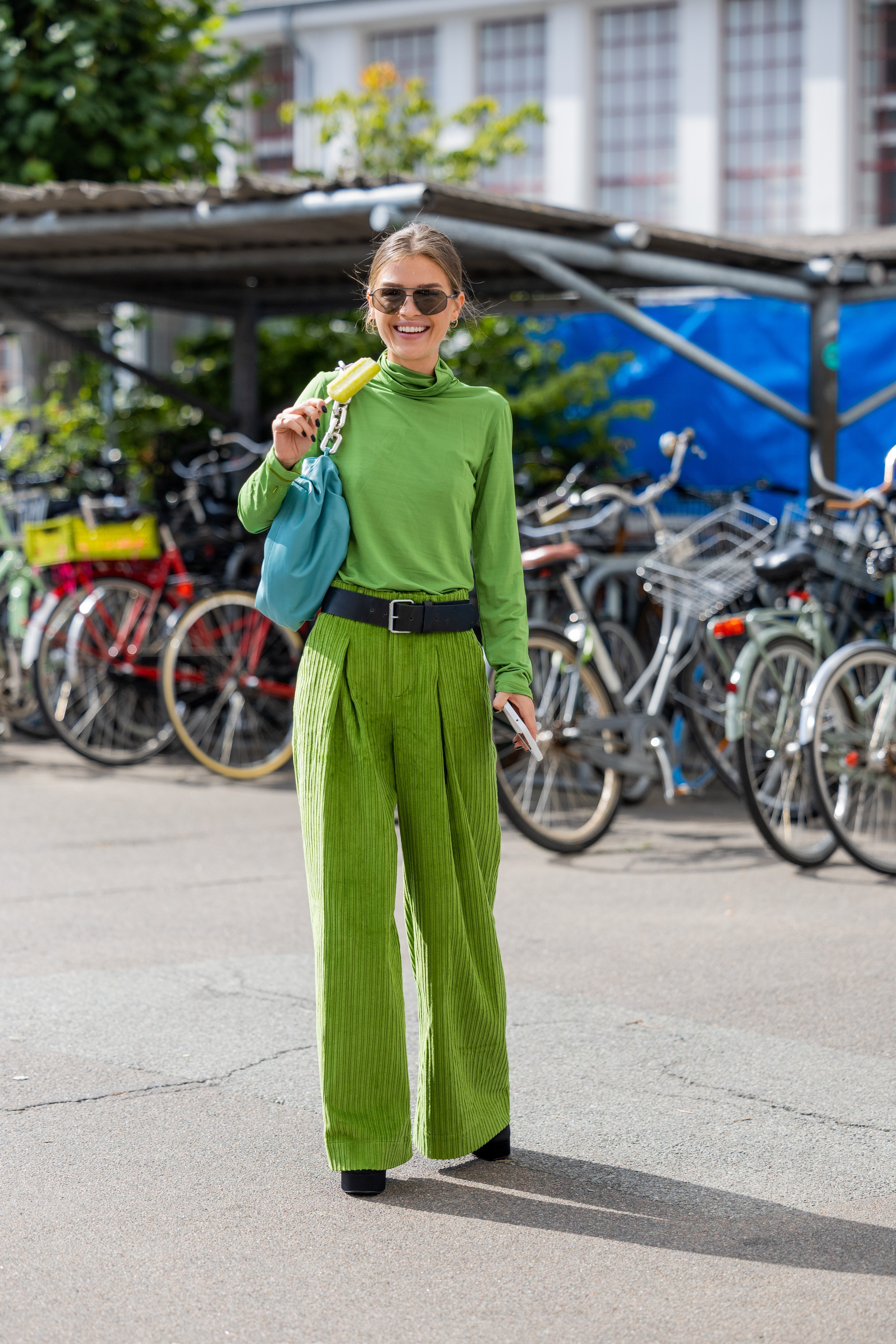 Gine Margrethe wearing green corduroy pants during Copenhagen Fashion Week Spring/Summer 2023 on August 09, 2022, in Copenhagen, Denmark. | Source: Getty Images
While cookies have milk and peanut butter has jam, corduroy pants have denim. And when it comes to pairing the two, contrast is the name of the game.
Whether they are worn together for their sworn warmth or because they match well, the two fashion items go hand in hand. To add more contrast to a corduroy/denim outfit, leather boots or a leather belt are a go-to.
As corduroy pants were initially seen as preppy men's wear, they can make a classy statement on their own. As such, less distracting shirts go well with corduroy pants. Glam noted:
"To avoid clashing, it is best to keep your top simple when wearing corduroy pants."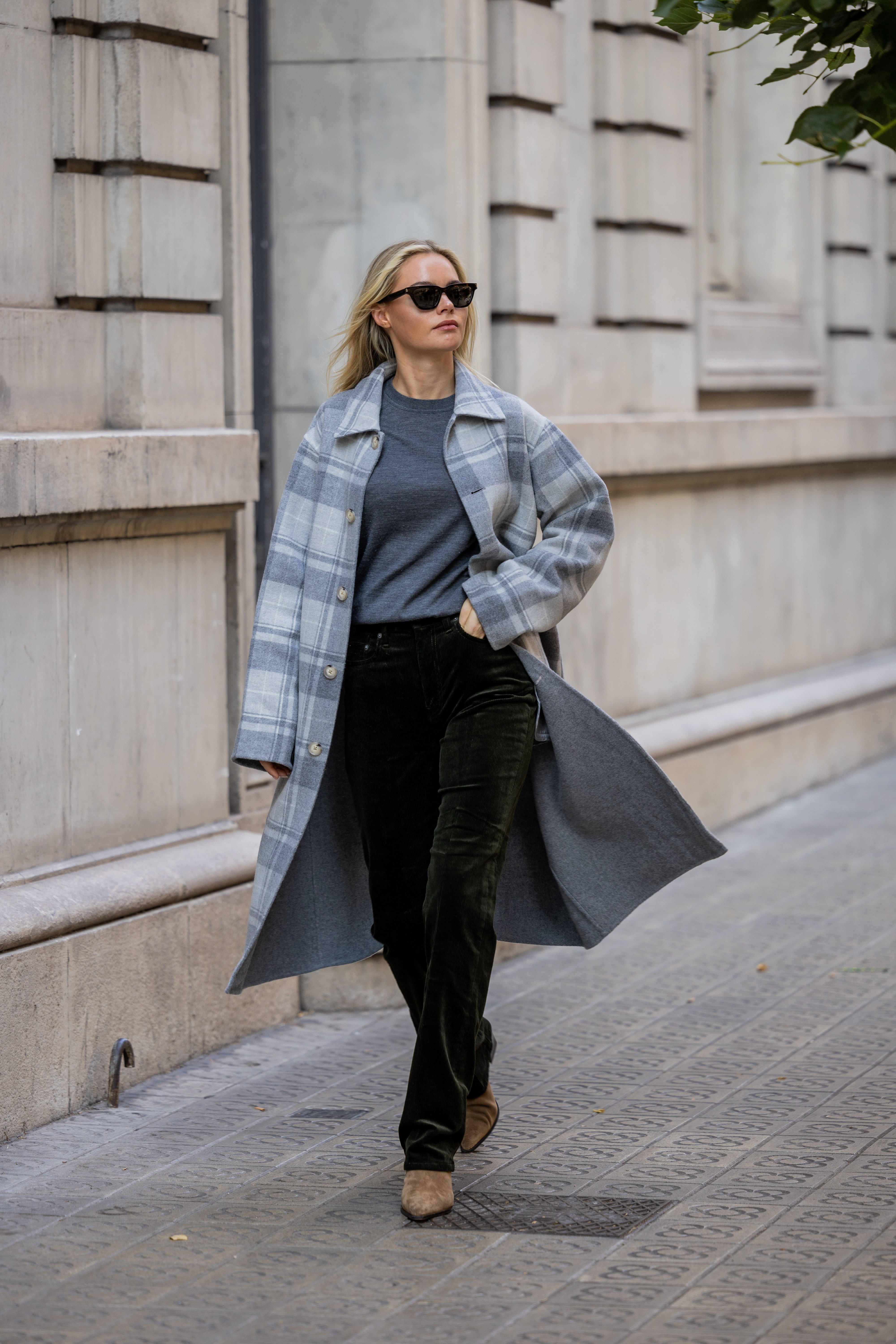 Claire Rose Cliteur photographed wearing corduroy pants on August 04, 2022, in Barcelona, Spain. | Source: Getty Images
To do so, button-downs, non-printed T-shirts, and sweaters are key. To keep to casual wear, simple flannels or tops in neutral colors are guaranteed to flatter any corduroy pants outfit. In 2021, Kendall Jenner kept her corduroy pants outfit minimal with a black silk shirt.
Blazers are often a clothing item for the job to tie a look together. From double-breasted to dark hues, blazers have the potential to shift an outfit from classic to cool girl.
Like denim on denim, corduroy on corduroy is also a trendy option when pairing corduroy pants with a corduroy blazer. During this year's fashion week, fashion influencer Hailey Bieber paired a simple white tee with an oversized, double-breasted dark, corduroy blazer and obtained a chic yet effortless look.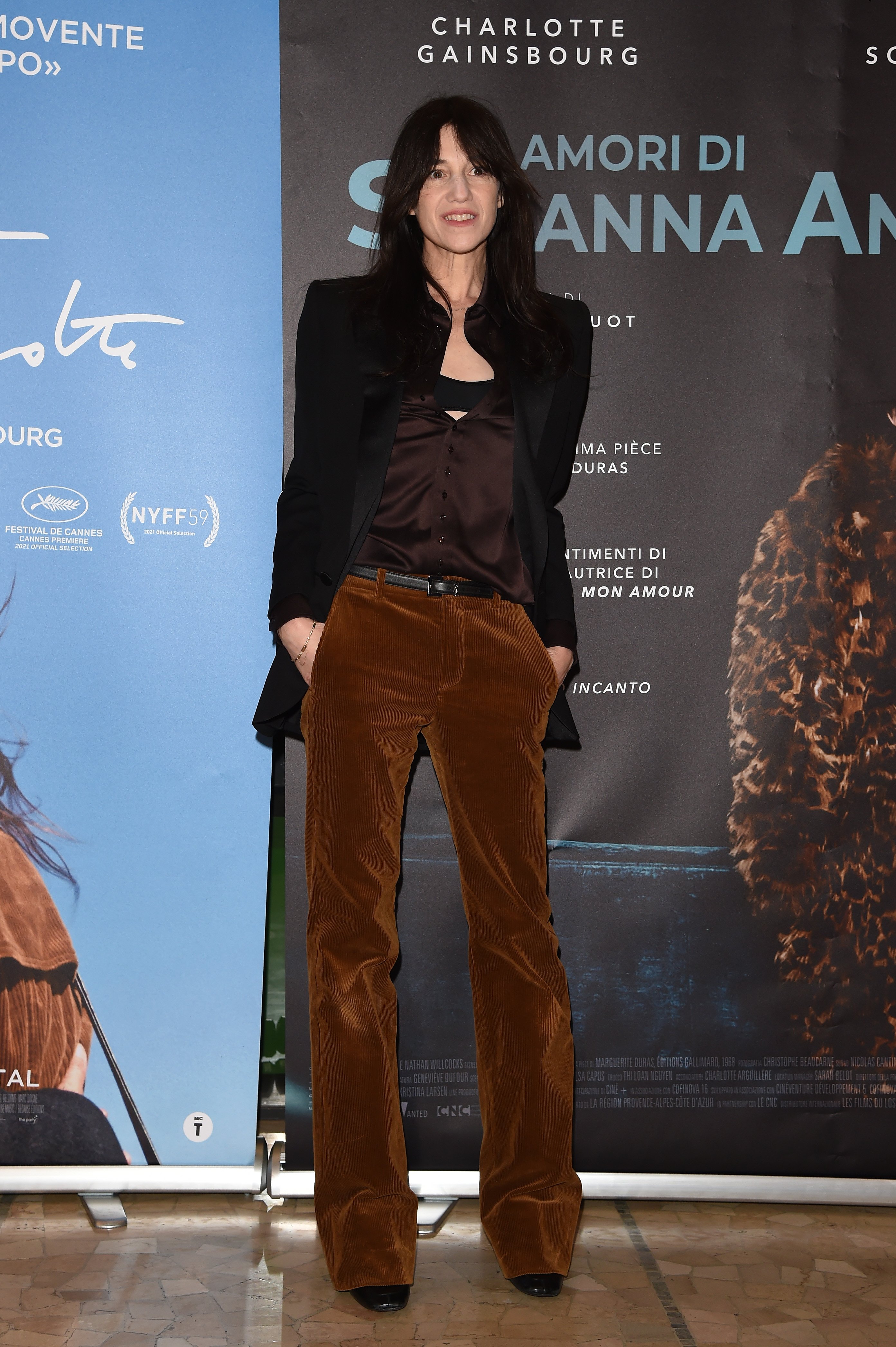 Charlotte Gainsbourg wearing corduroy pants and a blazer ahead of the screening of "Suzanna Andler" and "Jane by Charlotte" on March 08, 2022, in Milan, Italy. | Source: Getty Images
Women's blazer brand Blazé Milano offers short suit options, while Isabel Marant's blazers give off the '70s vibe. From burn orange hues at retail outlets like Mango to navy blues, the options for the corduroy pants/ blazer combo are endless. Glam wrote:
"Style your corduroy pants in a smart-casual combo by adding a button-down, blazer, and heels. If you are feeling like upping your casual look into something more formal, there are also plenty of corduroy pants suit options."
Clothing Other than Pants Can Be Corduroy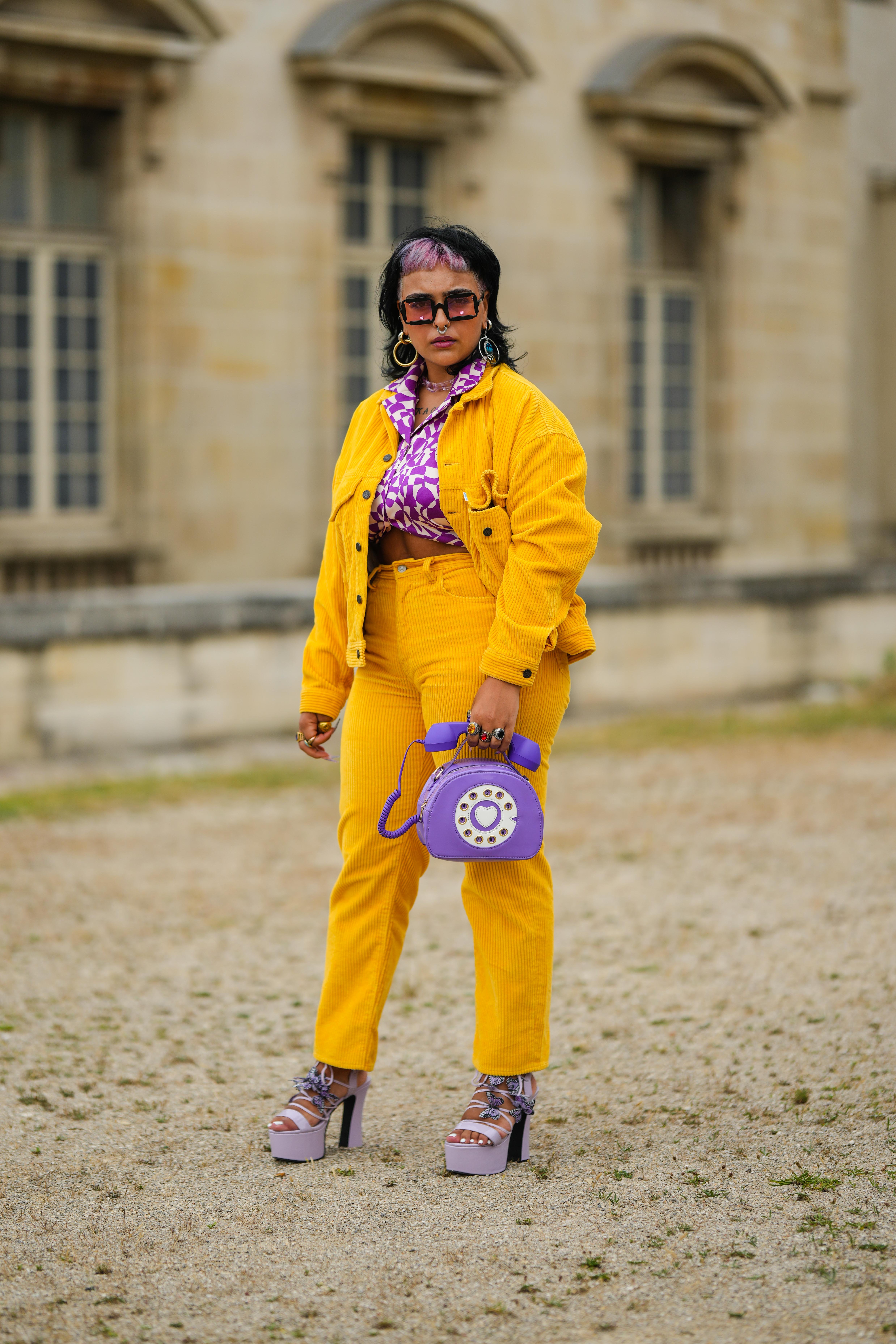 A woman photographed wearing matching corduroy pants and jacket during Paris Fashion Week - Menswear Spring/Summer 2023, on June 22, 2022, in Paris, France. | Source: Getty Images
To broaden the fashion game, the thick, ripped fabric of corduroy can be worn in items other than pants. Corduroy jackets pair well with denim, while velvet corduroy used for blouses ooze elegance.
Denim mini-skirts are kicked to the curb by corduroy mini-skirts in all shades, which can be complemented by– however not overdone– corduroy bags, hats, and boots.