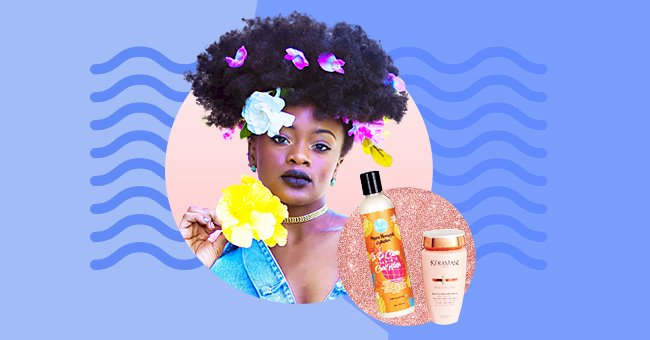 Top 10 Hair Products For Curls
Whether you prefer loose curls, beachy waves, gorgeous ringlets, or natural kinks, we've got the most exciting lineup of oils, shampoos, and conditioning creams to help you nail your curls to perfection.
Curly-haired people go through a lot of trouble to make sure their hair looks less messy and more in place. It isn't easy to find the right product or, instead, a combination of products that can nourish and give a great shape to your coils.
It can be quite overwhelming to choose a formula that gives you everything in one bottle and stays within your budget. Read on to discover the top 10 hair products which will give your curls all the hydration, moisture, and love they need.
1. Curls So So Def Vitamin C Curl Defining Jelly
The Curls So So Def Jelly comes packed with an exciting combination of Vitamins A, B1, B6, and Vitamin C. With this defining curling formula, your natural coils will be ready to bounce and pop all day long.
2. Talia Waajid Protective Styles Bamboo Biotin and Basil Curl Activator
It's time to provide your dry coils with deep nourishment and conditioning with the Talia Waajid Protective Curl Activator Cream. It works on improving the texture of your thick, frizzy hair and gives your curls a more classic, refreshing bouncy look.
3. Kristin Ess Ultra-Hydrating Curl Co-Wash
If you're worried about curls that look dry and feel rough all the time, try the Kristin Ess Ultra-Hydrating Curl Co-Wash. It will provide gentle and deep conditioning and cleansing, smooth out the freeze, and lock in moisture for some healthy coils.
4. Sunday II Sunday Revive Me Daily Moisturizing Spray
Sunday II Sunday Revive Spray is a light-weight moisturizing formula that sprays life into your curls. It also combats frizz and provides instant shine and bounce, with a deep hydration boost for healthy-looking kinks.
5. Rucker Roots Texture Styling Mousse
The Rucker Roots Mousse is enriched with biotin, castor seed oil, vitamin E, and shea butter extracts. It is a curl and wave defining formula that works on keeping your hair nourished, hydrated, and healthy while also setting your ringlets in place.
6. Adwoa Beauty Baomint Moisturizing Curl Defining Gel
The Adwoa Beauty Defining Gel is a cream formula that deeply nourishes, hydrates, and defines your curls without ripping their moisture content. It also helps remove frizz and makes your coils appear soft, healthy, and glossy.
7. SheaMoisture Cream Coconut & Hibiscus Curl Enhancing Smoothie
SheaMoisture Cream Curl Smoothie is an excellent pick if you want to swirl in your curls all day long without worrying about them losing their shine and texture. It is a light-weight formula that instantly works on making your coils smooth and healthy.
8. Moroccanoil Curl Defining Cream
Moroccanoil Cream helps combat frizz and tangles while also profoundly conditioning your hair. It also helps define your natural curls, making them feel soft, smooth, and healthy.
9. Miss Jessie's Curls So Fresh
Miss Jessie's Curls So Fresh is an excellent solution to rekindle life into your dull, coarse coils. It adds shine, boosts moisture, enhances curl texture and form, and helps reduce frizz for a more definitive, smooth-looking curly hair.
10. Kerastase Discipline Bain Fluidealiste Sulfate-Free Shampoo
Kerastase Discipline Shampoo is a sulfate-free, conditioning shampoo that smooths out tangles and makes your hair more manageable. It adds softness and bounce to your curls while also retaining the moisture content.