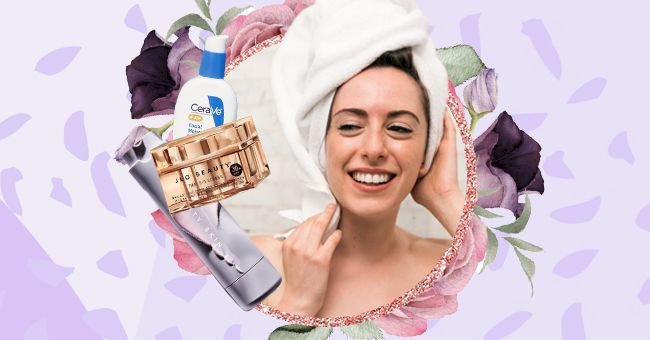 Top 10 Moisturizers With SPF
If your skin cannot deal with an extra heavy layer of sunscreen, you can choose a moisturizer that comes packed with SPF 30 or more. The best part is, you will minus one more step in your skincare routine while also leveling up on your protection game.
One common misconception that we've all grown up with is only applying sunscreen while stepping out in the sun. Most SPF-based formulations are designed to protect our skin not just from harmful UV rays but also environmental stressors.
Many sunscreens come with that greasy, oily texture that nobody is a fan of, especially in the hot and harsh summer weather. However, with our top pick of these SPF moisturizers, your skin will stay hydrated, healthy and protected all year round.
1.CeraVe AM Facial Moisturizing Lotion SPF 30
CeraVe AM Facial Moisturizer is a broad spectrum SPF 30 formula that is fast-absorbing and deeply hydrating. It is non-greasy and contains ceramides and hyaluronic acid which soothe the skin and provide instant nourishment.
2.EltaMD UV Daily SPF 40
EltaMD UV Daily moisturizer nurtures the skin by providing it with needed moisture content and sun protection. It is a mineral-rich formula that contains hyaluronic acid and helps strengthen the skin's natural barrier while also combatting fine lines.
3.Fenty Skin Hydra Vizor Invisible Moisturizer SPF 30
Take it from none other than Queen Riri herself - applying sunscreen doesn't have to take its toll on your nerves. This two-in-one refillable moisturizer and sunscreen is lightweight and non-greasy and helps fight dehydration, discoloration and dark spots.
4.La Roche-Posay Toleriane Double Repair Face Moisturizer SPF 30
La Roche-Posay Toleriane is an oil free SPF facial moisturizer that nourishes your skin for a rejuvenated, healthy look. Its ceramide, glycerin and prebiotic thermal water formulation helps boost moisture content and strengthen the skin's barrier layer.
5.EleVen by Venus Williams Unrivaled Sun Serum SPF 35
Eleven By Venus Williams is a lightweight serum containing SPF 35 which provides mineral sun protection and gives a smooth, non-greasy finish. This broad spectrum formula enriches the skin with deep hydration and gives a natural, matte glow.
6.Kinship Self Reflect Probiotic Moisturizing Sunscreen Zinc Oxide SPF 32
Kinship Self Reflect Probiotic Moisturizing Sunscreen is a fast-absorbing, lightweight cream that is great for people with blemish-prone skin. It provides protection against UVA and UVB rays and provides a clear, glowy finish by making the skin barrier strong.
7.Bareminerals Complexion Rescue Tinted Gel Cream SPF 30
Bareminerals Complexion Rescue is a deeply hydrating formula that helps replenish the skin by balancing its moisture content. It is a mineral-based SPF 30 cream that protects from the harmful UV rays and gives a dewy, radiant glow.
8.MDSolarSciences Tinted Creme SPF 30
The MDSolarSciences Tinted Creme is an oil-free mineral sunscreen that gives a velvety smooth finish. It's sheer matte formulation and water-resistant nature makes it a perfect choice as a makeup primer.
9.Peter Thomas Roth Water Drench Hyaluronic Cloud Moisturizer SPF 45
This is a broad spectrum SPF 45 formulation that provides a smooth, invisible finish and protects the skin from UVA and UVB rays. It's a deeply hydrating moisturizer containing hyaluronic acid which boosts skin's moisture content and combats dryness, fine lines and wrinkles.
10.JLo Beauty That Big Screen Moisturizer SPF 30
JLo Beauty That Big Screen Moisturizer is a lightweight broad spectrum SPF 30 formulation containing hyaluronic acid, glycerin and natural sugars. It nourishes the skin by providing a hydration boost and provides blue light protection while also rendering a natural, glowy finish.