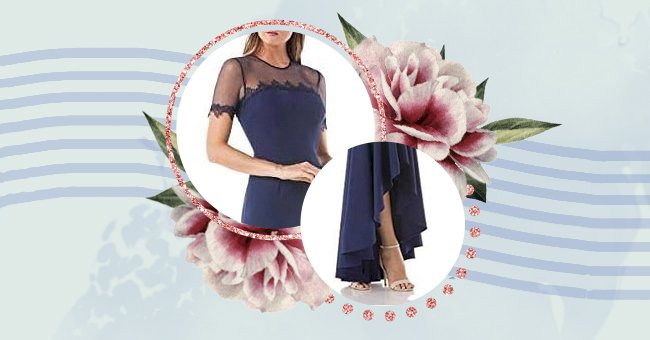 Top 10 Mother Of The Bride Looks
For the bride's mother, the wedding day comes packed with tons of responsibilities, from helping her child look perfect to planning out everything. It seems only befitting for the bride's mommy to wear something that will highlight her elegance and style.
Being a parent isn't easy, and perhaps it all comes weighing down on the mother when her child decides to walk down the aisle. Next to the bride, all eyes are on her mom, so choosing a dress that compliments the wedding theme and the color palette is imperative.
The mother-of-the-bride dresses' trends have changed over time, providing moms the space to bring in their personal style. So whether you're interested in full-length lace designs or short-body embroidered options, here are the best mother-of-the-bride dress options to consider this wedding season.
1.Pant Suits
Traditional dresses will never fall out of style, but trendy outfits like pantsuits are a great option to consider. The bride's mom can choose from feminine tones to metallic hues, and this navy-colored dress screams fashion like nothing else.
2.Lace Dresses
Grey is a rather sophisticated and flattering color associated with style and femininity. You can match your favorite silver jewelry with your grey lace dress and accessorize it with a matching jacket for a more polished look.
3.Crochet Dresses
Full-length outfit options for the bride's mom always appeal with their timeless elegance. Crochet dresses look brilliant for the bride's nuptials, wedding reception, and even the main event shenanigans.
4.Short Shift Dresses
Long dresses look charming, but there's nothing wrong with traveling off the beaten path and choosing a short dress instead. The bride's mom can choose from cocktail and knee-length dresses and add a bit of flair with these classy bell-style sleeves.
5.Lace Dresses With Jackets
Lace designs are a great way to appear polished and pretty. You can choose between metallic and earth tones, and adding a jacket on top will enhance the overall appeal and help you fit and flatter.
6.Long Dresses With Short Jackets
Jackets happen to be the hottest accessories that can amp up your dress in no time. This simple, long-length maxi-style dress looks elegant because of its attractive navy color. Add a short jacket on top, and you're ready to shine!
7.Sheath Dresses
Are you looking for outfits that highlight your silhouette and curves? Look no further than sheath dress options, but ditch lace and embroidered options and let the simplistic style speak for itself.
8.Tea-Length Dresses
Tea-length dresses make for practical and pretty options for the bride's mother. This midi-style satin embroidered dress comes in metallic gold color and features a long jacket on top to appear more polished.
9.Beaded Dresses
Neutral and earth tones, in addition to shades of black, brown, and white, are considered hot picks for the mother-of-the-bride outfit options. Chiffon dresses with intricate beadwork or embroidery look flattering and feminine.
10.Evening Gowns
Evening dresses are preferred for formal events, including the bride's nuptials and big day celebrations. Full-length evening gowns made from chiffon or silk make for some of the most trendy mother-of-the-bride outfits.