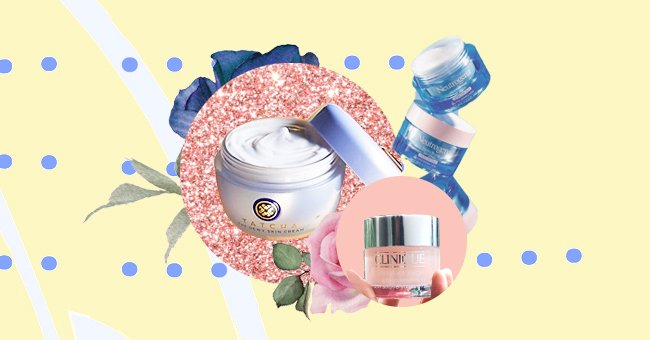 Top 6 Moisturizers To Use All Year For Dry Skin
Winters can be a little hard on us, especially if we have dry skin. It is not always easy to find a moisturizer that takes our dry patches away and provides extra hydration.
People with dry skin usually struggle to find the right moisturizer. According to skin-care experts, a good moisturizer should ideally contain emollients (like ceramides) and humectants (like hyaluronic acid and glycerin). They repair dehydrated skin and lock moisture to keep it healthy-looking.
Getting maximum benefits also requires knowing how to layer skin-care products. Experts suggest starting from the lightest to the dense layer. We have rounded up a list of the top moisturizers that will provide hydration to your skin throughout the year.
1. Tatcha The Dewy Skin Cream
Tatcha Dewy Skin Cream comes packed with hyaluronic acid and antioxidant-rich Japanese purple rice. It fights dryness, dullness, and uneven skin and provides plumping hydration and a healthy glow.
This dewy cream is suitable for people with normal and dry skin. It also protects the skin from environmental stressors, pollution, and harmful UV rays.
2. Neutrogena Hydro Boost Gel Cream
The gel formula moisturizes and hydrates dry skin, making it appear smooth. Hyaluronic acid prepares the skin to lock the moisture for a natural, healthy look.
It is free of fragrance and oil and rapidly gets absorbed into the skin. When applied under makeup, it covers the dry patches and gives a smooth finish.
3. CeraVe PM Facial Moisturizing Lotion
CeraVe Facial Moisturizing Lotion includes ceramides that lock moisture in your skin and repair its barrier layer. It is oil-free and a perfect choice for your night-time skin-care routine.
It is suitable for dry, sensitive, oily, and acne-prone skin types. When applied regularly, the skin starts feeling healthy and smooth.
4. Clinique Moisture Surge 72-Hour Auto-Replenishing Hydrator
Get round the clock hydration and protection with Clinique Moisture Surge. Its auto-replenishing mechanism activates the skin's internal water function for continual rehydration.
Add this cream to your skin-care routine for a healthy-looking, moisturized, and dewy skin. It also fights dullness, dryness, fine lines, and wrinkles.
5. First Aid Beauty Ultra Repair Cream
Use First Aid Beauty Ultra Repair Cream for intense hydration from head to toe. It proves rich moisturization and hydration, and it gets absorbed quickly.
With no greasy after-feel, it is an ideal choice for dry, sensitive, and acne-prone skin. The antioxidants help fight environmental stressors and restore the skin's natural barrier.
6. Elizabeth Arden Eight Hour Cream Skin Protectant
Old wine now comes in a new bottle. The old formula of this cream is a skin-saver. You can use it on the face, eyes, eyebrows, and even legs and feet for hydration, repair, and smoothness.
It is an all-in-one skin-care package. Use this skin protectant to get rid of dry patches, roughness, redness, chapped and irritated skin. It also relieves sun-burnt skin and boosts the skin's in-flight moisture level.