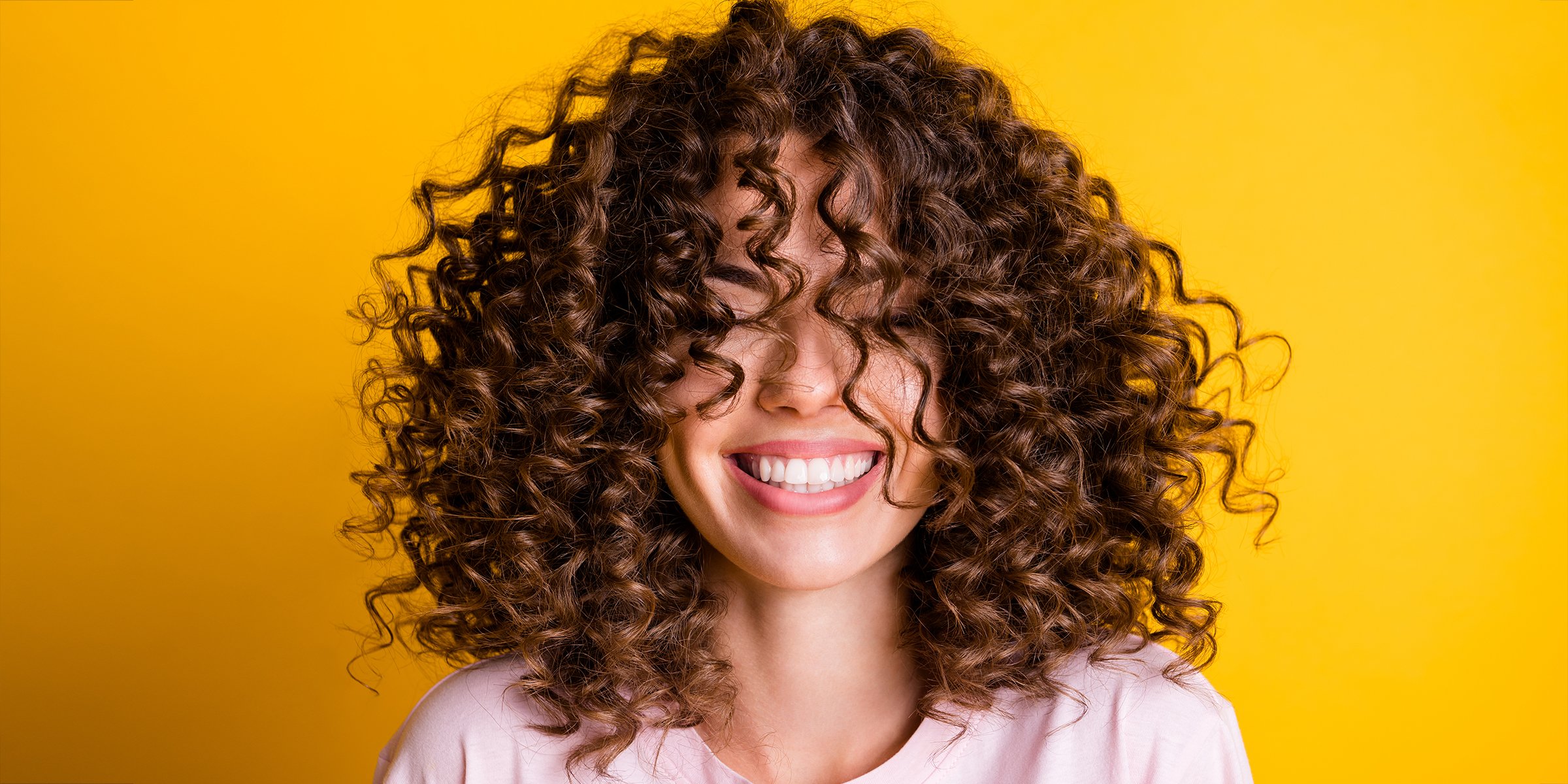 A Woman with Type 3A Hair Smiling with Her Eyes Closed | Source: Shutterstock
Type 3A Hair: Care Advice and Styling Tips for Curls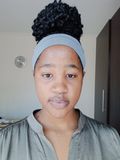 Caring for Type 3A hair can be exhausting and frustrating if one doesn't have nor consult the right resources. But with the right amount of care, hair products, and guidance, Type 3A curls can thrive and be styled to perfection.
Famous hairstylist Andre Walker designed a chart that categorized different hair patterns: straight – Type 1, wavy – Type 2, curly – Type 3, and kinky – Type 4. Each pattern has three subtypes, ranging from A to C. So, for example, Type 4C or Type 3A hair.
Type 3A hair is recognizable for its S-shape curl pattern. When well-taken care of, Type 3A hair has a flattering bounce as the curls and shape of each strand are defined. However, this curl pattern has proven tricky to care for since it can change shape due to weather conditions – and this doesn't mean it's exactly adaptable.
A variation of the hair pattern chart | Source: Shutterstock
How to Discover Your Type of Hair?
While Andre Walker's hair chart initially garnered some pushback, with people claiming it was divisive, it has gone through some revisions to achieve better inclusivity. Allure wrote that determining your curl pattern can be daunting as an individual's hair can have more than one Type.
But consulting Walker's chart, despite its imperfections, is an excellent place to start. According to hairstylist Vernon Francois, a curl pattern is defined by the shape a follicle takes as it grows out of the scalp. He says the hair strand's form can also identify it.
Moreover, between the sub-categories of Type 3, Type 3As have a wider curl diameter. As you move to 3B and 3C, the curls get tighter, and the curl size becomes smaller. While Type 3A curls are generally wider, they can still vary in texture. They can be fine, coarse, or medium.
Type 3A hair can reportedly range between "loose, buoyant loops" to "tight, springy corkscrews." It's the loosest sub-type compared to its 3B and 3C counterparts. The typical Type 3A curl diameter has been likened to a wine-bottle cork or sidewalk chalk. However, it's also prone to frizz.
How to Get the Right Care For 3A Curls?
According to trichologist Kerry Yates and hairstylist Nubia Rëzo, who spoke to Byrdie, a few things must be considered or avoided when determining the care routine for Type 3A curls. Yates said that knowing the texture and overall health of one's Type 3A curls will tell them how much care one's hair needs.
The trichologist warned against using heavily chemical-based products, which can lead to dryness and breakage. Yates explained this warning, saying:
"Exposure to heavy chemicals can negatively impact the curl shape and can cause some ringlets to be more wave-like and even appear frizzy."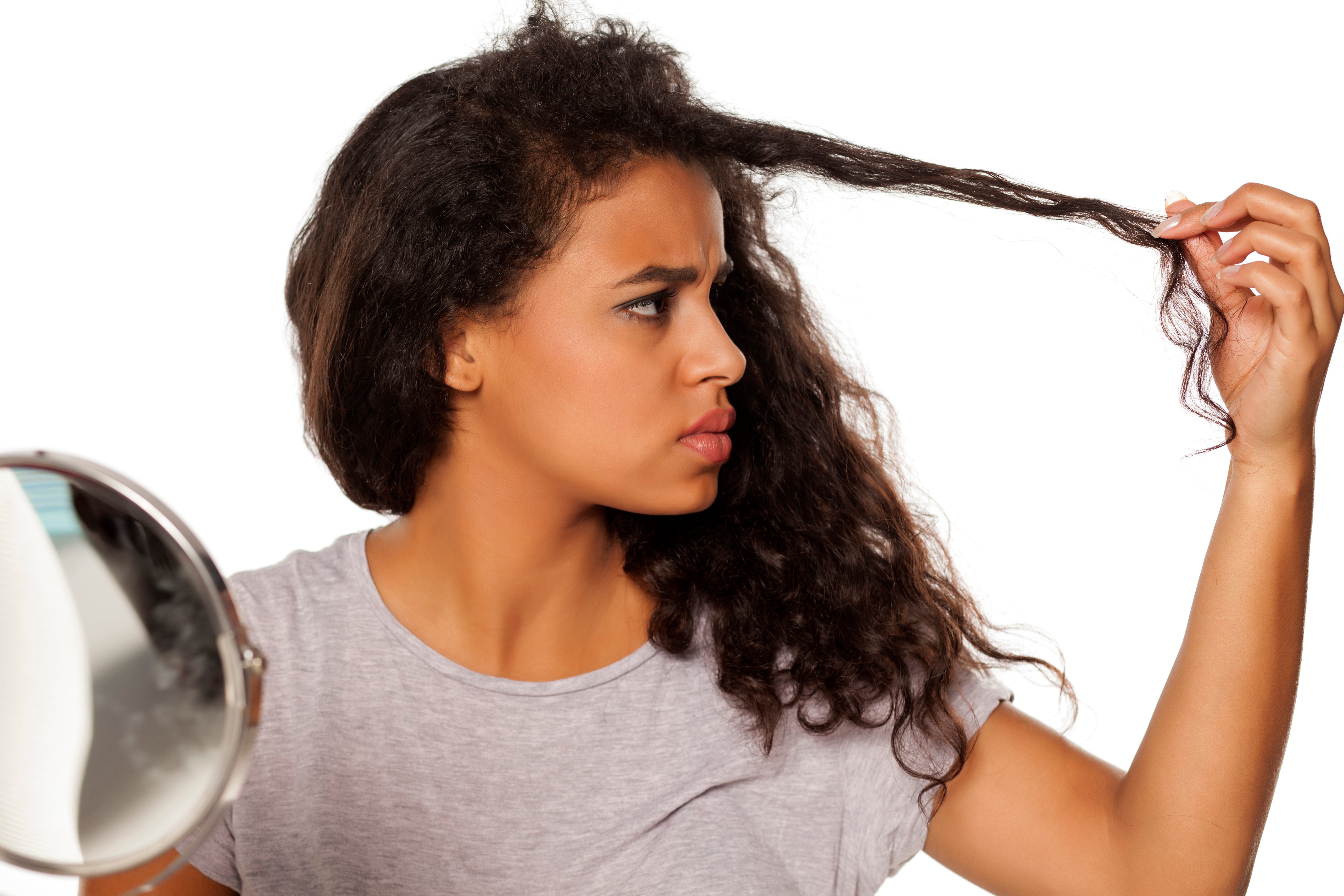 A woman worryingly examining a section of her hair | Source: Shutterstock
Typically, people with this curl type dedicate "wash days," where they spend time cleansing and moisturizing their hair. Deep conditioning is an essential part of wash day, which can help Type 3A hair lock in moisture and maintain health.
However, Rëzo warned against overwashing, which can also lead to dryness and breakage. The hairstylist recommended doing a hair care routine weekly. Rëzo then explained that washing once a week allows the scalp to produce its natural oils, which make the Type 3A curls stronger and healthier.
Yates then advised persons with Type 3A hair to limit using heavy-silicone-based products as they can dehydrate their curls and cause long-term damage. Curly hair owners use silicone products to achieve a shiny look and flexibility, but this effect only lasts a short while.
Byrdie wrote that the healthier choices in hair products are those with natural ingredients such as plant-based oils and resins. However, because Type 3 curls are already light and bouncy, Rezo said they don't need too much product for styling. Yates then explained the goal of knowing which products to use, saying:
"The idea is to create a bouncy curl, not a heavy curl that will fall into a wave after styling."
Cosmopolitan provided a step-by-step guide to a wash day routine. According to the outlet, beginning with the Type 3A curls in a "sopping wet" state prevents frizz, helps the hair absorb the wash products, and enhances the effects of deep conditioning.
However, the outlet then instructs to squeeze excess water from the curls before applying a "curl-defining cream." Type 3A hair owners are advised to squeeze a small amount of this product in their hands and to apply it beginning with the mid-section of their hair length.
Then move down to the ends of the hair length before working up to the scalp. To round off step one, a wide-toothed comb must be used to distribute the product evenly.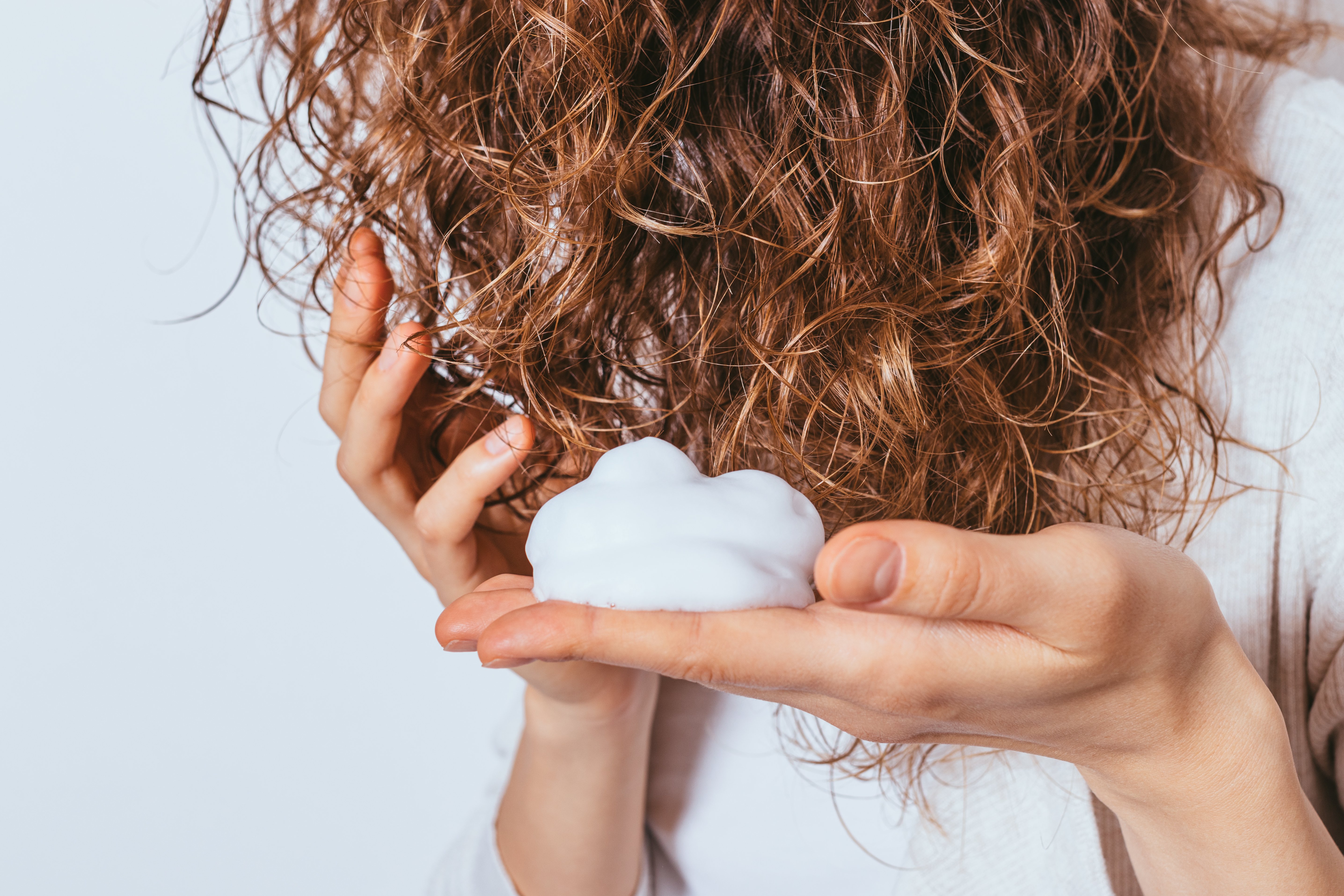 A woman with curly hair applying hair mousse | Source: Shutterstock
Step two entails layering the Type 3A curls with another product: curl-enhancing mousse. Curl-enhancing mousse moisturizes the hair and prevents frizz. The outlet advised squeezing a generous amount of this product and "raking" it through the hair using fingers from the bottom up.
The last part of step two entails defining the Type 3A curls by twirling strands around a finger, focusing on the parts that tend to be less defined than others. The third and last step requires scrunching small sections of Type 3A hair.
Scrunching the curls while still wet and layered with the abovementioned products promotes volume once the hair is dry. However, if one's Type 3A curls are more coarse, the outlet suggests applying a "lightweight" oil to the hands before scrunching.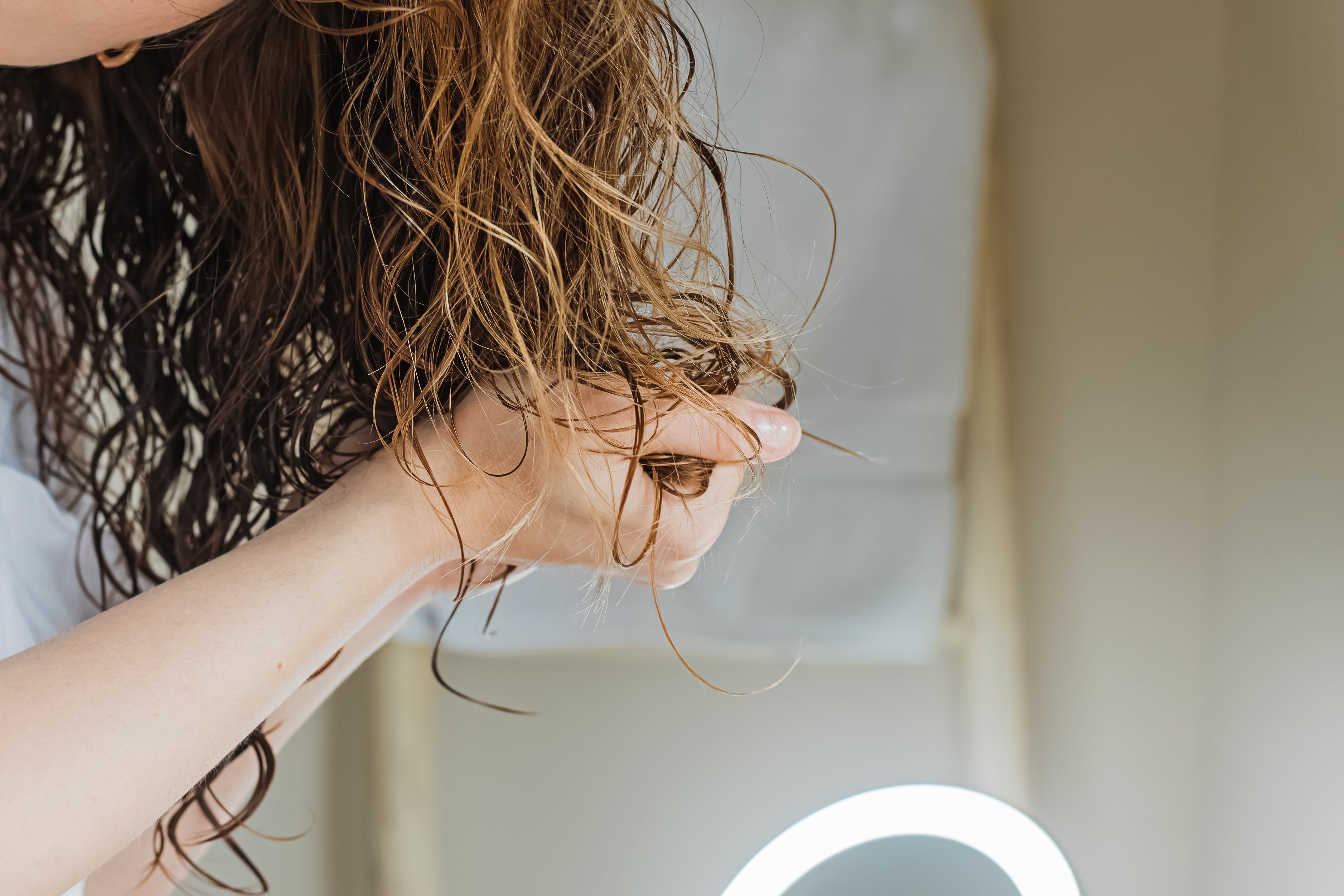 A woman scrunching her hair to define the form of her curls | Source: Shutterstock
In the last part of step three, the Type 3A curls can be dried naturally in the air, using an old t-shirt or low-heat diffusion until almost dry. If the wash day routine is done before bedtime, Rezo recommended resting Type 3A curls on a silk pillowcase or keeping them in a silk bonnet or scarf to avoid tangling.
Best Hairstyles for Type 3A Hair
There are several ways to style Type 3A hair, and Cosmopolitan described this curl pattern as the most versatile. The outlet listed an up-do as one of the best styling choices, where people with this hair type pin their hair up and pull a few strands that will dangle flatteringly around their face and the neck base.
Another beautiful style is a low and loose ponytail, with a few loose strands secured at the bottom of one's neck. The point of this hairstyle is to show off the curl definition, so it's suggested that a diffuser would work best to achieve this look.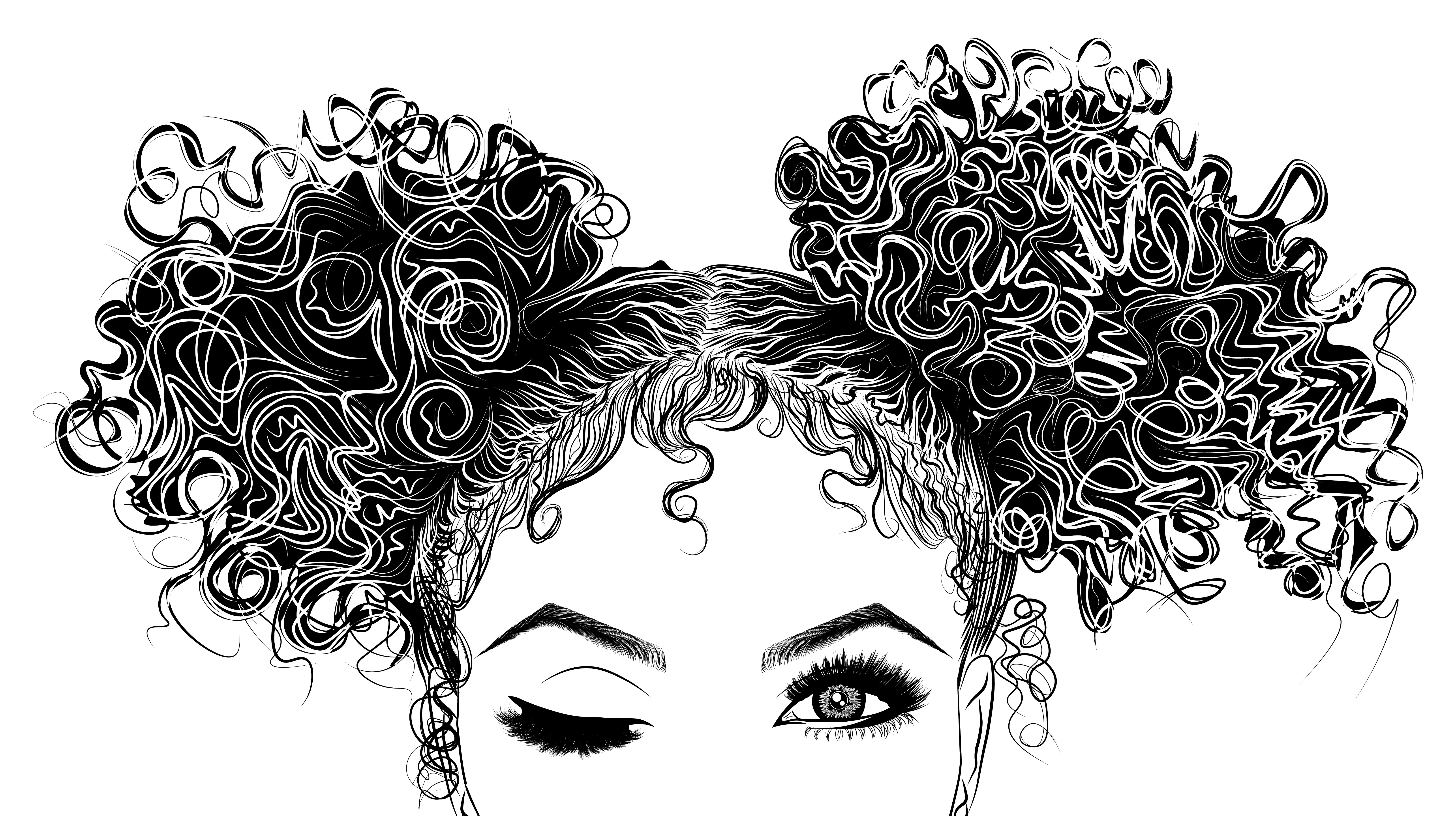 A black and white illustration of a woman with styled curly hair | Source: Shutterstock
Pigtails also look gorgeous with Type 3A, which can be high ponytails, low buns, or any other playful variation. Another style worth trying is a sleek high ponytail. One can achieve sleekness with a moisturizing styling gel and an edge brush.
French braids are also viable, but one can enhance the style by accessorizing with a scarf. The style is achieved by pinning the scarf at the top of the head. The next step is twisting the scarf into braids, then securing the hair in a bun at the base of the neck.