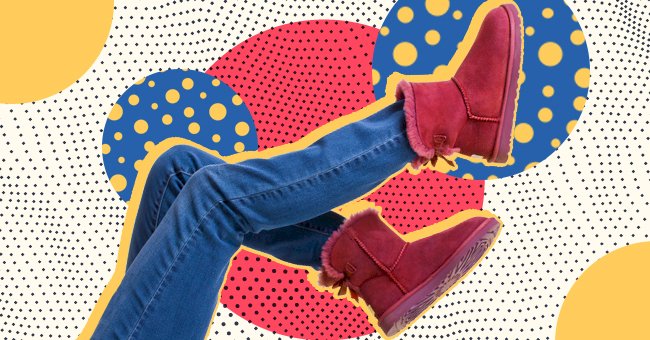 Ugg Boots Are Proving They're Here To Stay By Making A Comeback This Winter
We love to hate them, but they never seem to go out of style entirely. The early aughts saw these comfy home boots make a surprisingly lasting impact on popular culture.
High fashion designers, fashion-loving celebrities, and their trend-setting stylists love this tan boot trend. Uggs have been a regrettable piece of fashion for the past few years, but they've made their comeback.
This unlikely style resurgence is taking over the hippest fashion brands and spaces this year. Take a look at how Uggs have made it back to the big style and trend leagues over the past few years.
What Are Those?!
When most of us see UGGs, we think of Britney Spears in a velour tracksuit circa 2007. We think Paris Hilton or any other socialite on a coffee run, but not really Bella Hadid on a fashion runway in Milan.
The UGGs brand found itself in a less fashionable shoe category until an unlikely twist in 2018. Since then, the meme-worthy shoes have entered a world of style that we never expected them to infiltrate.
Where It All Began
Avant-Garde Paris label Y Project was the first brand to include UGGs in their high fashion lineup. We saw the cozy tan boots in a light that we had never seen before, and thus the trend was born.
UGG president Andrea O'Donnell expressed her excitement for the positive reception from critics. The brand has since made a steady revival in the industry, and fans love both new and old styles.
"The fashion community engaged with it very quickly, I think internally within UGG there was quite a lot of consternation."

Says Andrea O'Donnell
Indie Brand Collaborations
Since the first fashion collaboration in 2018, UGG has partnered with several other independent labels. Designers explore their creative abilities and ideas with these perfectly versatile everyday boots.
We've currently seen exciting collaborations from brands such as Telfar Global and Molly Goddard. Other collaborators that UGGs have approached include Feng Cheng Wang and Eckhaus Latta.
Behind The UGGs Revamp
Andrea O'Donnell explains that collaborations with independent fashion labels have been strategic. The brand's president shared that their collaboration selection process is quite meticulous.
"Ideally a catwalk fashion moment in one of the major fashion weeks. Somebody with credibility. We do a lot of homework around how their work is being perceived in fashion publications."

Says Andrea O'Donnell
She shared that UGGs selected Molly Goddard because of her innovative takes on femininity. The brand also approached Telfar for their innovation and democratic approach to high fashion.