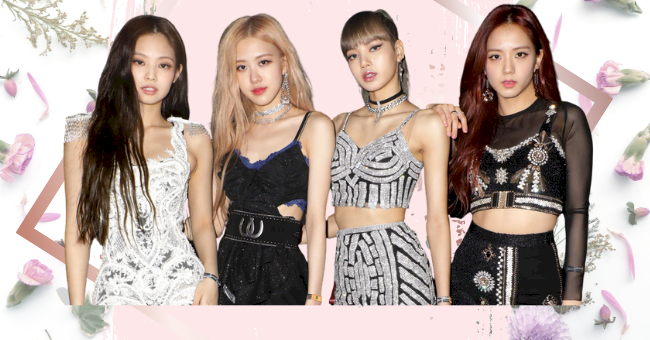 Unpacking Blackpink's Iconic Beauty Routines & Looks
Blackpink is one of the most influential K Pop girl bands in the entire world. The stunning women blaze trails when it comes to music, fashion, and beauty, inspiring women with their work globally.
The women in Blackpink have only been a group since 2016 but have managed to break several records. Fans love their fun pop sound and seem to be even more obsessed with their style and beauty.
The quartet has graced many stages, photoshoots, and music videos while looking flawless. Take a look at how they achieve some of their favorite makeup looks and see what they have on their coveted beauty lists.
Always Revert To The Classics
Lisa is one of Mac Cosmetics' global ambassadors, a fitting role for the makeup lover. Her signature winged eyeliner look and blunt bangs are a go-to look when she's not feeling experimental.
The Blackpink rapper also reverts to a classic red lip for a pop of color for her less bold makeup looks. One of Lisa's tips is to watch Youtube makeup videos to learn the basics like filling in brows.
Have Fun With Stage Makeup
Blackpink's Jennie Kim shares that she loves to have more fun with her on-stage makeup. Kim reveals that they wear colored contact lenses for a more bold look and whitening cream to make eye makeup pop.
"On stage, I like to show all the different sides of me, as much as possible. I want to try a feminine style but mix it up with sexy or hip-hop elements."

Says Jennie Kim
All That Glitters Helps The Glow
Rose is known for her glowing complexion and feminine looks, which she achieves with a simple step. A sweep of neutral shimmery eyeshadow is one of Rose's go-to beauty tricks for an instant glow.
Her metallic shadow looks can also be amplified with bolder colors for an edgier take on her shimmer. Pair the glitter with the perfect peach lipstick hue, and you will be ready to glow and go for anything.
Pucker Up
Jisoo does not compromise her lip's hydration but uses a hydrating tinted lip balm instead. Her go-to lip balm is the Dior Lip Glow balm, which offers sheer color payoff and long-lasting hydration.
A trick is to use this lip balm as a primer when wanting to go for a look with a more bold color. The lightweight product is also perfect for everyone as it appears as a natural flush that matches your skin tone.
A YSL Complexion
Blackpink appears on Elle's latest cover, which received the most likes for a cover on their Instagram. All of the women's beauty looks stand out, but many could not keep their eyes off Rose's clear complexion.
Elle editors revealed their two product list for Rose's glowing complexion on the cover. Rose wears the YSL Touche Éclat blur primer, which is oil-based and the collection's all-in-one glow tinted moisturizer.