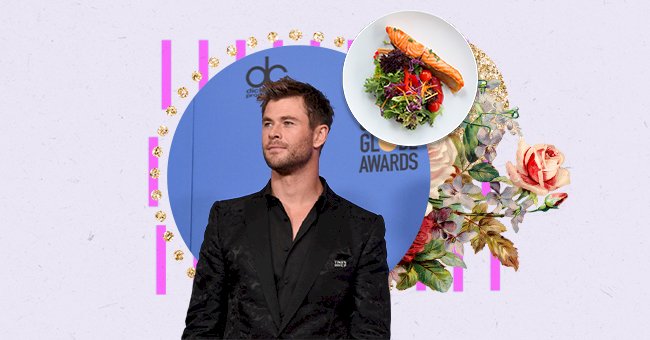 Unpacking Everything Chris Hemsworth Eats In A Day
When he's not playing the role of Thor in the movies, Chris Hemsworth is a real daddy hen. The Australian is also an avid surfer and an ambassador of the Hugo Boss fragrance. But he's at his peak.
Chris Hemsworth has completed the filming of Thor: Love and Thunder, and this fourth installment promises to be more testosterone than ever. The movie will be released by May 2022.
If you love Chris, then you know he has a perfectly built physique. Such a body does not come by chance as he has a nutrition consultant, and now we know what he eats daily to keep that body.
About Chris's Physique
At 190cm tall, Chris once gained around 9kg in 3 months for the set, coming in at 96kg. His physique is big, massive but not swollen, with the famous V shape and perfect shoulder-waist proportions.
Chris Hemsworth sports a muscular physique to be envied, so much so that in 2014 People magazine voted him the sexiest man in the world.
About His Weight Gain
After all, to sanction his cinematic success was the hero role in the movie Thor, for which he had to put on 20 kilos of muscle and which, to the delight of the fans, he has never lost.
How Does Chris Keep Fit
Together with his wife Elsa Pataky, he conceived Centr, an App for exercising at home that also contains meditation exercises and tips for healthy eating that he constantly promotes on his Instagram page.
How To Be Buff Like Chris
If you are too thin and want to put on mass, increase the calories to 3200-3500 and train hard; if you start with an overweight body, go down to 2200-2300 calories.
"Let's get to the nitty-gritty of guidelines I suggest Chris sticks to when he's muscle-building: Chris eats a bit more red meat than usual but limits it to daytime as it requires more energy to digest. This is unless he trains later in the evening, in which case he may have a lamb chop after his workout."

says Perera.
In addition to the bodybuilding part, do circuits and cardio. But, again, pay attention to the calorie count and especially to the macros.
What Does Chris Eat?
Chris and his food expert focus more on dense proteins like red meat before incorporating more complex carbohydrates like potatoes or hardier bread.
"The concoction always involves having a liter of water with (branch chain) amino acids and Vitamin C, and we do the same thing after training where we incorporate a protein powder, which is usually vegetable-based. We found that whey protein doesn't really suit him very well. He digests vegetable-based protein a lot better."
Also, they utilize many amino acids and try to rely mostly on whole foods rather than powders which are only used when Chris is traveling. They also add a pre-workout concoction.