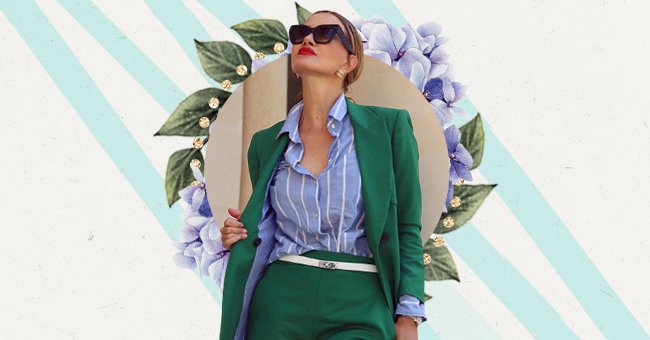 Update Your Wardrobe With The Perfect Short Suit
Nothing can feel quite as good as slipping into a power suit for both corporate and social settings! However, if you are not up for the very serious look and plan to have a night out, then the shorts suit fit is your best bet! Julia Roberts in Pretty Woman first introduced most of us to the chic looks of the short suit.
Having the right set is vital, as the goal is to be chic enough for the office and playful enough for a night out. This 80s trend is making a way into fashion lovers' wardrobes in the most fashionable way. If worn right, you can flaunt your look from spring through summer.
The best part is that you can switch it up whichever way you like. From plain to floral, striped to bold colors, the possibilities are endless. However, if you are not so tall, be sure to avoid flats and go for a pair of strappy sandals or wedges to give your legs an elongated look.
Choose A Strong Color
Not everyone can pull off wearing a green suit, but if this is one of your favorite colors, then choose a short suit in this tone. Green is associated with nature, and thus it evokes a sense of vitality and well-being. Green conjures up ideas of health and wellness.
Add more colors to your look by opting for a striped blue shirt like she did here and a colorful handbag. A pop of red lipstick will bring the look altogether. Be sure to don your sunglasses if you are going out in the sun.
Go For Lilac
Lilac has been associated with many things, but recently, it has been rendered chic. Pastel hues are all enjoying a newfound popularity, but none are more pervasive than lilac. It is an evolved and more adult take on millennial pink.
The trick to making it look modern rather than old-fashioned is to keep it fuss-free. Part of the problem with lilac is its association with doilies and bridesmaids, so consider sleek, fuss-free styles that come without floral prints.
Cinch Your Waist
If you want to make your waist look smaller in your suit, especially a floral one like this, the trick is to cinch your waist. You can create the illusion of an hourglass shape by using a belt as they provide the quickest way to define your waistline.
Make sure you choose a tiny belt in the same color family as your suit. However, if you want to create a statement look, then go for a contrasting belt. This will bring attention to your waistline.
Pair With Sneakers
There is something powerful and fashionable about suits that makes them a must-have in every woman's wardrobe. Suits send a message that a woman who wears them is confident and knows her fashion exceptionally well.
For the short suit, opt for sneakers to give it a more chic and relaxed vibe. Refresh your closet with some trendy pairs as you want to get only those sneakers that will look stylish and be cozy enough to spend the whole day in them.
Keep It Edgy
The idea of a suit sounds boring to most women. To take the boring out of the fun of wearing a suit, choose a look that is edgy, stylish, and elegant.
An off-the-shoulder suit is not one that most people would expect, so why not surprise them. When choosing this look, make good choices with your accessories and hairstyle as you also want to show off your neck.
Make Sure It Is Fitted
Fit is critical with any suit. If you are not going for an oversized look, be sure that the suit's proportions fit right on your body; else, it would look like you borrowed the suit.
You can show off your form in a tight-fitting suit. Even when choosing a tight suit, be sure that it is not tacky, as the end goal is to look elegant and not trashy.