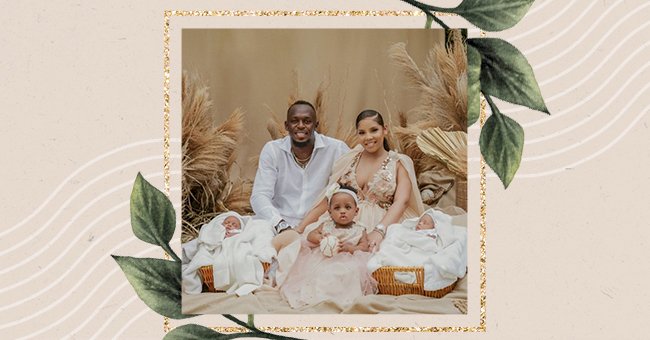 Usain Bolt Is A Father
Lauded Olympiad Usain Bolt announced the most adorable news Father's Day news on his social media accounts. The sprinter and his partner Kasi Bennett welcomed a doubly sweet addition to their family.
Bolt kept fans updated on Bennett's pregnancy on his social media but hadn't posted anything about expecting twins. Furthermore, the athlete had not stated when the twins were born but surprised fans on his socials with a picture of Bennett, himself, their twin boys, and their one-year-old Olympia Lightning.
Bolt took the internet by storm because of the choice of names for his children. The fastest man in history now joins a list of stars with fascinating names for their children.
Usain Bolt Father's Day Post
Bolt revealed the names of his children in his post, adding a lightning emoji next to each. The athlete's sons are named Thunder Bolt and Saint Leo. Saint Leo is Bolt's middle name.
Fans weighed in on his choice of names with one adding,
"When your name is Bolt, and you're the fastest man alive, the universe is telling you to do all the cool things with the baby names."
Interesting Celebrity Baby Names
Bolt isn't the only celebrity to name his children using a play on words. Kanye West and Kim Kardashian West made news for naming their child North West. Jermaine Jackson named his son, who is now 20 years old, Jermajesty.
Another fascinating celebrity baby name came from television actor Rob Morrow known for his 1990s series "Northern Exposure." The star aptly named his daughter, also an actor, Tu Morrow.
Kasi Bennett Wishes Usain Bolt a Happy Father's Day
Bennett used the surprise post to wish Bolt a happy Father's Day. Posting the same picture on her socials, Bennett penned a heartfelt caption to the father of her children, saying,
"@usainbolt You are the rock of this family and the greatest daddy to our little ones. We love you world without end!"
How Usain Bolt is Enjoying His Retirement
Bolt retired from professional sprinting in 2017. After, he tried his hand at professional football but later announced he would leave sports entirely in 2019. However, he will shortly join reality star Mark Wright, TV presenter Ore Oduba and Love Island's Kem Cetinay for a charity match for Soccer Aid.
The Fastest Man In History
The 34-year-old athlete holds the world record for 100 meters and 200 meters and is the only sprinter to grab the 100m and 200m double at three consecutive Olympics. He currently holds the 100m and 200m world records, thus making him the fastest man in history.