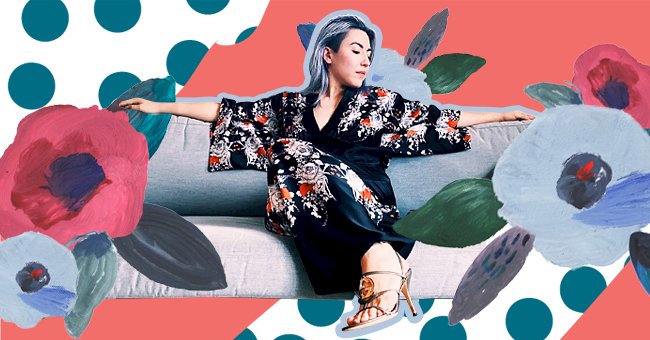 Use Your Wardrobe To Inspire Productivity While Working From Home
There's a connection between looking good and feeling good that affects your productivity. Here are five looks you can rock that will get you feeling productive.
"Mood enhancement dress is dressing to optimize your mood. So when you desire to get out of a funk, dressing up or practicing mood enhancement dress would be proven most beneficial."

Fashion psychologist and author of Dress Your Best Life, Dawnn Karen, a tells Bustle.
1. Classic White Top
It feels slightly sophisticated yet still casual, and you won't get caught off-guard if you have to jump onto a video call quickly. I like to add some layers of jewelry for good measure.
There's no need for make-up either. You can keep your skin hydrated and glowy, which goes so well with this already effortlessly polished outfit.
2. Pop Of Color
Sure, your grey leggings are super comfortable, and you can get away with wearing those black sweats for anything between two to twenty days (don't) but introduce some vibrancy to your WFH outfit.
Breathe a little life into your working-from-home wardrobe by choosing a bright and colorful top rather than a black or white one.
3. Athleisure
So while you're working from home right now, possibly working from your sofa in your cozy clothes, you might want to consider a home outfit that will still be comfortable but make you feel like you're getting your stuff together.
The hybrid fashion between activewear and leisurewear is excellent for feeling motivated and free to move around and stay productive.
4. A Wrap Dress
Now and again, working from home days deserves a little dress-up. A wrap dress is perfect for cute comfort while you get on with business.
"They're comfortable enough to balance my laptop on my lap on the sofa but also stylish enough to signal to my postman that I've made an effort (possibly too much)."

Says Beauty editor, Giselle La Pompe-Moore.
5. Tailored Shorts
While shorts might be a no-no in a corporate setting, they're allowed in your home workstation. Preferably in a soft fabric that will keep you comfortable too.
Feel free to accessorize your home outfits with some cute earrings and bracelets, even wear your favorite perfume. The little things that make you feel good can help you feel more productive.