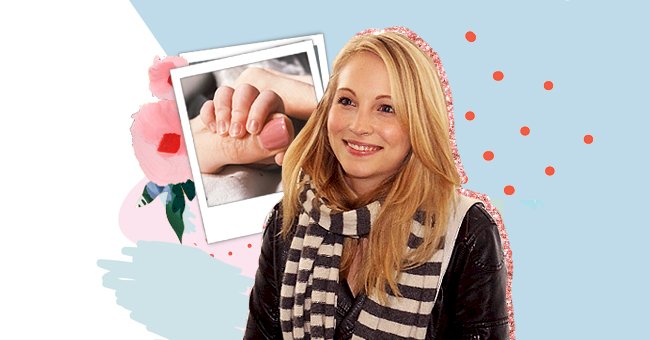 'Vampire Diaries' Candice Accola King Is Finally A Mother Of Two
The Vampire Diaries' famed actress Candice Accola King welcomed her second baby, Josephine June King, on December 1, 2020. She took to her Instagram account to break the news.
Our favorite Caroline Forbes is a mommy for the second time. She has always warmed our hearts with her impressive acting throughout The Vampire Diaries days.
We got to see Caroline making an appearance sometimes on The Originals as well. Klaroline (Klaus and Caroline) was not an end-game, but her presence was enough to please her fans. She shared the news of her new-born baby on December 12, 2020.
Candice Welcomes Second Baby
The Originals star welcomed her second child with her husband, Joe King, on December 1, 2020. Candice and Joe have named their daughter Josephine June King. They also have an elder daughter, Florence May, who is four-and-a-half-years old.
The couple got married in 2014. Candice has made a massive career in acting, while Joe is a guitarist and songwriter of the band The Fray. Joe's two daughters from his previous marriage also live with him and Candice.
Candice announced the news of Josephine's arrival on her Instagram account. Her colleagues from TVD and The Originals were quick to congratulate her as well.
Joe King was quick to share his daddy-daughter moment on Instagram too. He shared a cute picture of cradling little Josephine in his arms. The Fray guitarist also appreciated his wife in a sweet caption.
"It is now one of the best years of my life, truly grateful to welcome our Josephine June King, born December 1, 2020. I'm also very proud she looks just like her momma @candiceking who is a warrior woman goddess, I'm lucky to create this perfect love with you."

said Joe
Pregnancy Announcement & Experience
The Vampire Diaries star also shared her experience of carrying a baby amid a pandemic. She pointed towards battling the unexpected, despite being pregnant for the second time.
Candice also shared how the pandemic had made her scared for herself and her daughter. She said that she barely leaves her home, unlike her first pregnancy.
The Originals actress also did a session on Postpartum Depression on her podcast. She said that it would help herself as well as other mothers going through post-birth stress.
"My first pregnancy did nothing to prepare me for being pregnant in 2020. But being pregnant in 2020 has undoubtedly prepared me to become a better mother."

added Accola King
Sweet Baby Bump Moments
Candice King is quite active on social media, especially Instagram. She continually shares glimpses from her personal and professional life.
The second-time mom continued dropping pictures of her cute baby bump. Her sweet captions alongside the images were loved and appreciated by celebrities and fans alike.
Accola King carried all sorts of outfits with grace. She donned comfy pajamas and sweatshirts, and beautiful gowns and silken-wear, and always stood out.
She has beautifully captured her journey of carrying Josephine and giving birth to her. She gave quite the 'mommy goals' to many women out there.