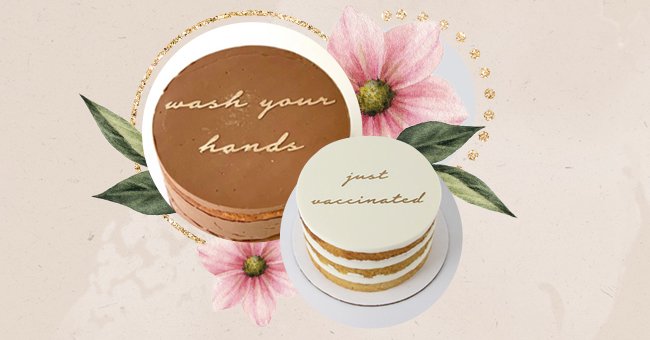 Viral Butter& Bakery Shifts From Making Quarantine Cakes To 'Just Vaccinated' Cakes
Amanda Nguyen is the owner and baker behind Butter&. This is the San Francisco bakery that's become famous for its Quarantine Cakes. Now, they are back with Just Vaccinated cakes.
Amanda came up with the idea for quarantine cakes decorated with a PSA out of necessity. Weddings, birthdays, and other celebrations slowed down, and so clients canceled all of her orders almost overnight due to the COVID-19 crisis.
Then she started making cakes small enough to serve one or two people. They were also perfect for celebrating milestones in small groups. You could also send them to someone to show love in a time of social distancing.
Who Is Amanda Nguyen
Tahoe City local Amanda Nguyen started baking when she was in elementary and got to show the rest of the world her baking talents on the Great American Baking Show.
For Amanda, she sees baking not only as a hobby but as a way to create unique experiences with her family. Amanda grew up baking with her mother and grandmother and said she fell in love with the show many years ago, and when the chance arose to apply, she took it.
Amanda And The Quarantine Cakes
Amanda started making quarantine cakes which she called PSA cakes, out of necessity. They weren't making money and were having to make refunds based on canceled orders. In the bid not to lay off and survive, she took a gamble and paid off.
The quarantine cakes' goal was to lose money less quickly, and the idea blew on social media. They decided to make more miniature cakes to meet the needs of people who needed to stay at home and still have cakes as they celebrated.
Amanda And The Vaccination Cakes
Almost a year after they broke out with their quarantine cakes, Butter& is back and wants you to celebrate your vaccination day with a cake! The bakery reckons that this is a significant moment after an entire year of COVID-19.
"The message is an important one, too. The best thing we can do for our communities right now is to get this vaccine, if you're eligible, to protect the vulnerable among us. And maybe someone will thank you with cake."
The idea came when a client ordered a cake with HVD meaning Happy Vaccination Day on it. Like quarantine cakes, their vaccinated cakes serve one to two persons to encourage people to continue social distancing. They have tons of writeups you can choose to be on your cake or customize as you deem fit.