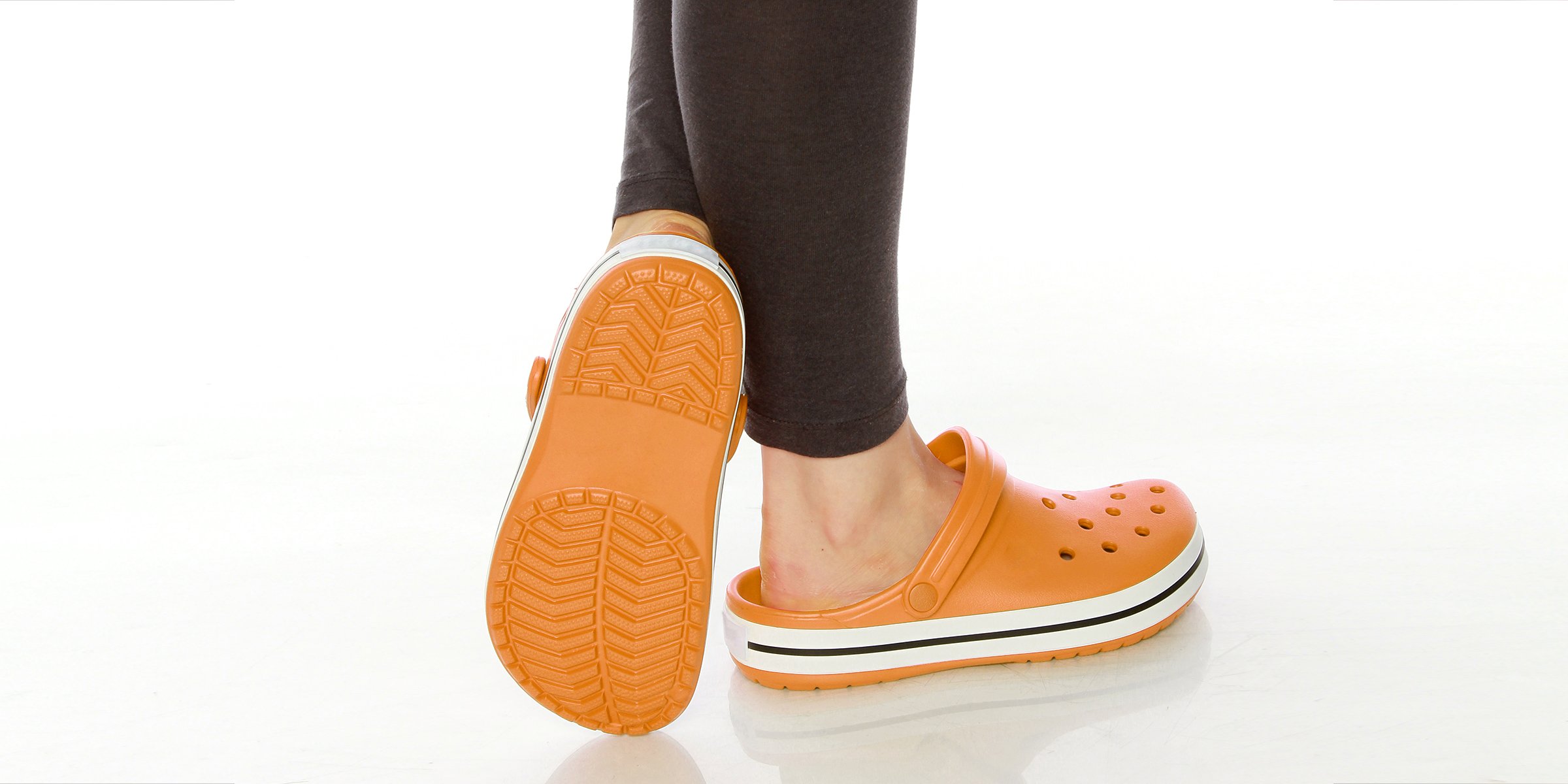 Person wearing a pair of crocs | Source: Shutterstock
Why Are Crocs So Popular? An inside Look into the Booming Crocs Trend

If you have ever wondered why Crocs are so popular, then you're not alone. The shoe, once regarded as one of the world's ugliest, is despised by some and cherished by others for various reasons. However, it has grown in popularity since 2002.
The Crocs, which have been in the market for two decades now, are a variation of the clogs. The idea came from designing the clogs with cutouts that Scott Seamans was working on for his company.
However, the company he worked for could not sell the clogs. Scott Seamans decided to try on the shoes and fell in love with the comfort they provided.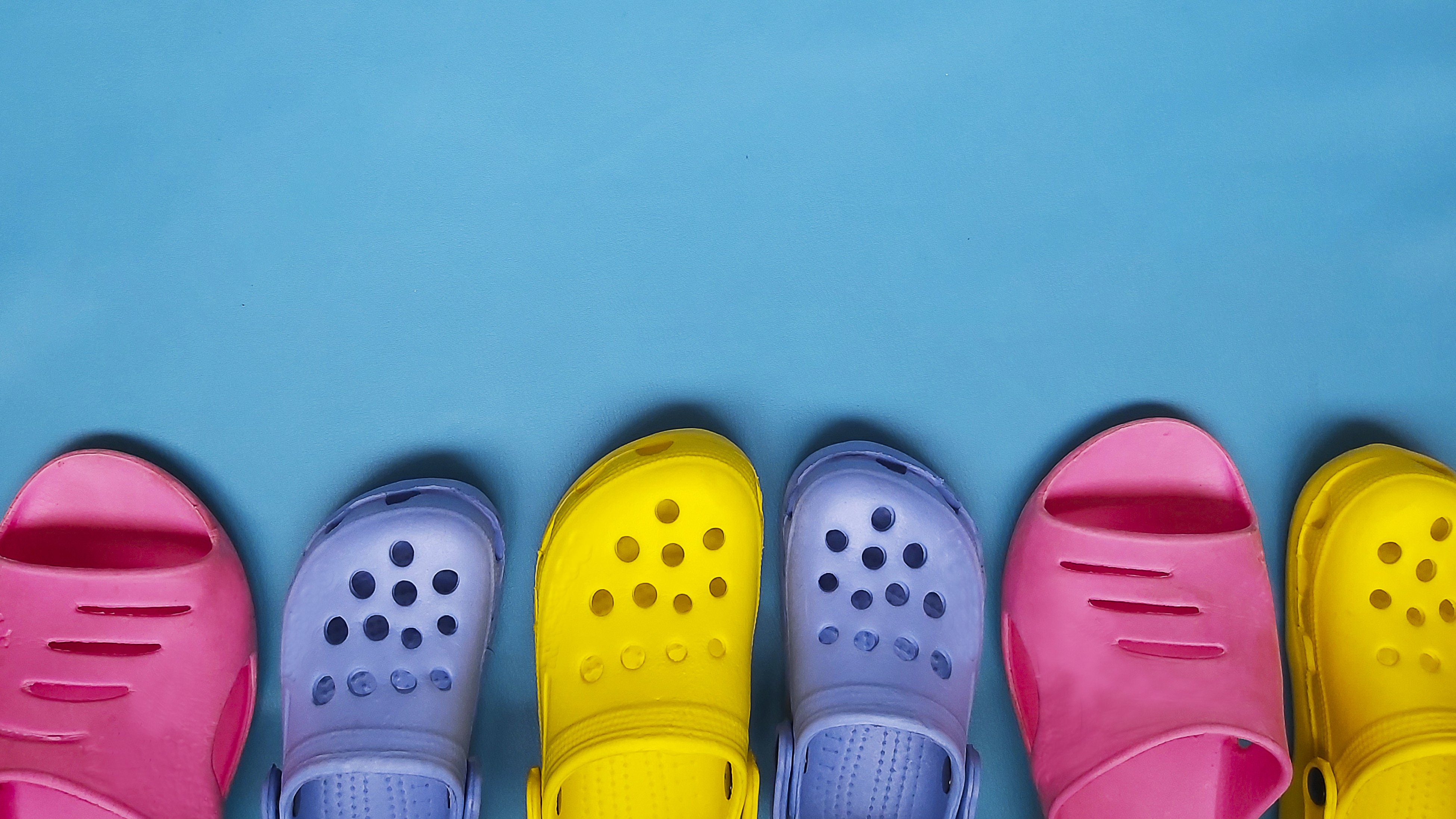 A lineup of colorful pairs of Crocs | Source: Getty Images
He immediately created a strap and showed the shoe to his friends, Lyndon "Duke" Hanson and George Boedecker, while they were on a boating vacation.
They all agreed the Crocs were ugly, but after a few days, they fell in love with the shoes. The friends decided to venture into the business of Crocs, and it has been thriving ever since.
What Does the CEO Say about the Success of the Footwear?
In 2021, the CEO of Crocs, Andrew Rees, spoke about the brand as its popularity kept rising. He praised them for being comfortable and said:
"It's easy on and off. It's lightweight, so it's very easy to wear and it appeals to that major comfort trend that is going on."
Besides the comfort the shoes provide, he remarked that the Crocs had international value as they had already penetrated almost 20 countries worldwide.
Zoë Hennessey, a fashion stylist, believes that the beginning of the pandemic contributed to the popularity of Crocs because it fitted into people's ideas of casual and comfortable fashion.
She added that while the younger generations use it to make fashion statements, the older generation fell in love with it because they are affordable and functional.
Since the start of their brand, the foam plastic footwear has consistently stuck to what has worked for them. In addition to retaining their comfort and colorful nature, they are also easy to maintain.
Collaborations Brought Crocs to a New Level
The popularity of Crocs among younger generations increased when the brand began collaborating with other brands, influencers, and celebrities.
Crocs once partnered with Justin Bieber to create some footwear embellished with oversized Jibbitz charms inspired by characters from the fashion brand he co-founded.
They also collaborated with the Kentucky Fried Chicken chain to create Crocs that looked like a bucket of chicken with Jibbitz charms they claimed smelled like chicken.
Crocs also collaborated with Disney Pixar's "Cars'" Lightning McQueen to create children and adult clogs that sold out within hours when they launched.
SZA and Crocs have also partnered to create classic woodgrain clogs, and for their second collaboration, the singer and songwriter updated the footwear brand with a denim design.
While some people fell in love with Crocs when they first saw them, others have grown to love the footwear. A fan named Karina Saucedo initially swore never to own a pair. However, after 15 years, she fell in love with the footwear and decided to purchase them. She said:
"I consider them so ugly and such an ironic thing to wear, but in the middle of the pandemic, it's something weird and nice to hold on to."
Kids Are in Love with Crocs
While adults love their Crocs for their utility, children have also fallen in love with this footwear. Children first fell in love with the attractive colors.
In addition, they love Crocs because they no longer have to depend on their parents to wear their shoes, and it is also easy for them to say the word "Crocs."
If you love this footwear, you should take a trip down memory lane with the '90s footwear that have become trendy once more. You might fall in love with a pair or two.