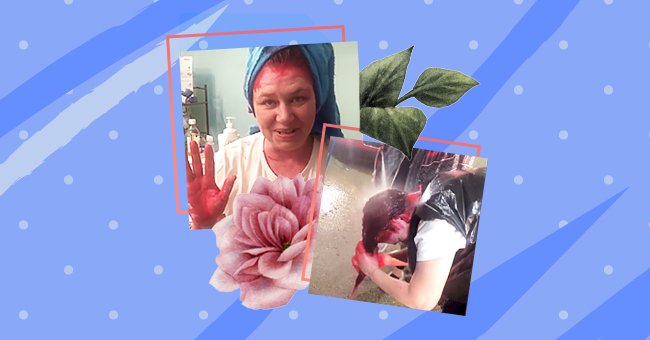 Woman Goes Viral On TikTok After Being Forced To Use A Car Wash To Rinse Out Red Hair Dye
The pandemic has turned us into D.I.Y hairstylists. What's worse is the internet is eating up every piece of it. Before you follow that YouTube instructional or snip up a new bang you may want to read this story first.
A woman had to wash her hair at a car wash after a botched at-home dye job saw her stain her head and hands. To rid herself of the color, the user enlists her son's help to do the task.
Tik Tok users went crazy at this quirky turn of events. The video has been played more than 10 million times. However, before you throw your box dye in the trash, read further to see how you can have a better at-home dye job.
How It All Started
The woman, going by @theonlykeef on Tik Tok, posted a video of herself drenched in red hair dye. Keef laughs as she whips out a box of Splat's Midnight Ruby hair dye, telling her son she needed to go to the car wash.
In an attempt to save her porcelain bath, Keef has her son drive her to a car wash at night. From there, with a plastic bag over her clothes, Keef tells viewers she is waiting for her other son to block another entrance to shield her from prying eyes.
Keef also admits she is about to wash her hair in freezing 40-degree temperatures. When her other son arrives, Keef takes her brilliant redhead to pressure washers. However, it appears to take some time to wash off.
Finally, rid of some of the excess color, Keef attempts to dry her hair. Although somewhat free from her predicament, Keef laments to viewers that she was cold. However, the mum ends the video, confessing she has many regrets.
"I'm so cold. I have many regrets,"
Users flooded Keef's video clip, with many praising her sons for their help. However, some users noted Keef's bravery at using the pressure washers. Additionally, Tik Tok has labeled the follow-up video as an action that could result in serious injury.
The Aftermath of the Incident
In the follow-up video, Keef appears much happier. Her styled hair appearing to have survived the intense box dye and seemed to be vibrant. With sporting wavy curls, Keef warns viewers to read the instructions.
Keef also tells viewers to be prepared with plastic bags and a trip to the car wash if they want to use the product. In true internet virality fashion, the videos have been viewed several times, with the first going way past the five million views mark.
Many people have taken the self-styled route to interesting results loc due to lockdown measures seeing salons closed. Moreover, you may want to note a few things to keep in mind with no other alternatives in sight if you wish to do your hair.
How To Do An At-Home Hair Dye
Washing your hair at a car wash may be extreme, to say the least. In reaction to the video, hair colorist Nikki Ferrara told Allure, Keef did not use the provided gloves in the box and put a protective layer against her head.
Ferrera advises that those wishing to dye their hair on their own should use color depositing shampoos and conditioners. The option is much gentler to hair and the shower. The stylist also recommends adding Vasline to your hairline to create a barrier from stain.
The Vice President of Marketing at Splat, Jennifer Paulson, weighed in on the incident. Paulson praised the outcome but added bold color dye users always take precautions. Furthermore, if instructions are adhered to, users of the product will have a great experience.