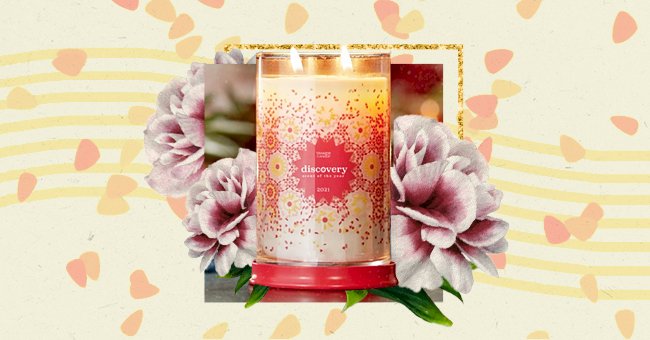 Yankee Candle Announces 2021 Scent Of The Year
Yankee Candle has just announced its third-ever scent of the year, and after the year we've all had, it's everything a wanderlust has been dreaming about.
Leaders in home fragrance Yankee Candle have revealed 2021's Scent Of The Year. The company named their new candle "Discovery." Drawing inspiration from the growing desire for adventure.
Discovery is the culmination of delightfully scented from around the world bursting in notes of red ginger, starfruit, mango, passionfruit, vanilla spice, and saffron.
2021 Scent Of The Year
The home fragrance made its reveal on Tuesday. Fragrance experts thought of "feelings of discovery, energy, and connection" when designing the scent.
The candle is made from soy-wax encapsulated by a salmon pink, warm orange, and yellow accented Moroccan tile-inspired pattern large tumbler. When lit, it creates luminous patterns.
The new candle features a pink lid that you can rest on the candle's top while it burns. It has two cotton wicks for you to light your home with.
A Sense of Adventure
Yankee Candle Company's VP of Marketing, Anna Whitton, said in a statement how they worked closely with fragrance experts and found that people "now more than ever" were craving exploration.
"Knowing that travel may still be out of reach for many this year, the 2021 Scent of the Year, Discovery, was designed to help people fulfill the universal desire to discover new cultures, make new memories, and embrace new connections from the comforts of their own homes."

Whitton said.
The blends making up the fruity/spicy aromatic experience were well-considered. The red ginger brings a fresh punch of choice while along with the cardamom. However, there's also a sense of a tropical feel with the passion fruit and mango.
Previous Scents
"Discovery" is Yankee Candle's third Scent Of The Year, having started the annual scent announcements back in 2019. Their first scent of the year was called "One Together," inspired by the consumer's desire to express their individuality yet embracing diversity.
2020 saw the company release "Awaken." A scent intended to "inspire us to experience the simple beauty of the every day."
Discovery offers 60 and 100 hours of use and retails for $29.50. Early access is granted to Yankee Candle Rewards members. From March 21, the candle will be available in retail stores, YankeeCandle.com, and selected retail sites.