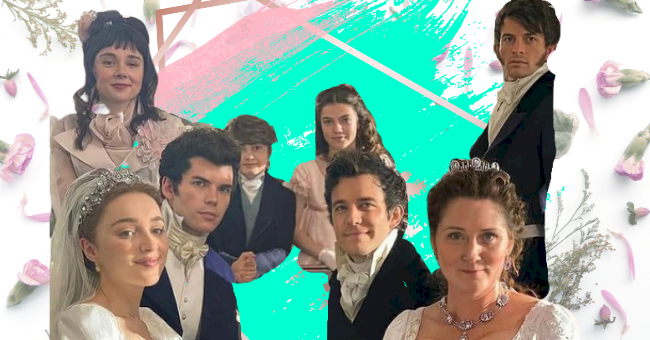 Your Complete Guide To Season 2 Of 'Bridgerton'
With Daphne and Simon finding their happily-ever-after, fans are now curious as to what more the Regency period drama might have in store for the next season. So brace yourselves, major Season 2 spoilers are coming next.
Bridgerton graced Netflix during Christmas-time in 2020, and had us hooked all through the holidays with its classic romance and epic drama twists. Season 1 has finally come to an end with Daphne Bridgerton and Simon Basset getting married and starting their family.
The Regency-set Bridgerton is based on Julia Quinn's epic novel series, and the first season was an adaptation of the first book, titled "The Duke And I." Because there are seven more books to go, fans are already sharing hopes of getting much more of Bridgerton in the future. Let's have a look at everything we know about Season 2 so far.
Season 2 Is Officially Returning
Netflix has recently made an official announcement regarding the return of Bridgerton Season 2, sharing no particular details on the release date. However, there have been reports of the production starting for a possible second project, likely to begin in March 2021.
Fans were already harboring strong hopes for the next installment of the romance drama, when the official news came out. First, it's based on the series of eight books, which means there are still seven more to go. Second, the show has already garnered sheer praise from fans, and that's why they wanted it to return.
Pandemic Has Delayed Things
As is the case with many mega projects, the season 2 might be delayed because of the coronavirus pandemic. Actress Phoebe Dynevor, who plays the role of Daphne Bridgerton, confirmed the news of delayed shooting in an interview.
"I can't imagine how it would be possible to film under these circumstances. There are so many extras and so many crew members, and it's a very intimate show. It just baffles me how we would film it under Covid rules unless there was a vaccine beforehand."

said Phoebe Dynevor
Nobody knows where things are headed though, because the pandemic has become severe again, but vaccines are also being rolled out in most parts of the world, including the U.K., so we have our fingers crossed.
The Bee In Season Finale Might Hint At Season 2 Twist
Shortly after Daphne and Simon welcome their child in the season finale, a bumble bee makes an appearance in their window. Anyone who has read the books would know that this pointed towards Edmund Bridgerton's tragic demise due to bee sting.
The story of how Edmund dies and leaves behind his family is further discussed in the second book of the Bridgerton series, "The Viscount Who Loved Me." This book revolves around the eldest Bridgerton son, Anthony, who takes the fear of bees from his late father.
Season 2 Might Focus More On Anthony
If the showrunners go by the book, Anthony's story deserves a mention in the next season of the Regency romance drama. Dynevor, who plays Anthony's sister Daphne, also shared that she would like season 2 to center around Anthony, and she would love meddling in his love life.
"I genuinely have no idea what they're going to do with the second season, but I imagine if they're following the books, then it would be Anthony's journey ... I'm sure Daphne will end up getting involved. But yeah, I do wonder what it looks like. I'm excited to find out."

shared Dynevor with Deadline
We Might Not See A Lot Of Daphne & Simon
Daphne Bridgerton and Simon Basset were the main focus of Season 1, but we might not see them in the spotlight in the next season. The books point towards Anthony taking a front seat in the Netflix adaptation, and that might mean less screen time for Daphne and Simon.
However, we might get to see how they both rediscover their relationship dynamics, given that becoming young parents affected them greatly. Rege-Jean Page, who plays Simon, shared that the couple might have to mature and handle a lot of things before they find their ultimate happy ending.
Lady Whistledown's Revelation In Season 2
The Season finale let us in on the true identity of Lady Whistledown, played by the innocent Penelope Featherington. Since the Bridgertons still don't know who she really is, things could get more fun and mysterious, and the friendship between Eloise and Penelope might also face the impact.
"Eloise and Penelope's relationship is gonna change! Obviously they're best mates, but there's a lot that Penelope hasn't shared with Eloise. And I'm sure there are loads of secret love and romantic desires that Eloise has had that she hasn't been brave enough to share."

said Claudia Jessie, who plays Eloise
The Show Creator Has Plans For Seven More Seasons
The show creator, Chris Van Dusen has shared that he has massive plans in store for the future. He also shared that if he follows the novel series, another seven seasons are in line for the Bridgerton fans.
"This being a family of eight children and there being eight books, I would love to be able to focus and really tell stories and love stories for all the Bridgerton siblings. For each character, for sure."

he said.
While it seems like we know a lot and still not enough, we now know for sure that Bridgerton is returning with another season. But let's wait patiently and re-watch Season 1 in the meantime.