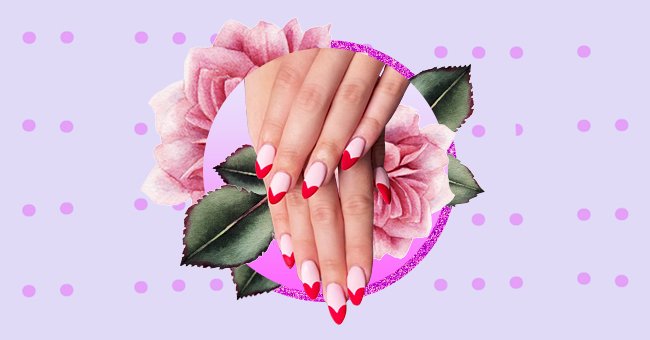 10 Artistic Yet Wearable Nail Ideas For Date Night
To set the mood right for your special plans, or merely to ring in more love for Valentine's Day, here are the best nail art ideas you should definitely try. Who knew kisses and hearts could look so good on our nails?
Nail art designs now offer a myriad of options to choose from, so there's something for everyone. Whether you're the minimalist type who likes to play with colors and a little fun art, or someone who loves embellishments, there are many exciting designs to try.
However, for people looking for some nail inspiration for their date night celebrations, keeping things subtle and romantic is the key. Below, you can find ten nail design ideas which are so cute and pretty, you'll fall in love with your nails.
1.Kiss Worthy
When you can't think of much to do, simplicity is essential. Opt for natural nails with these cheesy red kisses on top.
2.Red Heart Nails
With a glossy top pink coat and tiny cute red heart arranged vertically, your nails will do all the talking when you are at a loss for words.
3.Color Blocking
Another cool nail design to try is color blocking. You can opt for two or three different colors, but make sure they don't overshadow one another.
4.Hugs & Kisses
We have been fans of XOXO since the Gossip Girl days, and now it's time to try some xoxo inspired nail art. You can even try pink and red hearts or a thick red top coat for a more subtle vibe.
5.Talking Heart Nails
If you're done for the night or just too shy to start a conversation, rely on your nails to have your back. You can never go wrong with these short and sweet heart impression-centered nail designs.
6.Pink Hearts
Picking your base coat can sometimes be very tricky, but with this Valentine's Day inspired nail art, your nails will look perfectly on fleek.
7.Dip Nails
If all you're good at getting those coating layers right, try dip nails. Don't forget to put a little cute heart on top, or maybe a kiss, and you're all set for the night.
8.Valentine's Nails
Paint your nails in the colors of love by opting for a pink coat and highlighting the heart-shaped edges with red color. Simple and lovely, right?
9.Monochrome Kisses
For those classy and gorgeous looking nails, try a lighter colored coating and decorate on top with black and white kisses.
10.Pink Love
If you're a fan of pink color or merely looking for some glitz and glam, add a little sparkle and shine with this heart-themed nail art design.