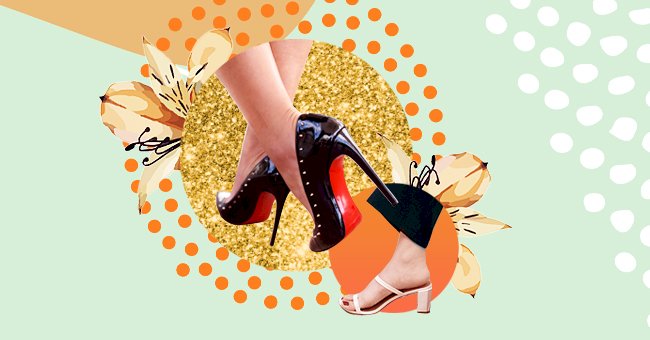 10 Comfy Heels That You Can Dance In
While the regular and prolonged wearing of high heels can have adverse effects on your feet, there are stylish alternatives that will give you the height you're looking for with fewer aches.
Let's face the facts; heels just aren't that good for your feet. Now that we've swallowed to hard pill, let's wash it down with the fact we're not going to stop either way. But we can find ways to maximize comfort and reduce the adverse effects that long hours of heels have on our precious feet.
"It's like having your cake, but not making it a daily activity,"

says celebrity podiatrist Dr. Suzanne Levine, DPM to Elle.
Platform High Heels
They may not look it, but hear me out for a hot second. The platform provides excellent balance and comfort than a heel without. You don't have to go for the full six inches, but if you're here for a good time, not a long time, you might get a good round or two on the dancefloor. Not sold? I get it.
Mules
Mules are one of the trendiest shoes this year. This makes sense seeing how we've been all about comfort this year. So you can stay trendy while you take over the dancefloor.
Kitten Heels
Kitten heels will be fabulous if you're here for a good time and a long time. There's so low from the ground you might even forget you're wearing heels and seriously let loose.
Chunky T-Strap Sandals
Though they may look intimidating, a good pair can be supportive enough for you to confidently and comfortably bust a move or two.
Buckled Block Heels
Stylish and sturdy and guaranteed to hold you down when you're starting up the electric slide, and your next do. If they have no platform, though, make sure they're not too steep.
Loafer Heels
This is a sturdy option that gives adequate space in the toe area for a wider foot. You can also pair this puppy with a cute ankle-length lace sock.
Metallic Heels
Find a pair that has an elastic slip-on strap for an easy slip on and off. Also, that strap at the back will help your shoe not slip off.
Wedges
A bit of a compromise on style with these, seeing that wedges haven't been in fashion for some time, but if you're looking for comfort, then hey, Bob's your uncle.
Flatforms
Get that bit of height with minimal compromise on comfort. Though personally, I find it a challenge to bend my toes in these so they can slightly rigid. Either way, if you're not dancing, it won't be because your toes are in aches and pains.
Booties
Bring it on with some booties. You can go as high as your comfortable with, but again, if you're planning on staying on your feet for long, you may want to stay closer to the ground.