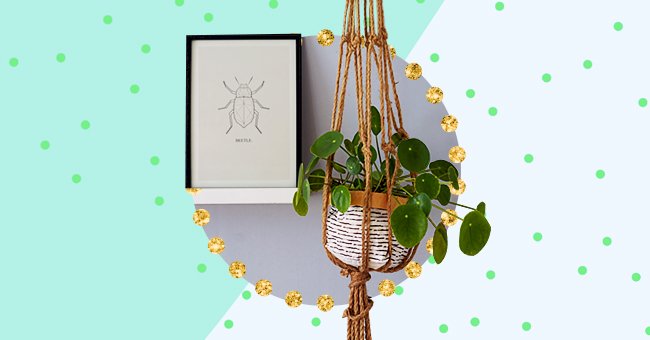 10 Creative DIY Wall Decorations Inspired By Interior Designers
Experimenting with your home decor has never been so overwhelming before, so give your blank white walls an artsy touch with a cool wall hanging, graphic art pieces, fabrics, flowers, and what-not.
After spending nearly a year staying at home, it's natural to feel those empty walls closing in on you. There's a growing need for our space to keep up with our multi-functional life, starting with making those boring walls reflect our inner style.
The pandemic has given us ample time to spruce up our living space and put our creativity to work. If you're determined to enhance your dull-looking walls, it's time to try out these ten innovative DIY wall decor ideas which will rekindle your space without weighing down on your pocket.
1. Hanging Planters
It's always refreshing to stay close to nature and greenery. But if your work schedule doesn't allow you much time to stroll outside, having a wall decorated with hanging planters or flowers is a great idea.
2. Fabric Wall Hanging
Are you trying to throw away your old fabric cloth or rug? There's no need for that now because you can use them to add a vintage, antique touch to your space.
3. World Map
How about looking at a map of all the places you want to visit once the pandemic subsides? You can draw it yourself or involve your artistic friend and have fun painting your world of possibilities and dreams.
4. Abstract Wall Art
Playing with bright, bold art pieces is fun, but going for unconventional, off-centered options can amp up your walls. Abstract wall art is perfect for giving a vintage look to your space.
5. Adding A Mural Or Wallpaper
You can hand-paint a mural or add a cool wallpaper to enhance the visibility of your walls. Try out this look for your lounge or bedroom, and experience a vibrant living space.
6. Hang Your Hats
Gather all your hats and channel your inner cowboy and beach-person while you hang them on your wall. With this easy-peasy DIY wall decor, your walls will look so trendy you'll keep staring at them all day.
7. Add Mirrors
You can never go wrong with making mirrors a part of your wall decoration. But if you're bored of the same old circular mirror, go for other shapes and fun outer boundary options.
8. Go For Printed Art
You can paint a bright and bold-colored art piece or hone your professional skills to choose a printed work of art. Either way, your walls will scream life and fun like never before, so there's no chance for you to doze off when you look at them.
9. Add A Chalkboard Or Whiteboard
Put to use your lying around chalkboards and whiteboards and transform your wall into a massive writing wall. This idea will never fail and change your room's look to serve as office space and a reflective area.
10. Macrame Wall Hanging
Macrame wall hangings give such a soft touch and are perfect for the times you're seeking comfort and relaxation. You can pick any color you like, and even try making one yourself.