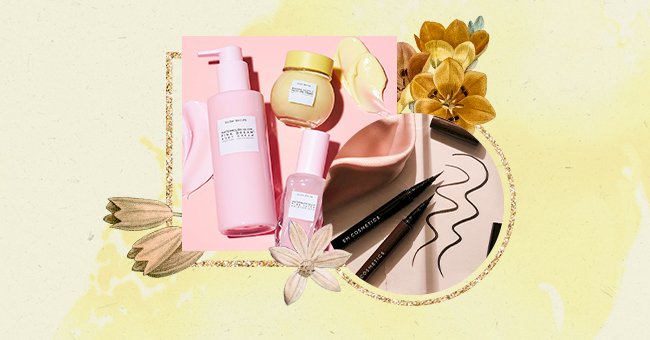 15 Asian Beauty Brands To Support Right Now
Korean beauty made waves in the beauty industry. Think ten-step routine and all. However, Korean beauty is not the only Asian beauty solution available. There are many more products from Asian beauty brands that work.
The power of your wallet has a tremendous effect, and with the recent chaos against the AAPI community, now would be a great time to show support. Therefore, consciously investing your money is a way to celebrate representation in the beauty industry.
The Asian influence in the beauty industry is remarkable, and we, therefore, need to take time to celebrate and highlight some of the best companies. Therefore, change the way you experience beauty with these fifteen Asian brands you can support right now.
Glow Recipe
Christine Chang and Sarah Lee stumbled upon a wild idea as they talked over sheet masks and wine. They wanted a dream K-beauty shopping destination, and thus Glow Recipe was born.
Glow Recipe is unapologetically fun, which is evident in their super Instagrammable branding and fruit-powered products. Chang and Lee aim to make skincare exciting to use. No wonder it has risen to one of the beauty industry's most fascinating brands to watch.
Tower 28
If you have sensitive skin, you have a friend in Tower 48. After all, they drive the message that it's okay to have sensitive skin, as evidenced in their hypoallergenic products that are gluten-free and non-comedogenic.
All their products are made within the National Eczema Association guidelines to give you the best of irritant-free cosmetics. Therefore, feel free to browse their range of cream blushes, highlighter balms, lip jellies.
Superegg
Superegg is an NYC-based brand founded by Erica Choi. Superegg creates luxury formulas packaged in sustainable, classically designed packaging. Experience spa-like skin from using their nourishing gel cream or creamy foam cleansers.
Abhati Suisse
Anju Rupal founded Abhati Suisse with the mission of female empowerment. From the brand's profits, Rupal uplifts girls in rural India by providing them with education. Over 250,000 girls have received schooling through them.
You can begin by purchasing the company's first-ever product, a glorious handwashing soap made with unique ingredients such as moringa oil. The luxe feeling on your hands is like no other.
CTZN Cosmetics
CTZN Cosmetics was founded by three sisters who stand for diversity. What better way to make this a reality than with the different shade range on offer? Their formulations provide great pigment. Try out their gold eye shimmer first. It looks fantastic on everyone and is super easy to apply.
Then I Met You
Then I Met You is a Korean brand built on the emotion of deep affection and empathy. You can witness this in their branding and website. The brand also stands for sustainable beauty and takes the less is more approach by trying to simplify your skincare routine.
They only have a few products in their line. However, don't be fooled as the products are shipped internationally as they are widely loved. Please do yourself a favor by trying out their product range of toners and balms, to mention a few.
Tatcha
If you have been living under a rock and have never heard of Tatcha before, thank us later. Tatcha was created after Tsai (the founder) learned beauty secrets from a modern geisha during a trip to Japan.
Tsai then created her brand using, well, Tatcha. Tatcha is an ingredient that includes a little something called Hadasei-3, which combines powerful superfoods of tea, rice, and algae for beautifully supple skin.
Savor Beauty
Savor Beauty founder Angela Jia Kim, and her mom would always do their beauty routines together. During their routine, they would use elaborate products such as creams formulated with gold and silkworm cocoons. Consequently, this experience inspired Kim to create Savor Beauty.
Consequently, Kim's brand features the same luxurious ingredients bound will give you that healthy glow. If you have dry skin, try the hyaluronic serum to give your skin the instant moisture it needs. Also, the citrusy scent doesn't hurt.
Em Cosmetics
Michele Phan is one of the first YouTube beauty influencers and a major one at that. Phan is also the founder of IPSY, a beauty subscription service that curates the very best in skincare and beauty for you.
Em Cosmetics has an incredible range of cosmetics to choose from. If you are spoiled for choice, you can try the Illustrative felt tip pencil for a sharp and defined cat-eye. A bonus: it retails for an affordable price.
Emilie Heathe
We've never seen nail lacquer packaging that looks as superior as this. The founder Emily H. Rudman experienced a significant amount of time not feeling connected to her Korean heritage and therefore dedicated the Emilie Heathe brand to her ancestry.
The nail lacquer is super luxe and uses Asian-inspired ingredients such as sea buckthorn and bamboo rice. The application process is simple, and the finish is as elegant on your nails as the elegantly named colors.
JINSoon
Give your nails a refresh using the JINSoon nail lacquer. Jin Soon Choi, the brains behind the business, created the nail polish line to be chip-free, quick-drying, long-lasting, vegan, and cruelty-free. Tick, tick, and tick.
Juara
Juara is just as diverse as the three friends who founded it. While living in a tiny apartment in New York City, the founders of Indonesian, Chinese and Japanese heritage aimed to craft skincare steeped in self-care rituals from Indonesia.
Self-care is more enjoyable with Juara's product line that used traditional Indonesian herbal medicine, often used in Indonesian beauty rituals. Therefore, elevate your self-care routine using their range of body oils or cream to give your skin a healthy glow.
Ellis Brooklyn
Bee Shapiro was interested in perfumery and founded Ellis Brooklyn. However, she found that the perfumery industry included very few people in the AAPI community. Gearing to make a statement, Shapiro, on her latest release, worked with one of the very few Asian perfumers to launch her sexy and alluring scent.
Lanshin
Lanshin was created to improve facial complexion using the ancient Chinese practice of Gua Sha. The founder, Sandra Lanshin Chiu, provides facial treatments at her healing center and created the brand to provide products as an extension of the treatments she does.
Gua Sha improves lymphatic drainage to make the skin radiate from the inside out. Therefore Lanshin's Gua Sha tools gently massage every part of your face to create an envious glow.
Live Tinted
We doubt the founder Deepica Mutyala knew she would go viral after using red lipstick to cover dark circles. Of course, with the brand's star product being red lipstick, it is perfect to use on lips and under eyes, or anywhere else seen fit.