A Lady Attending a Funeral | Source: Shutterstock
5 Funeral Dresses under $50 Suitable as Mourning Attire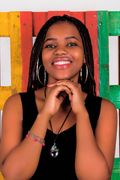 Funerals are the last things people expect, but some things are beyond our control. When that time comes, you want to be prepared and figure out the best funeral dress for such an occasion.
A funeral is a sad occasion, so it's advisable to wear outfits that have conservative colors and styles. The most advisable color of choice is black. However, you can opt for dark grey or blue if you don't have an outfit with that theme color.
While dark-colored clothing is appropriate for funerals, it's important to note that some cultures have different preferences regarding patterns and colors. So, it's crucial to consider such things before attending a funeral to avoid coming off as disrespectful.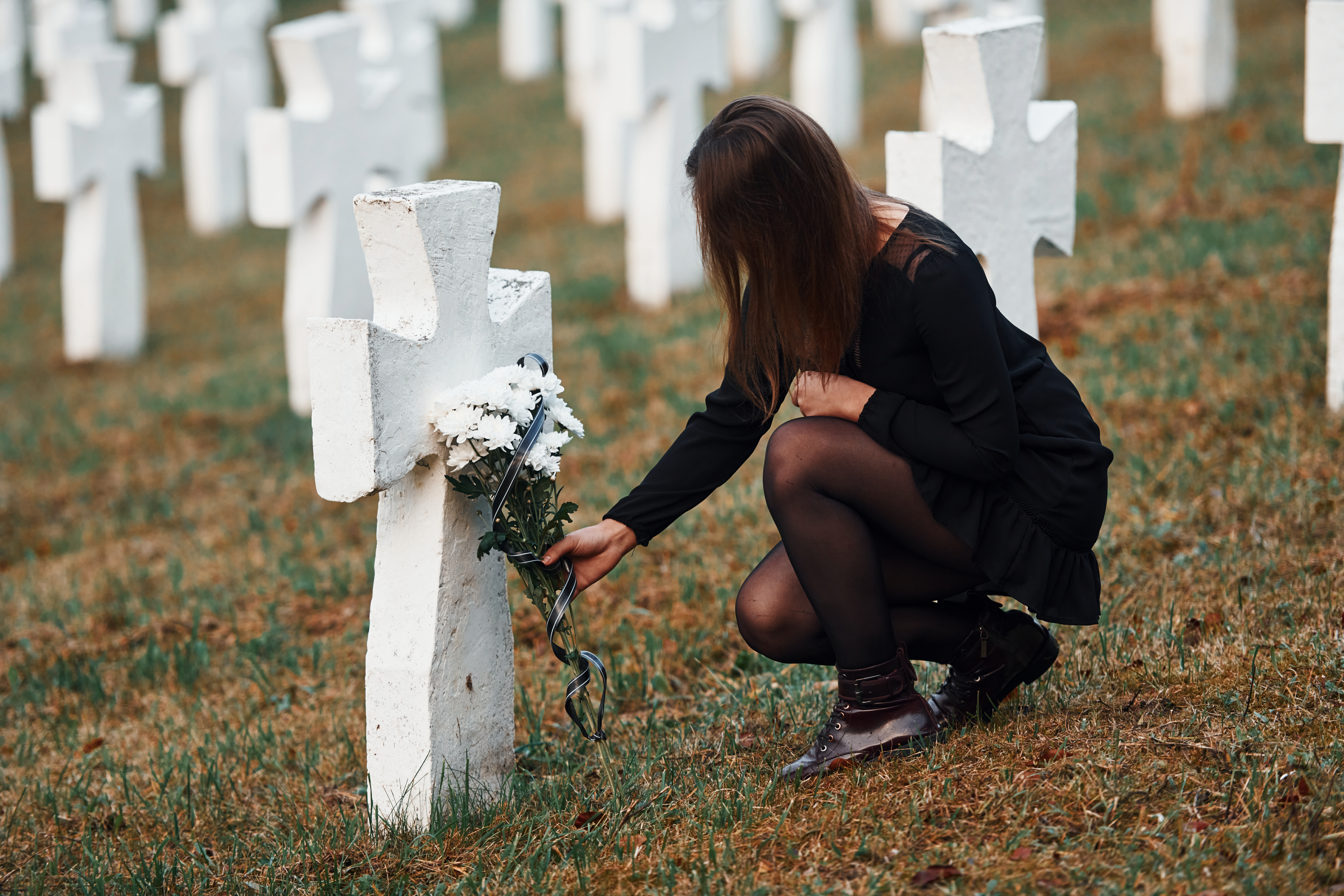 A young woman visiting the cemetery dressed in black clothes. | Source: Shutterstock
Tips for Styling Funeral Outfits
When dressing up for a funeral, ensure your dressing leans on the formal side. Avoid attires that will make you look conspicuous. Also, don't wear casual outfits such as vacation attire, gym or sporty clothes, sneakers, or jeans, even if they are of dark colors.
While funeral venues can be unpredictable, it's always a good idea to have a jacket or a coat with pockets where you can place your tissues just in case you get emotional.
Choosing comfortable footwear for the occasion and avoiding those six-inch heels is essential. You may find yourself standing for extended periods, which could lead to back discomfort. Consider opting for stylish flat shoes or heels you can wear all day.
A young lady at the cemetery. | Source: Shutterstock
This midi dress offers a comfortable fit due to its stretchy material, accommodating women of various sizes.
It's a good idea to keep your accessories minimal for a funeral. Opt for a simple clutch or handbag; if you wear a hat or headband, ensure it's small to avoid inconveniencing others.
When it comes to jewelry, simplicity and class are essential. Avoid wearing excessive jewelry, and having sunglasses is practical, especially if it's sunny and you need to protect your eyes. Additionally, they can offer some privacy if you become emotional.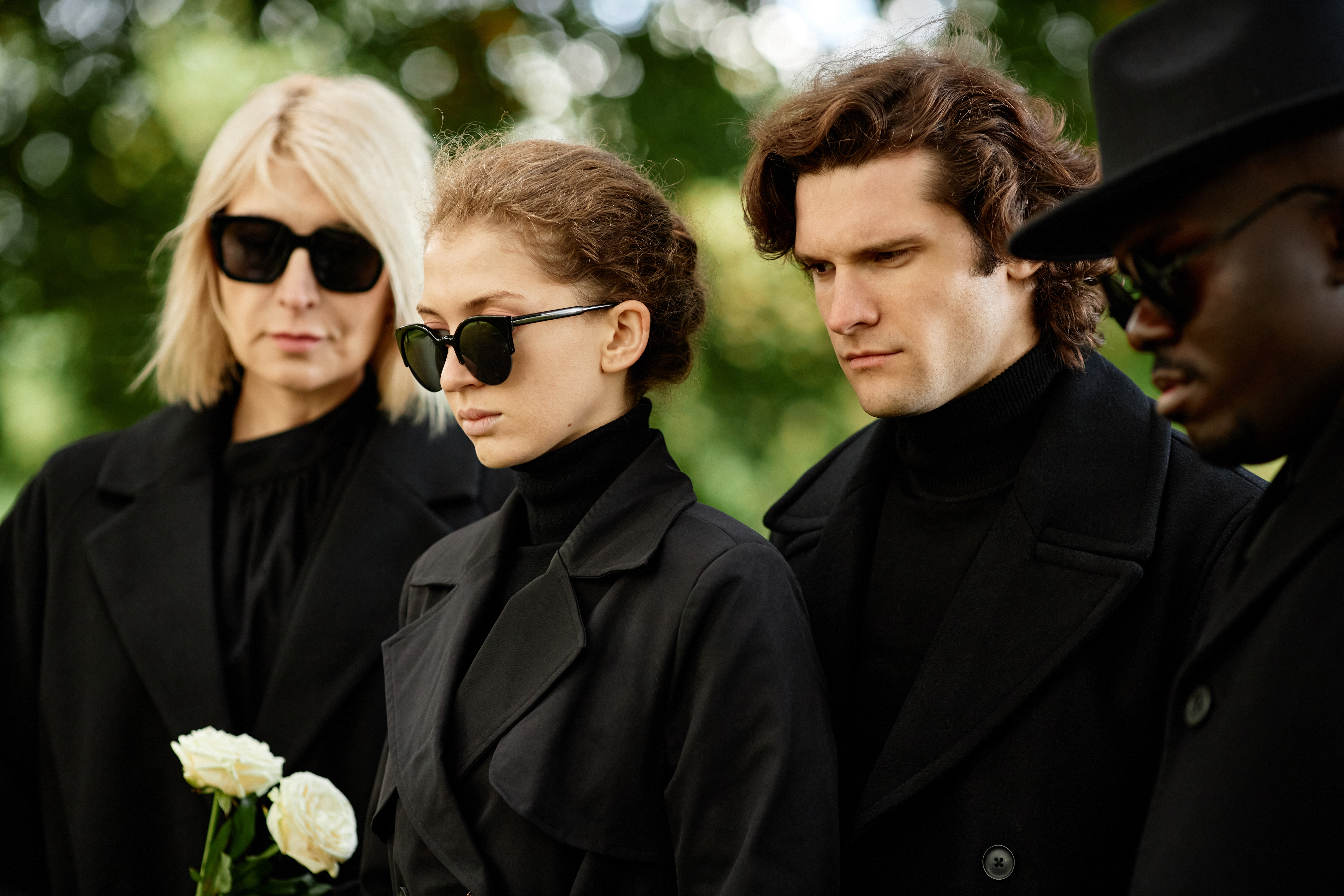 People at a funeral | Source: Shutterstock
Five Funeral Dresses under $50 to Make You Look Presentable
The basic bodycon ruffle flared short sleeve pencil midi dress - This outfit is simple and stylish and has unique flared sleeves. Pick an option designed with a zipper on the back, making it easy to put on and take off. The dress ensures a modest and tailored silhouette without being overly revealing.
Three-quarter sleeve bodycon ruffle vintage midi pencil dress - This outfit is soft, stretchy, and comfortable. Whether you're looking for comfort, style, or affordability, this dress combines all these qualities. However, be sure to choose a dress whose ruffles are not excessive or elaborate.
Floral boho flowy maxi dress with short sleeves and belted ruffle hem - This dress is suitable for wearing at a funeral due to its comfort, lightweight feel, and presentable appearance. It can provide the necessary comfort during an emotional event. It strikes a balance between comfort and modesty and a practical outfit.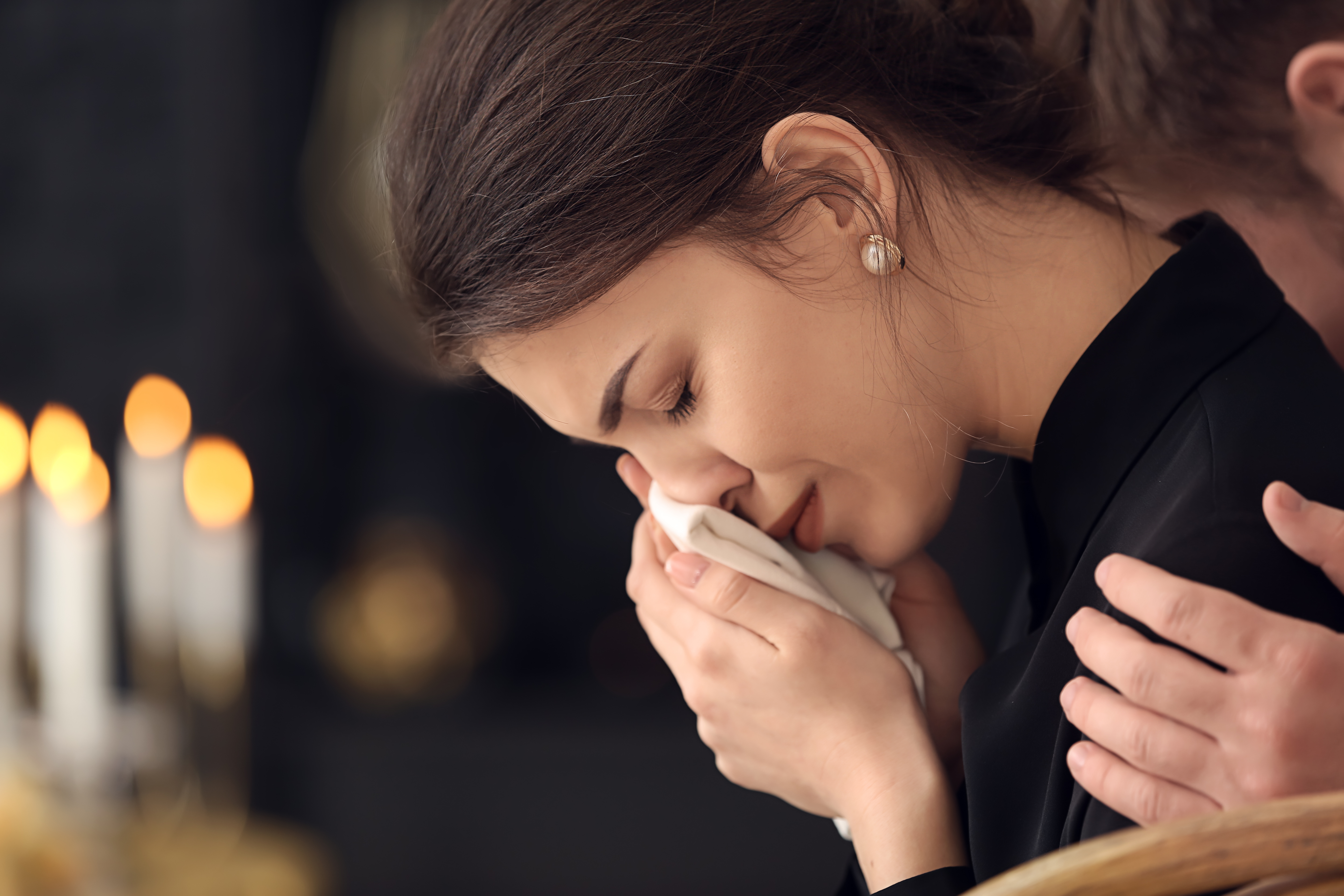 A young lady at a funeral | Source: Shutterstock
Bodycon midi v-neck dress with ribbed knit slit - This midi dress offers a comfortable fit due to its stretchy material, accommodating women of various sizes. Ensure that the neckline does not reveal more cleavage than is considered modest for a funeral.
Mesh sheer puff sleeve high rise elegant solid pleated midi dress - This dress is a versatile and comfortable choice for funerals. It features see-through sleeves with a stretchy design. Comfort and a respectful appearance make it an ideal option for such occasions.
We hope these tips will come in handy and help you pick an appropriate outfit for a funeral. Remember that it's essential to choose attire that is respectful, modest, and in line with the somber tone of a funeral to show proper respect to the occasion and the person being mourned. You can also stay updated with these fashion trends for different seasons.