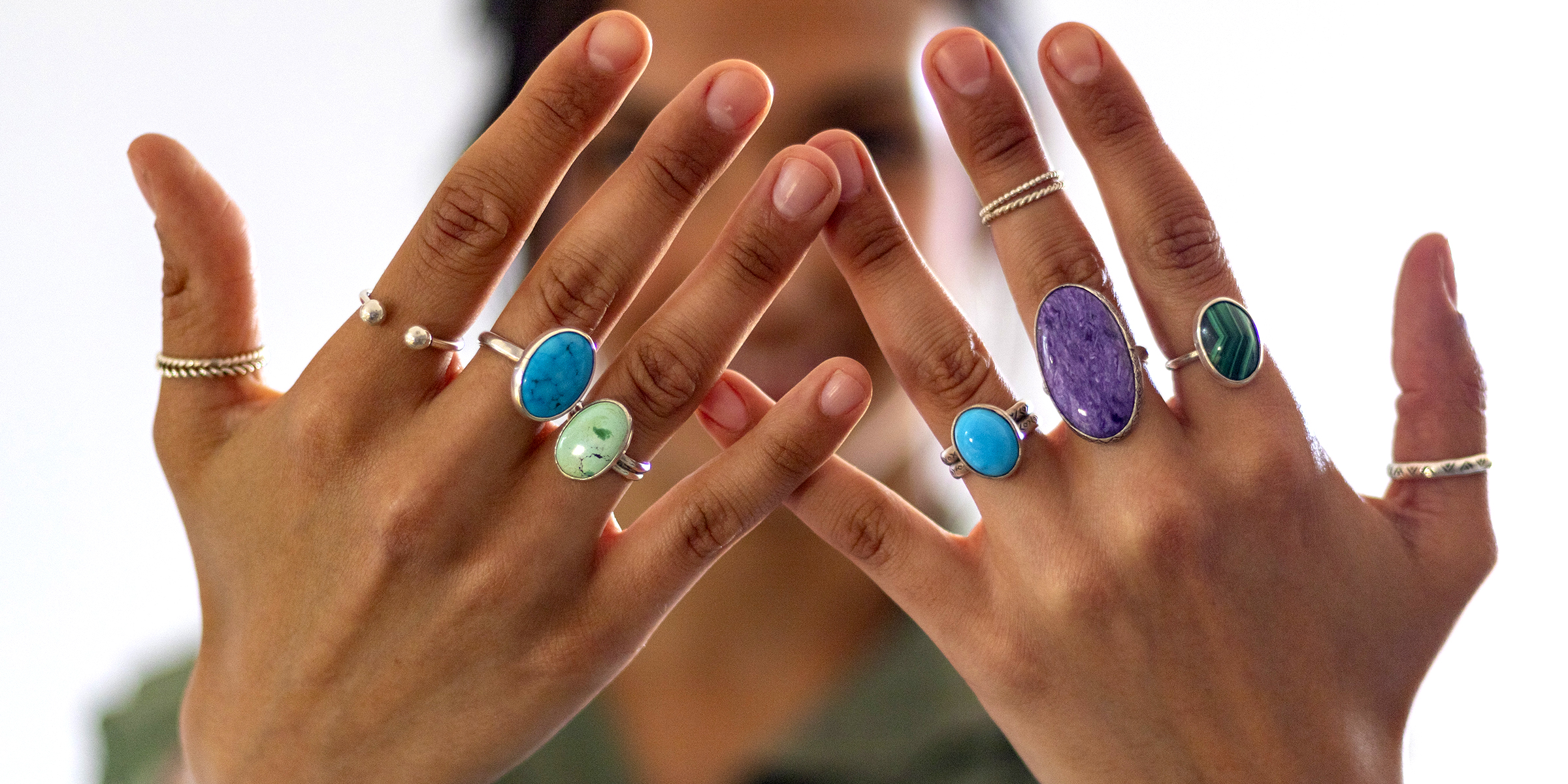 A photo of woman with many rings on her fingers. | Source: Getty Images
Hands Full of Rings: Rules for Styling & Choosing Jewelry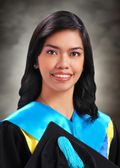 Even though our hands are the most useful part of our bodies, they are often overlooked when it comes to improving our looks. While others like to keep their hands bare, some enjoy having their hands full of rings, as they radiate a captivating and chic aura that enthralls onlookers.
Most people frequently underestimate the power of using rings. However, stacking rings on a single finger has become a trendy fashion statement. This technique involves layering multiple rings on each other, creating a chic and sophisticated look.
Accessories are more than just embellishments; they reflect a person's individuality and the spiritual aura they radiate. When adorning one's outfit, rings are an excellent choice for adding a touch of elegance and style.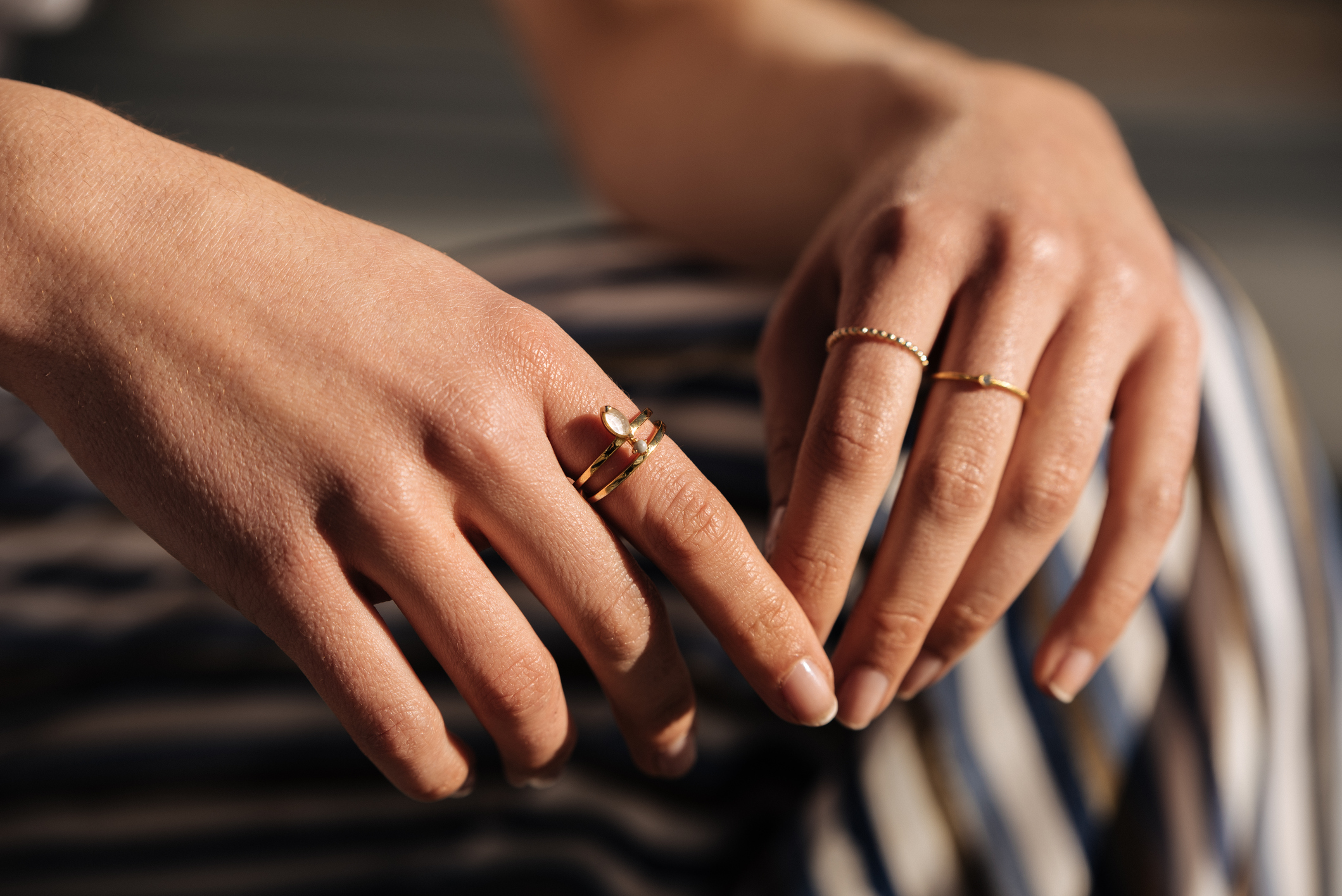 A woman's hands with elegant rings. | Source: Getty Images
While layering necklaces and bracelets is a breeze, nailing the latest ring trend can be more of a challenge. Wearing multiple rings can give off a chic vibe, but if not styled correctly, it can appear tacky or, even worse, a fashion faux pas.
Wearing only a few rings may not create the desired impact, but mindlessly stacking too many in an improper combination can give the impression of a child playing dress-up with her grandmother's jewelry box.
Fashion icons, including Hollywood celebrities like Rihanna and Kate Bosworth and top fashion bloggers like Chiara Ferragni, have embraced this ring trend in the spotlight for quite some time.
Most fashion enthusiasts know that the placement of rings on different fingers can hold different meanings as each finger corresponds to specific chakras or inner powers.
Just like these style influencers, anyone can learn to stack rings. The following nine techniques for layering rings are straightforward and will allow you to achieve a stunning modern look without compromising your comfort.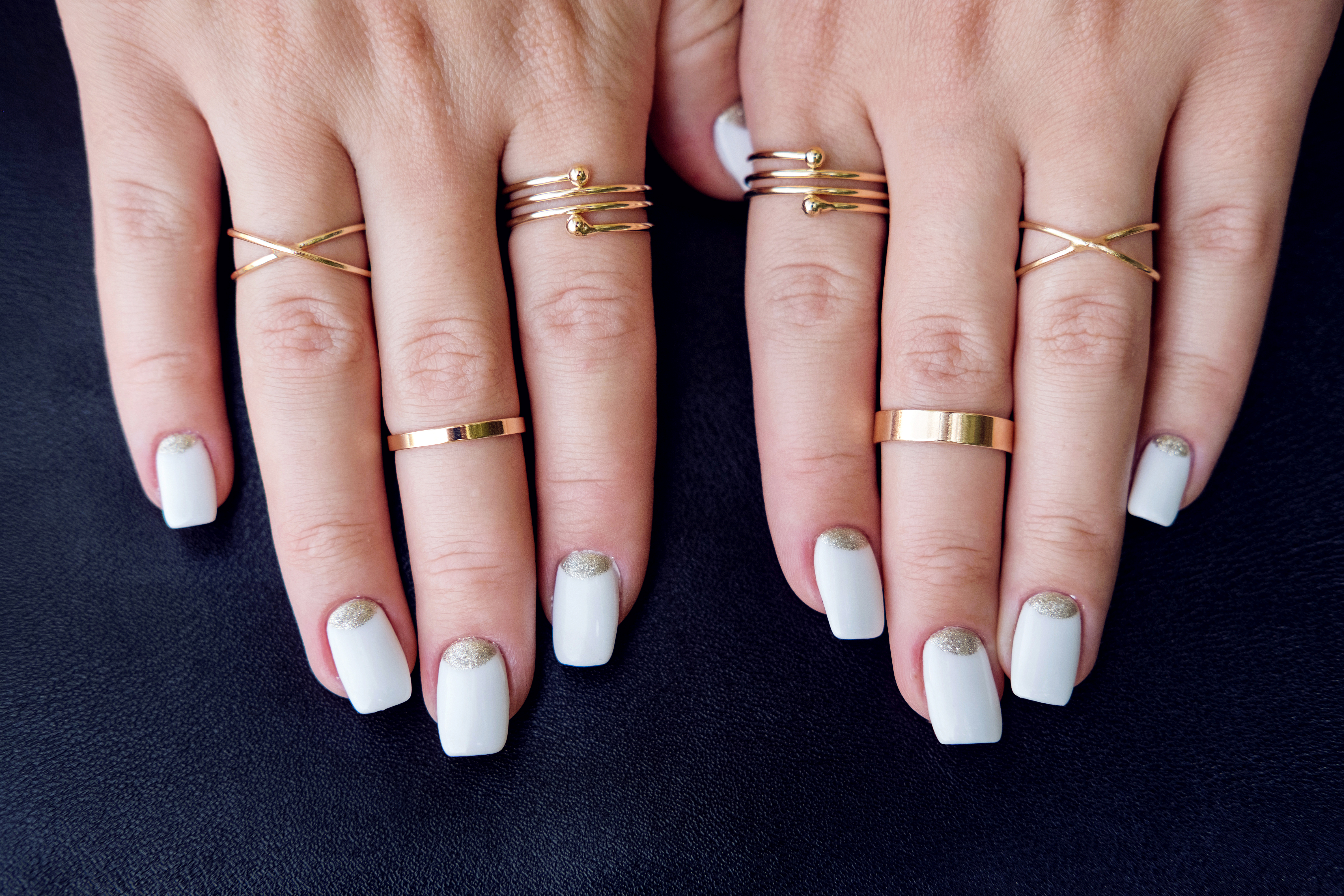 A pair of hands with fashion gold rings. | Source: Getty Images
How to Create a Stylish Look with Hands Full of Rings?
According to Grazia Magazine, the first tip is to use metals like silver and gold but spread them out evenly. Have pieces that combine the two. The second tip suggests sticking to one period and style of jewelry to maintain cohesion.
The third tip recommends using neutral stones to keep the look interesting but not overwhelming. The fourth tip also suggests leaving the wrists bare for the best effect and focusing on a piece of neckwear matching the ring concept.
The fifth tip suggests leaving space between rings for a less dressy look. Aside from wearing rings on more than one knuckle, the sixth tip says you should only wear one ring on each finger. Meanwhile, the seventh tip suggests stacking different styles on one finger while keeping them balanced on both hands.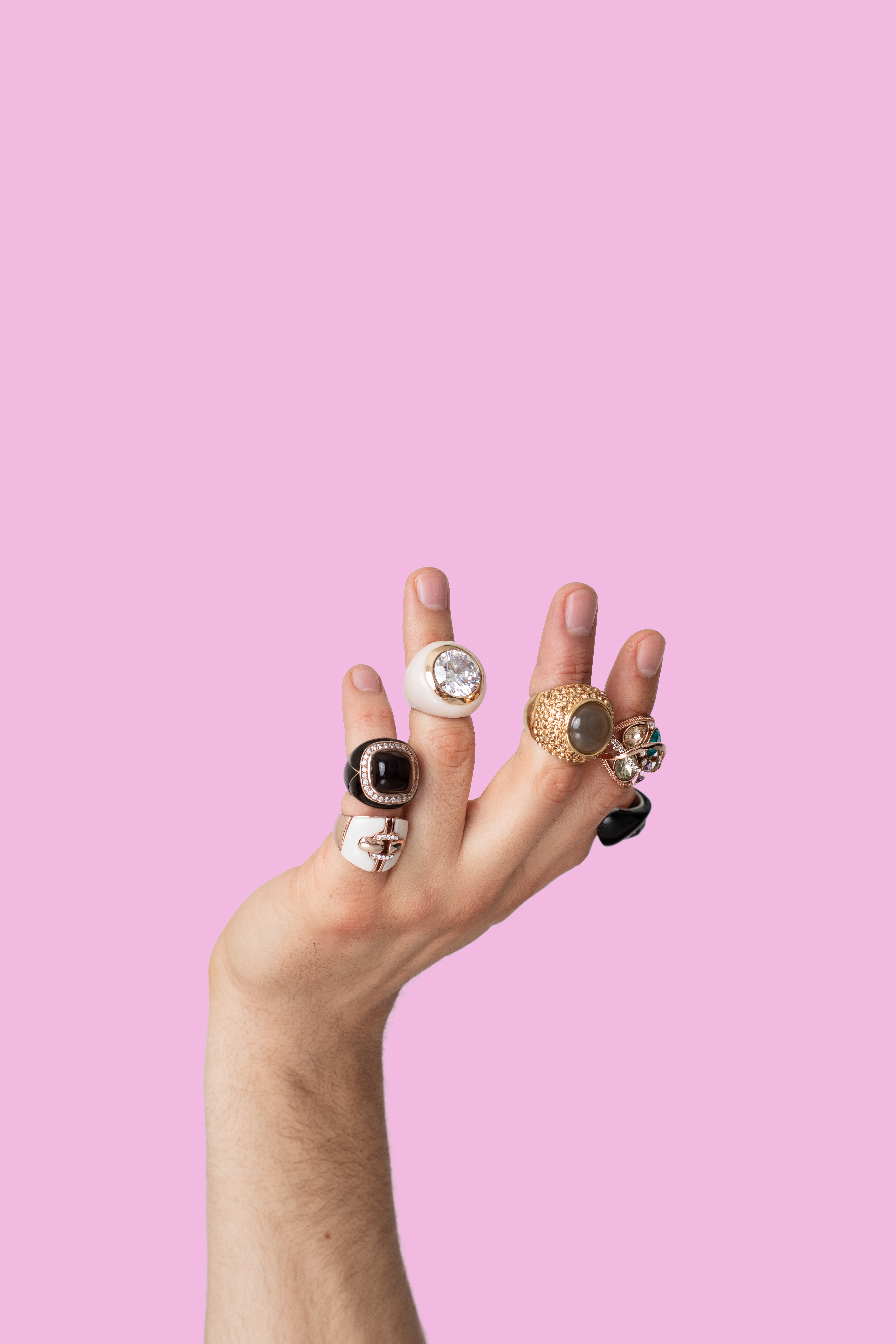 A hand stacked with jewelry rings. | Source: Getty Images
The eighth tip suggests using delicate and dainty rings to balance geometric shapes. The ninth and final tip suggests keeping the nails subtle and short.
In addition to the previously mentioned tips, there are other ways to wear rings stylishly. One popular approach is to choose a single statement ring and pair it with minimal looks. Another is to add colored rings to elevate your look and boost your mood.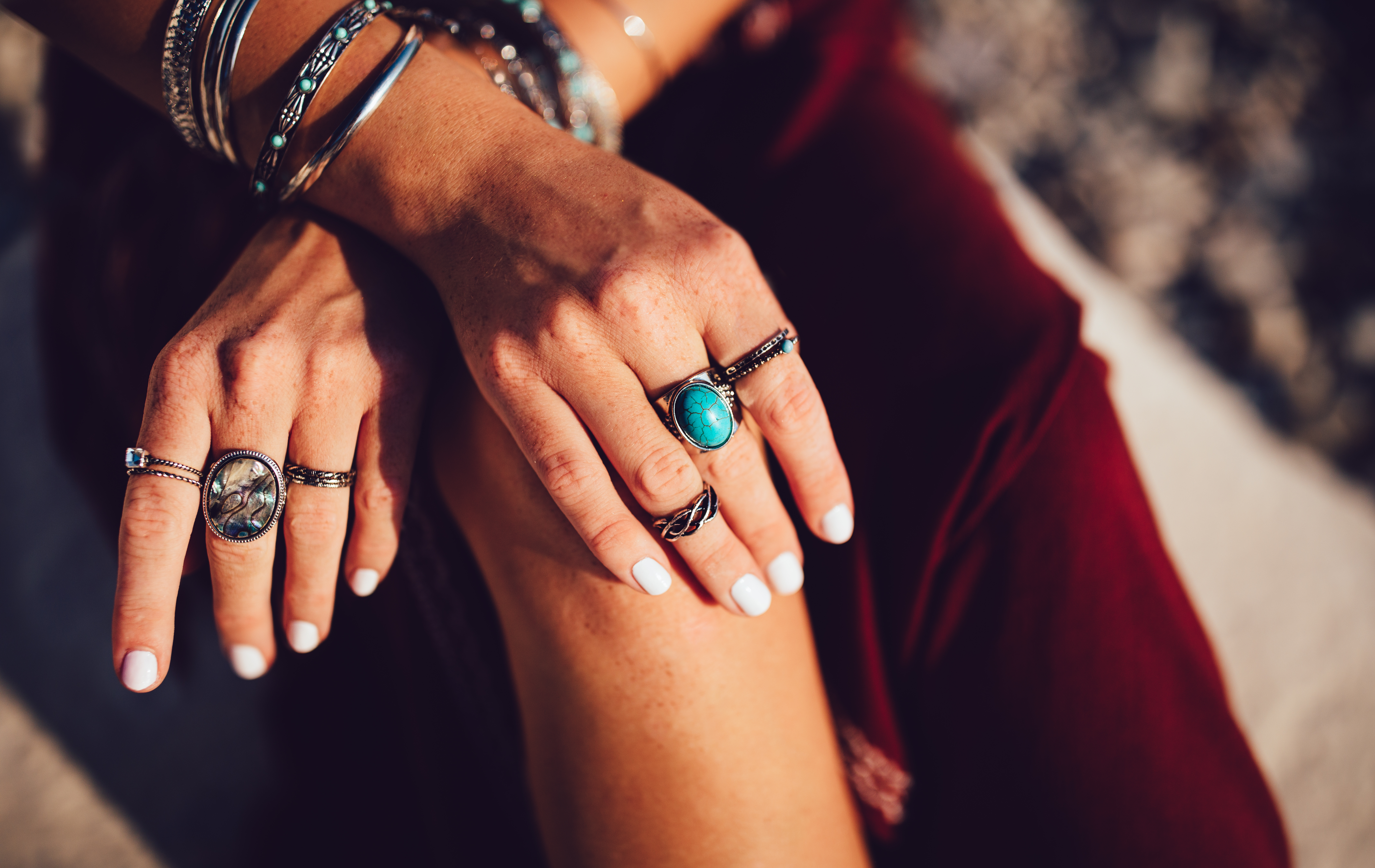 Close-up of a young woman's hands with boho style rings and bracelets. | Source: Getty Images
Options for Combining Rings & the Meaning of Their Placement
There are also some combinations of fingers and rings that you can consider: pointer and ring fingers; thumb, pointer, and ring fingers; thumb and middle finger
Other combinations are thumb and ring finger; thumb, pointer finger, and middle finger; middle finger and pinky; and thumb, pointer finger, and pinky.
Most fashionistas know that the placement of rings on different fingers can hold different meanings as each finger corresponds to specific chakras or inner powers. One common belief is that wearing a ring on the index finger signifies being a leader.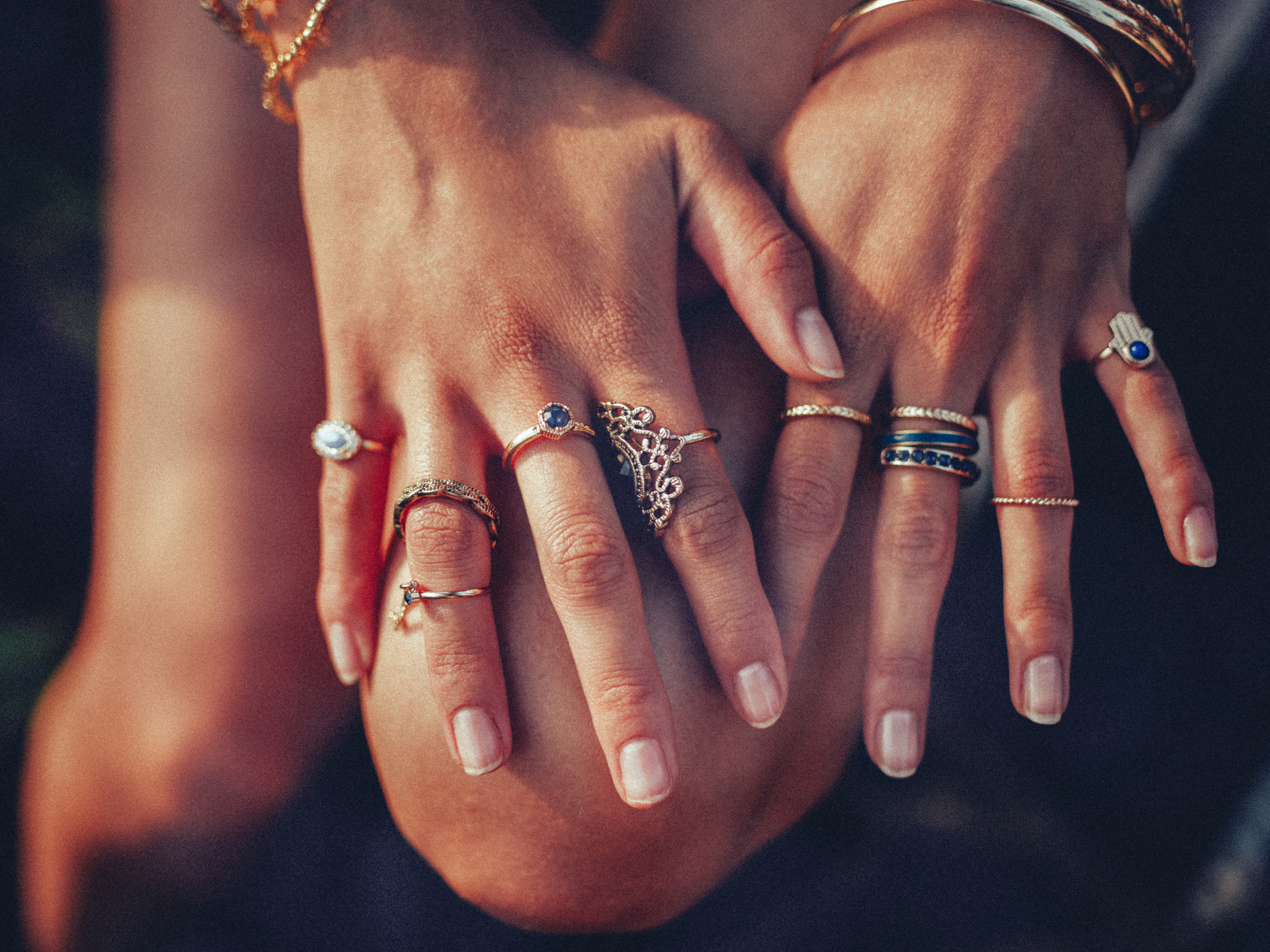 A closeup of a woman's hands with many rings on her finger, in gold and silver with dark blue stones. | Source: Getty Images
Meanwhile, wearing a ring on the thumb symbolizes power and boldness. Additionally, people wear engagement and wedding rings on the fourth finger, known as the ring finger, because it is where the heart line ends.
Some people also believe that wearing rings on fingers other than the pinky can attract negative energy. This is because rings can hinder good energy flow in the hands.
How to Choose the Right Rings?
When choosing the correct rings, one should know what colors match their skin tone. When choosing between silver and gold jewelry for a specific skin tone, those with cool undertones look better in silver, while those with warm undertones look stunning in gold.
To determine whether you have a cool or warm undertone, shine a light over your wrist veins or wear a white blouse to see if you appear washed out or tanned. Your natural hair color and ability to tan are also indicators.
Those who burn or turn pink have a cool undertone, whereas those who quickly tan their skin have a warm undertone. Those with cool undertones have less pigment and are more likely to blush.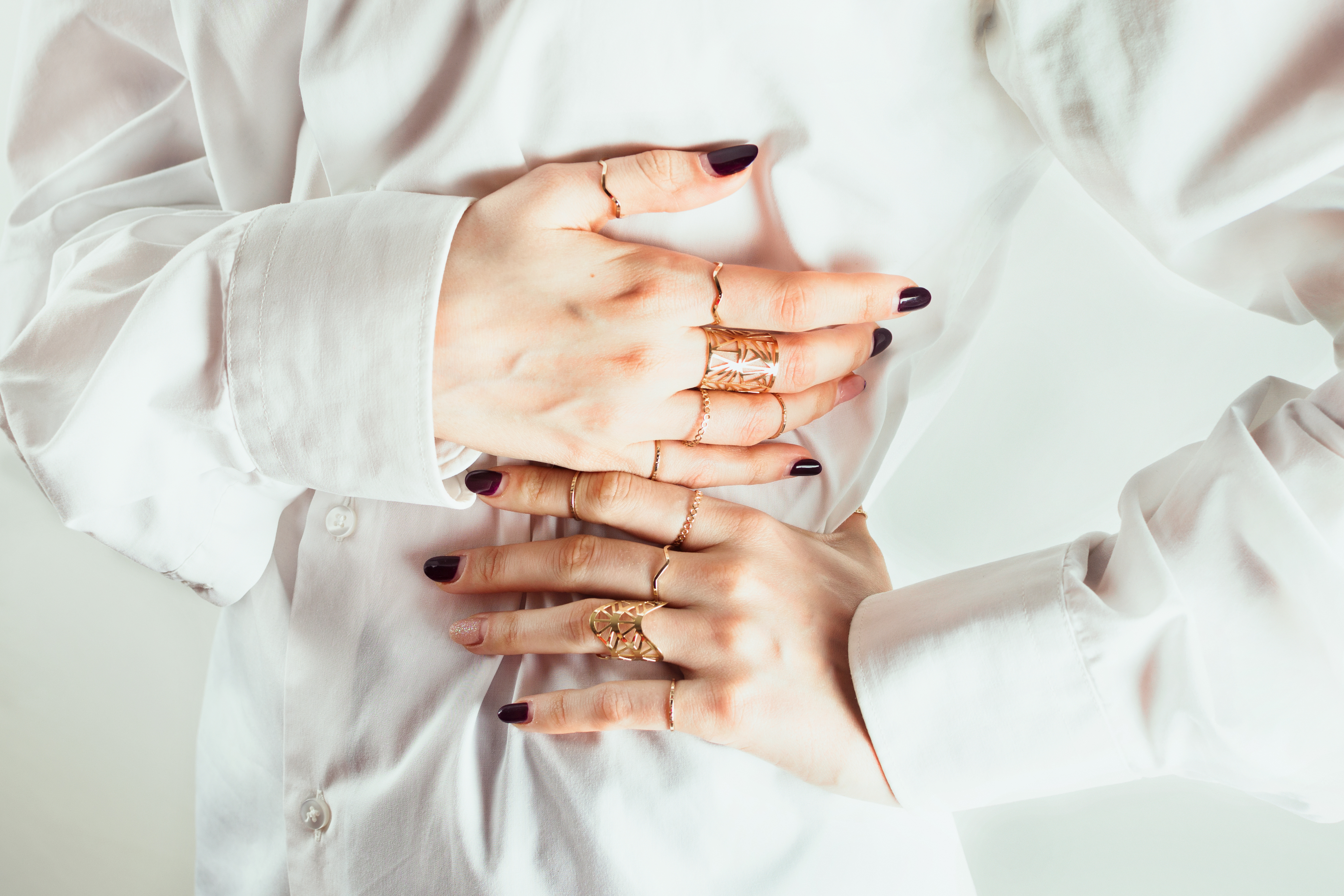 A woman's hands stacked in several gold rings. | Source: Getty Images
When you know your undertone, you can make wise choices about what kind of makeup and hair color you want for an occasion. Therefore, it's essential to identify your undertone and enjoy choosing rings that match your style.
Numerous accessories can elevate your fashion game, including selecting the right nail polish shade, finding the ideal pair of shoes, and sporting adorable earrings and piercings, in addition to searching for the best rings for you.