5 Vegan-Friendly Kimchi Recipes To Try
Kimchi is a rich and delicious fermented mixture of vegetables that are traditionally made with fish sauce. But there's a vegan version of it and it's equally yummy.
Koreans eat kimchi in almost every meal, including breakfast. But kimchi was gained superstar status, and it's now famous worldwide. This traditional dish in Korean culture is composed of a variety of veggies such as cabbage, carrots, cucumber, radish, and many seasonings.
Kimchi is fermented to endure long Korean winters, thus being a gut-friendly food as well. But the health benefits don't stop there. Kimchi improves digestion, boosts the immune system, and can even help people who suffer from IBS. So without further ado, let's make some vegan kimchi!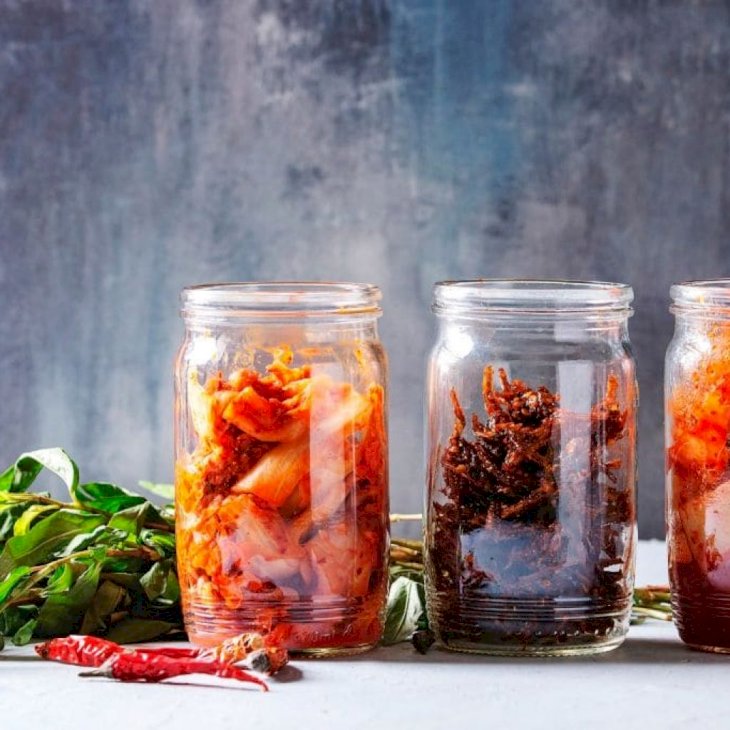 Getty Images
Before sharing five vegan-friendly recipes, I recommend you learn how to prepare your vegan kimchi. So here's a recipe:
Now that you know how to prepare your vegan kimchi let's see the best five recipes that pair kimchi quite well.
We have already shared the ten best Korean vegan-friendly recipes here if you want to dive deep into this fantastic cuisine.
Vegan Bibimbap
I find Bibimbap the most delicious Korean dish, and it's super nutritious too. It's a classic Korean dish composed of rice, a mixture of vegetables, originally prepared with meat and fried egg. To veganize it, just remove the meat and replace the egg with tofu.
Vegan Kimchi Fried Rice
If you have your kimchi ready, but you're short in time, you can try this vegan kimchi fried rice. Fried rice is a typical dish in many Asian cuisines, and it takes just a few minutes to prepare.
You don't even need to follow a recipe — toss all veggies you find in your fridge on a wok, add some soy sauce, seasoning, your kimchi, and you're ready!
Vegan Miso Noodle Soup
Add a bit of kimchi to soups. Miso soup is super healthy, and it's the perfect option when you're feeling a bit under the weather. The combination of miso soup (or any other Korean soup of your choice) is a health boost shot to your immune system.
Vegan Sushi Bowl
The sushi bowl on its vegan version is perfect for beginner cooks — it's quick and easy, and you can use your creativity as you go. In this recipe, Cheap Lazy Vegan's Rose Lee mixed rice with seasoning, veggies, smoked tofu, seaweed, and so on.
Kimchi Tofu Scramble
Why not go fully Korean and add kimchi to your breakfast too? This kimchi tofu scramble recipe features spinach, kale, cilantro, to add a good pop of green to your dish, and simple seasonings such as garlic powder and tamari sauce for extra flavor.