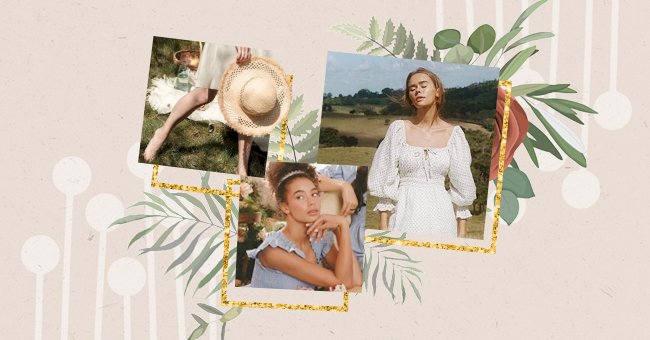 8 Cottagecore Aesthetic Inspired Fashion Brands To Know
The cottagecore trend has taken over TikTok and Instagram by storm and continues to enchant Gen Z to ditch the mundane city vibes for a more rural, vintage-themed life. Think "Little Women" or merely the pure romance offered by the carefree countryside living as you stroll around wearing pastel dresses and carrying wicker baskets.
We are still processing the holocaust of the year 2020 has been, but seeking refuge in fashion and beauty has been therapeutic. Every year, a steaming new trend strikes our fancy, and some even stick around for much longer than usual - cottagecore tops the list.
With people wanting to take an escape hatch from life's complexities and resort to rustic cottages, gorgeous meadows, and a simpler living, it's no surprise that this nature-inspired trend continues to surge. Here is our pick of the best fashion brands that will satiate your need to embrace cottagecore style.
1.Hill House Home
If you have a weakness for pretty sundresses, plaid frocks, and flowing nap dresses, you will love this lifestyle-themed brand. It also features attires for men, kids, and even bedding and bath goodies.
From floral prints to simple designs, the brand beautifully brings together aesthetics and style. Their nap dress collection comes in an array of bright and pastel colors to update your wardrobe just in time for spring.
2.Doen
Bring cottagecore and springtime prints together, and you will have the most stunning collection ever. Doen is a female-run label that redefines rural romance and combines it with sophistication and style.
From flowing summery nightgowns to floral and embroidered Zelda dresses, you will find something to please your vintage-loving hearts. Their spring collection features richly vibrant hues and petal-like ruffles to embrace the sunny spring afternoons.
3.Faithfull The Brand
Who doesn't love floral-themed midi and mini dresses in spring? Faithfull The Brands offers the best of cottagecore aesthetics in their spring collection so that we can enjoy a laid-back vintage-themed style.
4.Bedra Vintage
Who doesn't love sunbathing and picnicking outside to breathe in some fresh rustic air while rocking the countryside vibes? Bedra Vintage draws our attention to a more dreamy, carefree view of life with its pastel-colored flowing linen dresses.
5. Lulu's Cottagecore Clothing
Lulu has an exciting collection inspired by cottagecore aesthetics, and you'd love to take a look at everything the brand has to offer. From V-neckline maxi dresses to flowy linen and puff-sleeved floral skirts, there's a lot to consider for your springtime fashion wardrobe.
6.Ciao Lucia
You would love this modern fusion of the countryside style, which brings in the added element of comfort. Their spring and summer-inspired mid-length dresses come in cool pastel shades to make strolling in the sun all the more fun.
7.Free People
Free People has an array of chic and trendy clothing options to offer to keep the countryside-style game rolling. The mini and maxi dresses are a divine treat to add to your spring closet, and they offer floral, dainty, and other fun variations.
If you've never imagined styling warm tunics with flowy skirt dresses, let this boho-themed brand school you a little. You can also find matching accessories to complete your cottagecore style with cool bandanas and pretty hair bows.
8.Unique Vintage
Unique Vintage is a truly unique fashion label that makes size-inclusive, vintage-themed clothing. You will find the 30's and 40's floral style with bright, vibrant hues, pretty much like this pretty pink dress, reminding us of the viral strawberry dress by Lirika Matoshi.
Many people beautifully combined the strawberry midi dress with the cottagecore style, and it was a divine departure from the pastel-colored dresses. So for the lovers of a rustic, rural lifestyle who want to keep it classy and trendy, this brand will please your hearts.