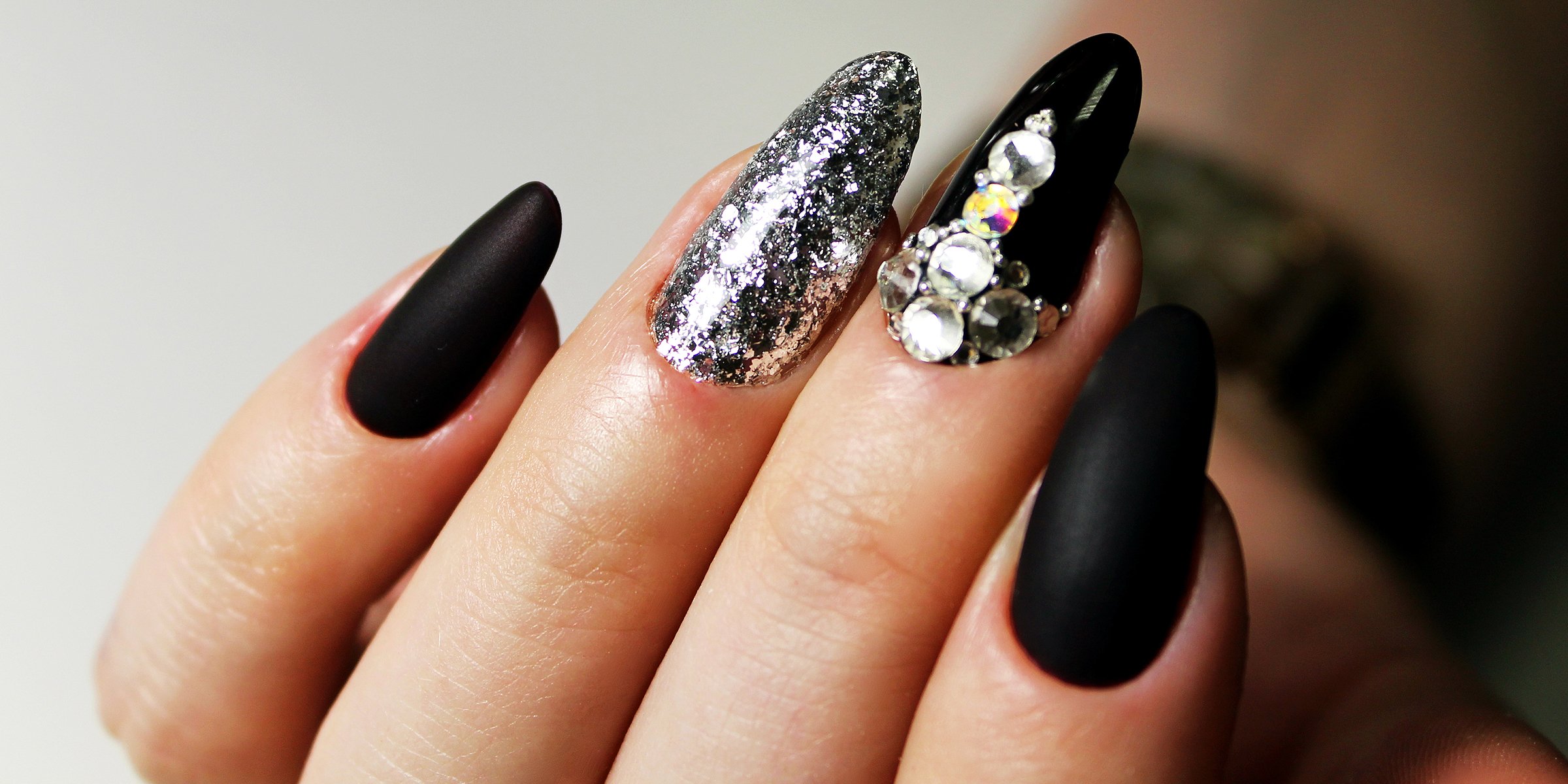 Black-tipped nails. | Source: Shutterstock
Black Tip Nail Ideas to Try For Your Next Manicure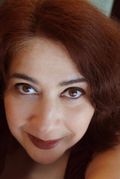 Black Tip nails are back in fashion, with looks that go from glitzy to sleek elegance and funky graphics. There's a look for every style and every occasion.
Fashion in nails is as fickle and quickly changing as in clothing. One of the more recent trends is Black Tip nails, a style that offers a lot of scopes -- from studded and bejeweled glamor to sleek to sophisticated Fench manicures and everything in between.
Whether you are a committed Goth or just someone who likes to be on the crest of the wave of what's fashionable, there is a Black Tip nail look for you.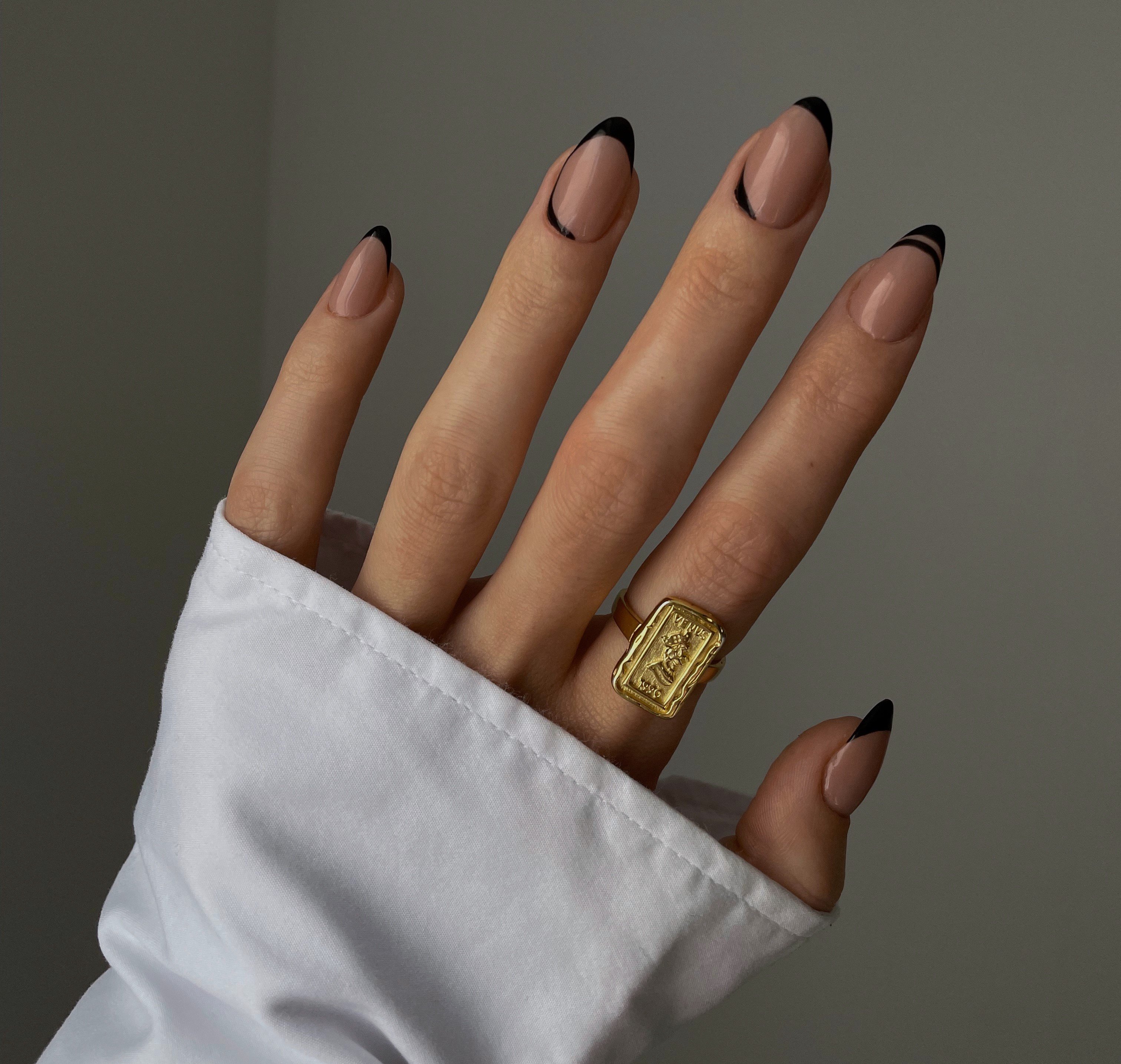 Elegant hand with Black Tip nails. | Source: Getty Images
Black is back, and this time it's adorning the most elegant hands in fashion runways from Paris to Milan and New York, and even brides are opting for the look. Manicurist Mar y Sol Inzerillo revealed:
"Black glam nails are essentially just; I'llample, different variations of black nails and nail art. High shine or matte, nail art or single color, it doesn't matter as long as they complement your look."
The black nail trend owes a lot to the revival of the vintage styles from the 90s Goth movement and Y2K rockers. Blended with a new passion for natural nails, the latest fashion offers nail connoisseurs a feast of fashionable nail designs.
Ombré Black Sparkle
Solid is out; softness is in. Starting with a natural-looking soft blush-pink base, shading to black at the tips, the Ombré Black Sparkle is all about sophisticated glamour, with a hint of glitter at the ends. It's all about the shine.
Mod-Block French
Give the simplest French manicure a touch of Goth glamour with an elegant glimmer of black at the tips. Discreet and understated, the look is perfect for everyday wear.
Spikes and Studs
Take going back to black to the max. Embrace the Punk revival with studs and spikes galore on a velvety black base, and you'll be sure to catch every eye.
Matte and Metallic
If subtlety and understated are more your scene, start with a matt black base on square nails, then add an edgy metallic gleam to well-defined edges: a little cyber-punk, a lot of glamour.
Black Hearts
If you are a romantic, wear your heart at your fingertips. On a natural base, add black hearts; on go matt black with negative heart cutouts. The look is simple but sweet.
Groovy Swirls
Transform your opalescent nails into poetry in motion with artfully painted swirls of black. Every finger is different, and the effect is strangely hypnotic.
Negative Space Nails
Create an optical game of illusions by playing on negative/ positive space with matt black nail polish over a natural base.
Matte Black Nails with a Twist
Matt black always looks great, but add a twist with a play on shine and shadow. Add splotches and dots in high-shine lacquer to liven up your nails.
Black-and-White Cartoon Nails
Create a cartoonish effect with matt black and white in stark, strong lines. Add shadow and sparkle to make your nails look drawn on.
Black-and-White Polka Dots
Take a page out of the vintage playbook with bold 50s polka dots -- black on white or white on black, it's all good, as long as it's fresh and tongue-in-cheek fun.
Half-Moon French Manicure
Give the boring old French mani a dramatic new lease on life by going black with white half-moons. Some choose to flaunt convention by doing it all at once.
Feminine Florals
If you want to embrace the dark side without letting go of those sweet florals you love, opt for clean graphics and a play on the always delicious contrast of black and white.
Negative Balance
What could be more arresting than this deceptively simple play on negative balance? This mock-French mani combines the natural with the stark lines of matt black for a drawn-on look.