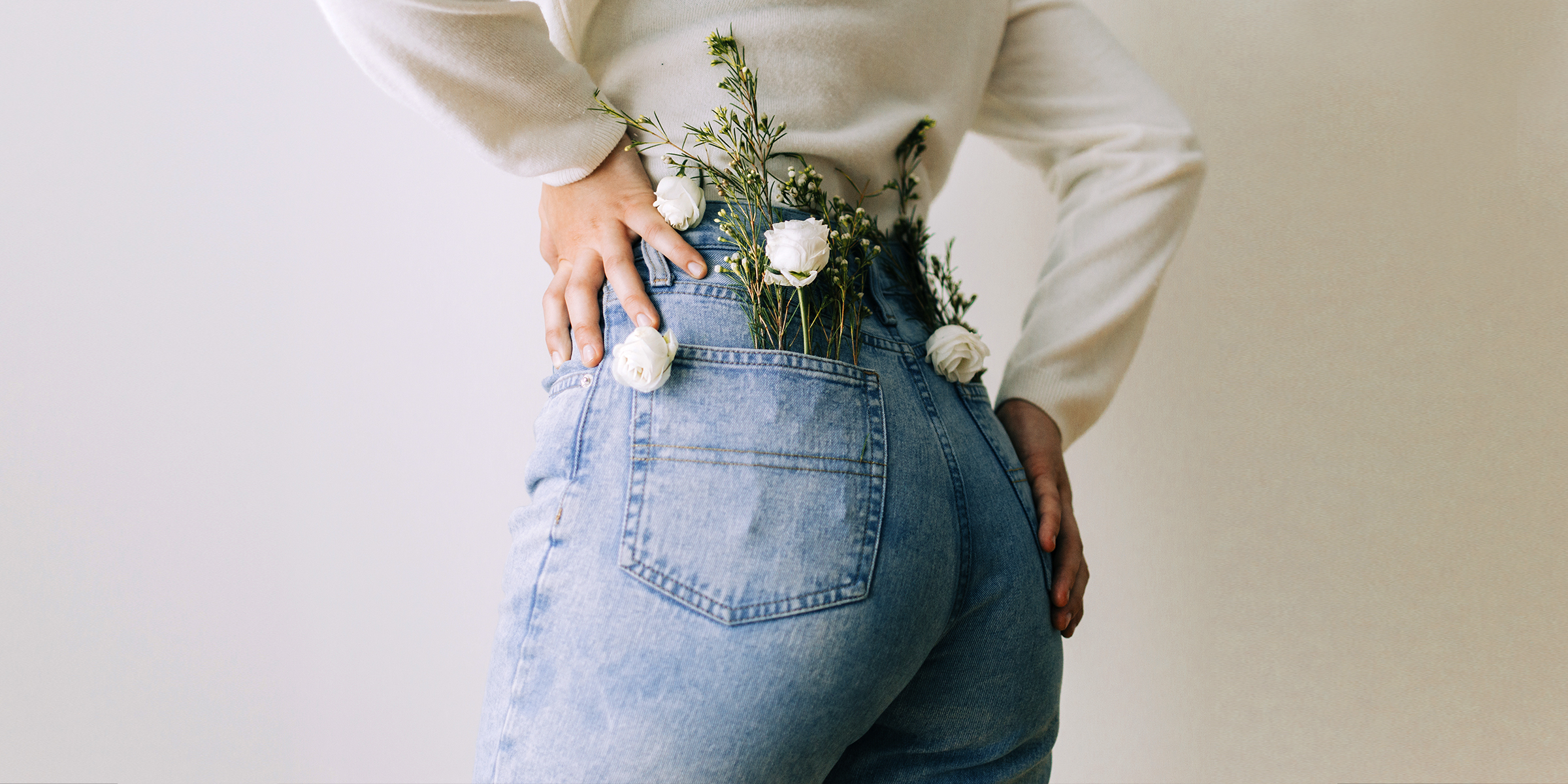 Back view of a woman with flowers in her pocket | Source: Getty Images
Dad Jeans vs Mom Jeans: What Is the Difference & How to Style Them

Dad jeans and mom jeans are two distinct styles of denim that have become popular in recent years. While they may look similar, the two styles have some key differences.
A loose, relaxed fit and a high waist typically characterize Dad jeans, and they tend to have a more masculine and rugged look. On the other hand, mom jeans are high-waisted and fitted at the waist and hips but looser and more relaxed through the leg with a more feminine, retro-inspired look.
With these jeans, you can create stylish looks. Whether you prefer dad jeans or mom jeans, it's about finding a style that makes you feel comfortable and confident. Experiment with different looks and have fun with your wardrobe!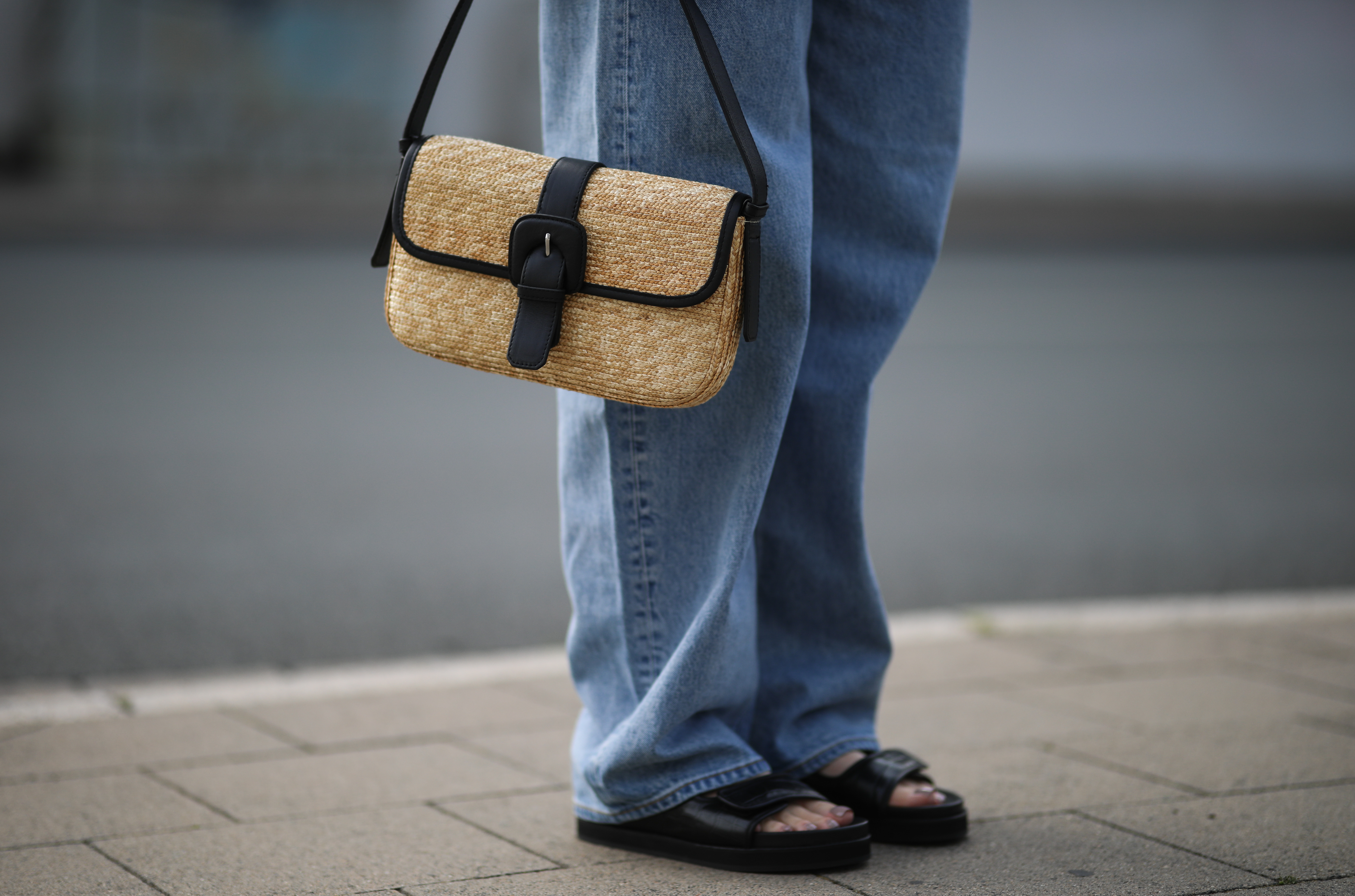 Jeans paired with black leather dad sandals and a straw baguette bag on August 15, 2020, in Germany | Source: Getty Images
What Is the Difference between Dad Jeans and Mom Jeans?
Dad jeans refer to a style that was once fashionable but is now considered obsolete. They are usually high-waisted with a washed-out look, come in lighter blue shades, and sometimes are from an outdated brand name.
The trousers' style includes occasional waist pleating and a looser fit through the leg. Note that the looser fit does not make them bootcut or wide-leg trousers. They are also mostly made from lightweight materials that allow the legs to breathe.
They are commonly worn by older men who still want to appear hip and youthful even though they drive family cars. Their relaxed fit makes them easy to wear, which is why some men buy them.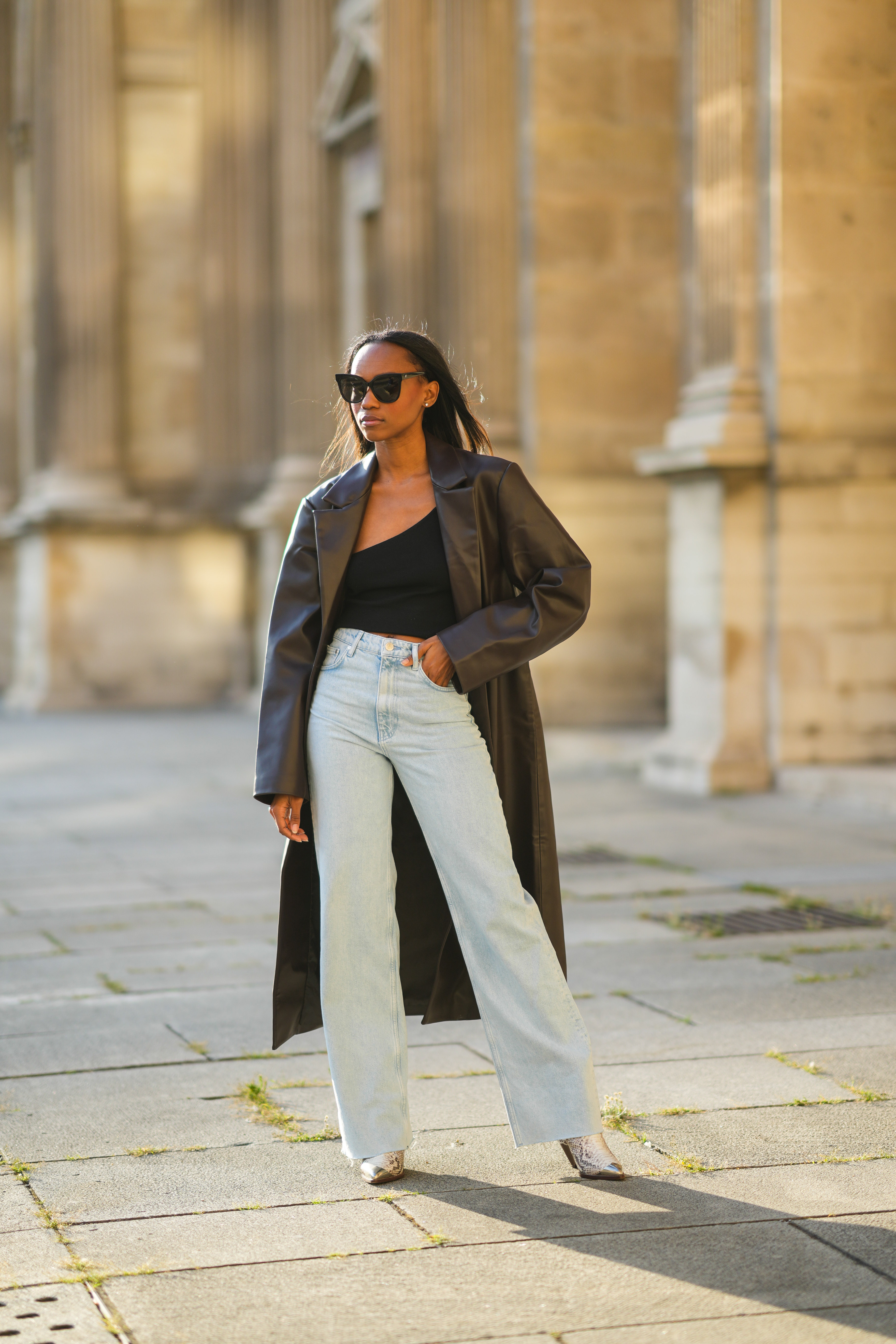 Emilie Joseph pairing her faded blue denim high waist wide legs pants with a dark brown shiny leather long oversized dad trench coat and a pair of pointed block heels on August 22, 2021, in Paris | Source: Getty Images
Mom jeans have been considered unattractive and out-of-fashion high-waisted jeans that start right below the belly button. However, they are a flattering pair of denim to own, and if worn right, they conceal any body flaw the wearer has.
Since they always fit perfectly at the waist, these jeans make the wearer look like they have an hourglass figure. They also feature a narrow tapered leg and sometimes come with a 9-inch zipper and often with an elastic waistband.
Despite the tapered legs, the jeans, typically worn by women over 40, are usually relaxed around the thighs, and the legs of the jeans are generally straight-cut.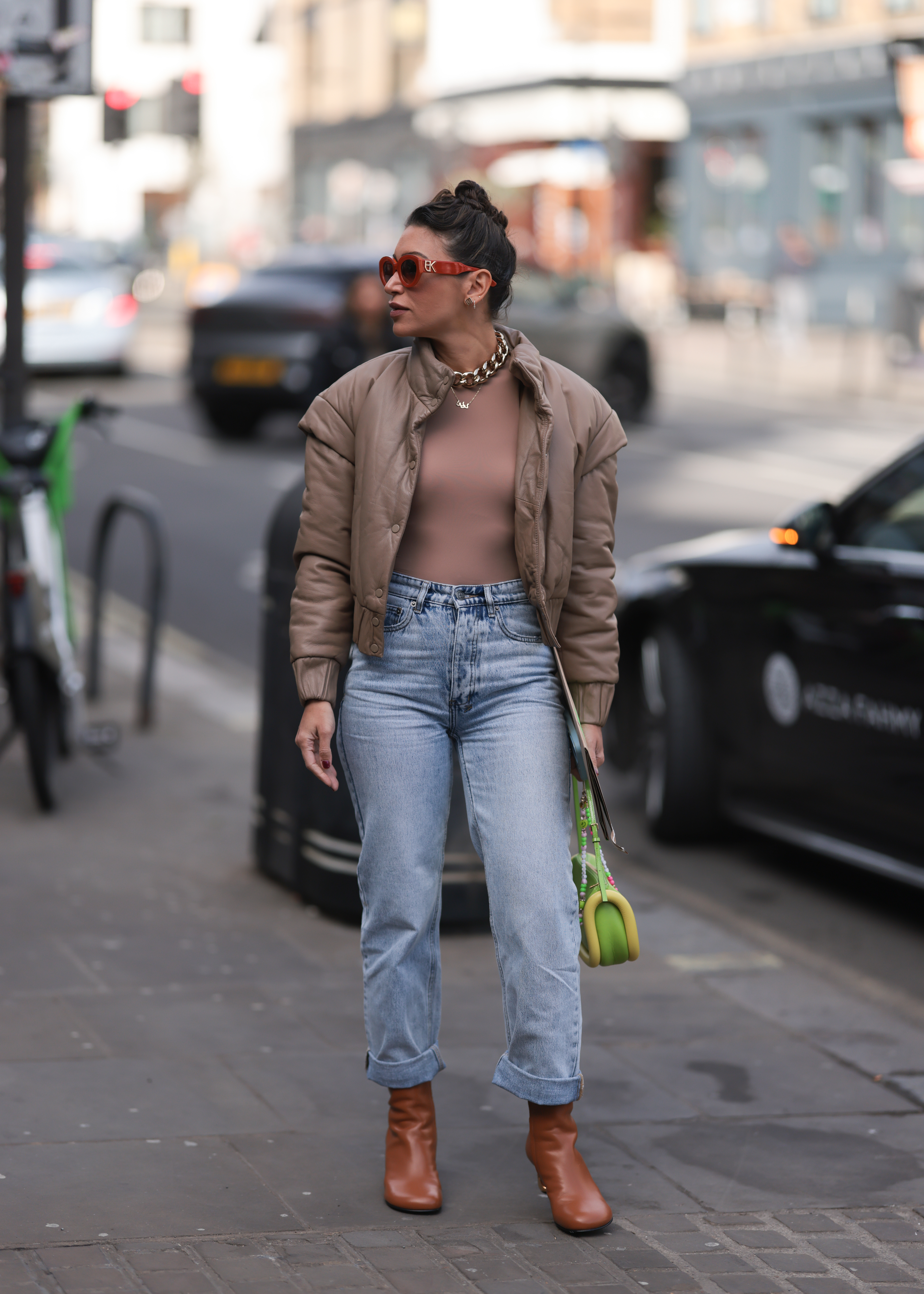 A fashion week guest pairing her blue mom jeans with shades of brown and green during London Fashion Week on February 19, 2023, in London | Source: Getty Images
Creating Looks with Mom Jeans
Before styling your jeans, you must pick the perfect look for your body type. Curvy women should choose a fit and flattering pair, while petite women should opt for mom jeans with cropped ankles.
Once you have chosen your ideal pants, pair them with an oversized white shirt, a tee, a tank top, or knitwear perfectly tucked in for an effortlessly cool look. You can finish your look with loafers, trainers, heels, or ankle boots.
With these jeans, the styling possibilities are endless, as your decision only limits you. They have become a wardrobe staple that suits any season or occasion.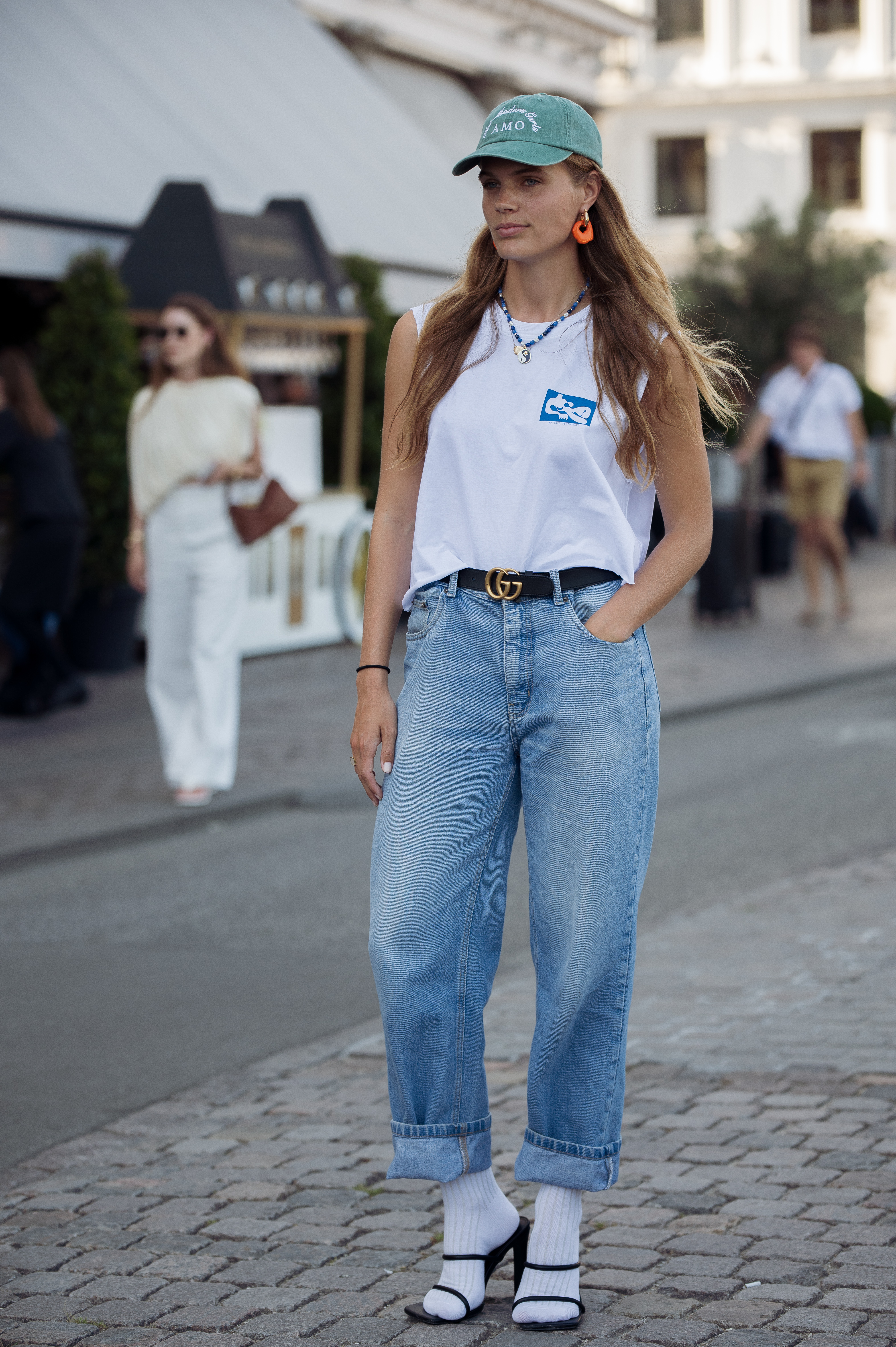 Lois Schindeler wearing her blue mom jeans with black high heel summer shoes at the Copenhagen Fashion Week Spring/Summer 2023 on August 11, 2022, in Copenhagen | Source: Getty Images
Creating Looks with Dad Jeans
You can style dad jeans in various ways to create a fashionable look. One way to wear them is to cuff the bottom and pair them with your favorite top for a casual yet put-together look. If you pair them with heels, you can keep them long without cuffing the hem.
Another option is to rock ripped dad denim with a crop top, oversized blazer, or tailored coat. You can also dress up dad jeans with a button-down shirt and dress shoes.
The key to styling dad jeans is to keep the overall look clean and classic while incorporating modern elements to update the outfit.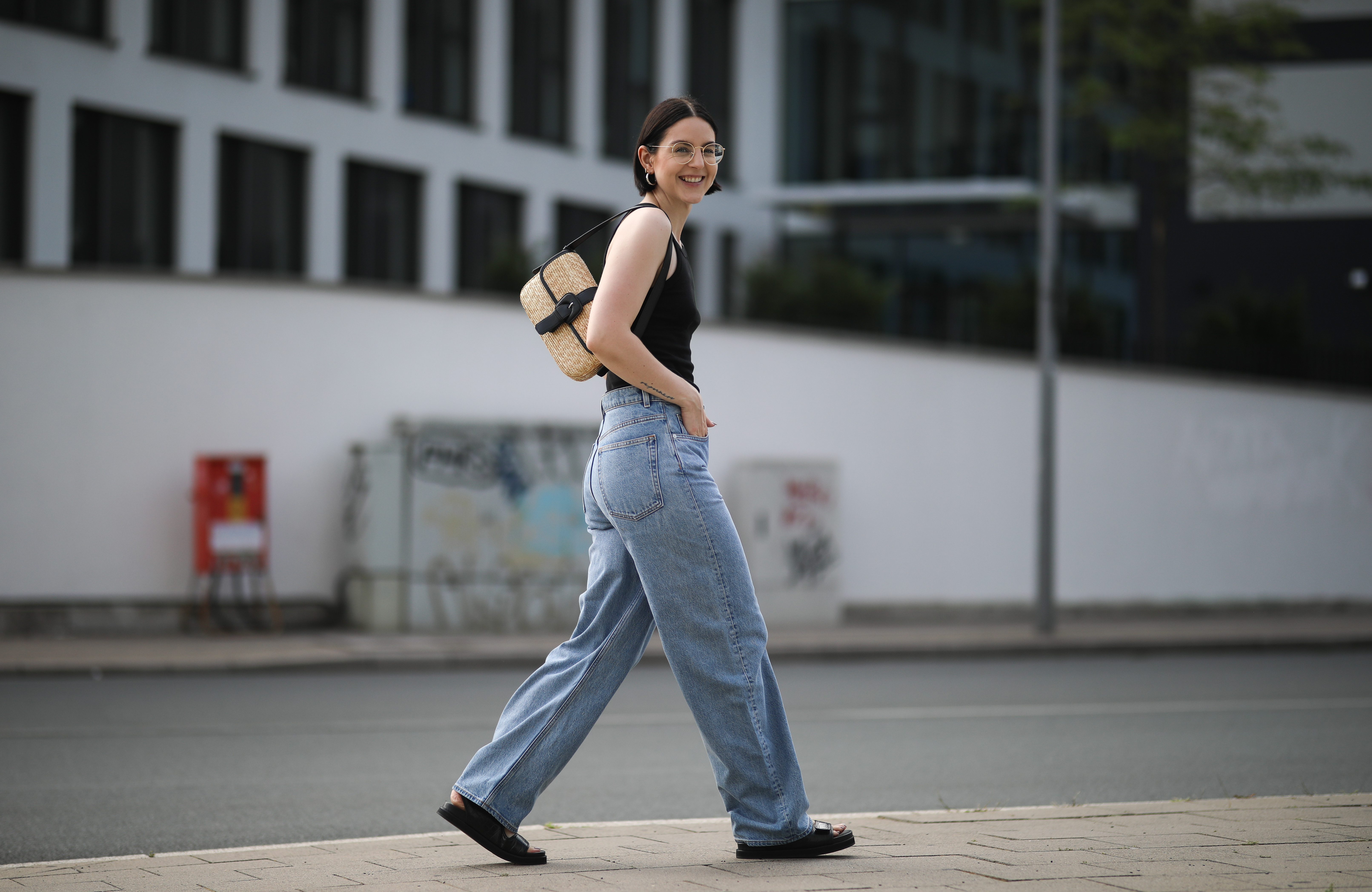 Maria Barteczko pairing her blue barrel jeans with black leather dad sandals on August 15, 2020, in Germany | Source: Getty Images
In August 2022, content creator and YouTuber Emma Chamberlain created several chic looks with dad jeans. She chose to play with blue medium wash baggy, light wash baggy, and medium wash distressed baggy dad jeans.
She paired her medium wash baggy with a cropped tee with red sneakers for a classic and timeless look. She paired her light wash with a pale yellow slightly cropped tank top, a cream crewneck sweatshirt, and beige clogs.
The YouTuber opted for a red striped tee paired with her medium wash distressed baggy jeans for her final look. She chose a pair of black loafers and a matching belt to complete her look.
Chamberlain is one of many celebrities who have shown they can rock dad jeans anytime. In 2009, former President Barack Obama rocked his jeans to a game.
The former president, who believes he looks sharp in jeans, had on several occasions stepped out in a pair of jeans many would love to own.
Whether he is going to watch a game, shopping, or riding a bicycle with his daughter, Obama proved the versatility of the dad jeans as he rocked them with sneakers, sandals, socks, no socks, and more.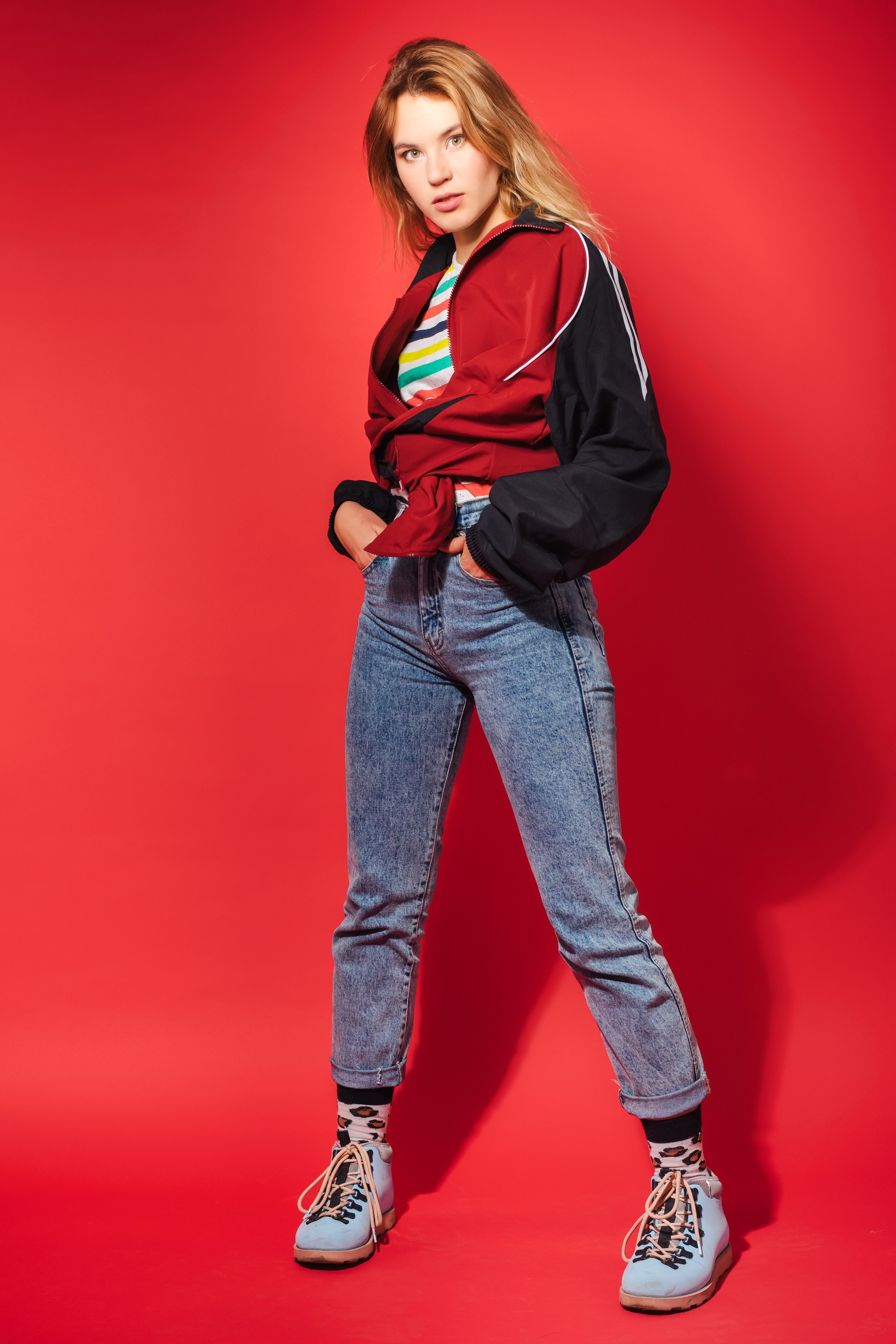 A woman styling her jeans with a red sports jacket and colorful striped tee | Source: Getty Images
How to Match the Jeans to Your Figure?
Finding jeans that fit well and make you feel comfortable and confident is essential. Experiment with different styles and fits until you find the ones that work best for your body type.
As a guide, if you are petite, choose high-waisted jeans as they create the illusion of longer legs. You can also have them cropped just above the ankle. The best option for taller people is the wide-legged, as it accentuates the silhouette.
When worn in black, it further sculpts the figure. However, people with hourglass figures will benefit from stretchy and high-waisted cropped-cut jeans as these will show off their waistline while giving structure to their shape.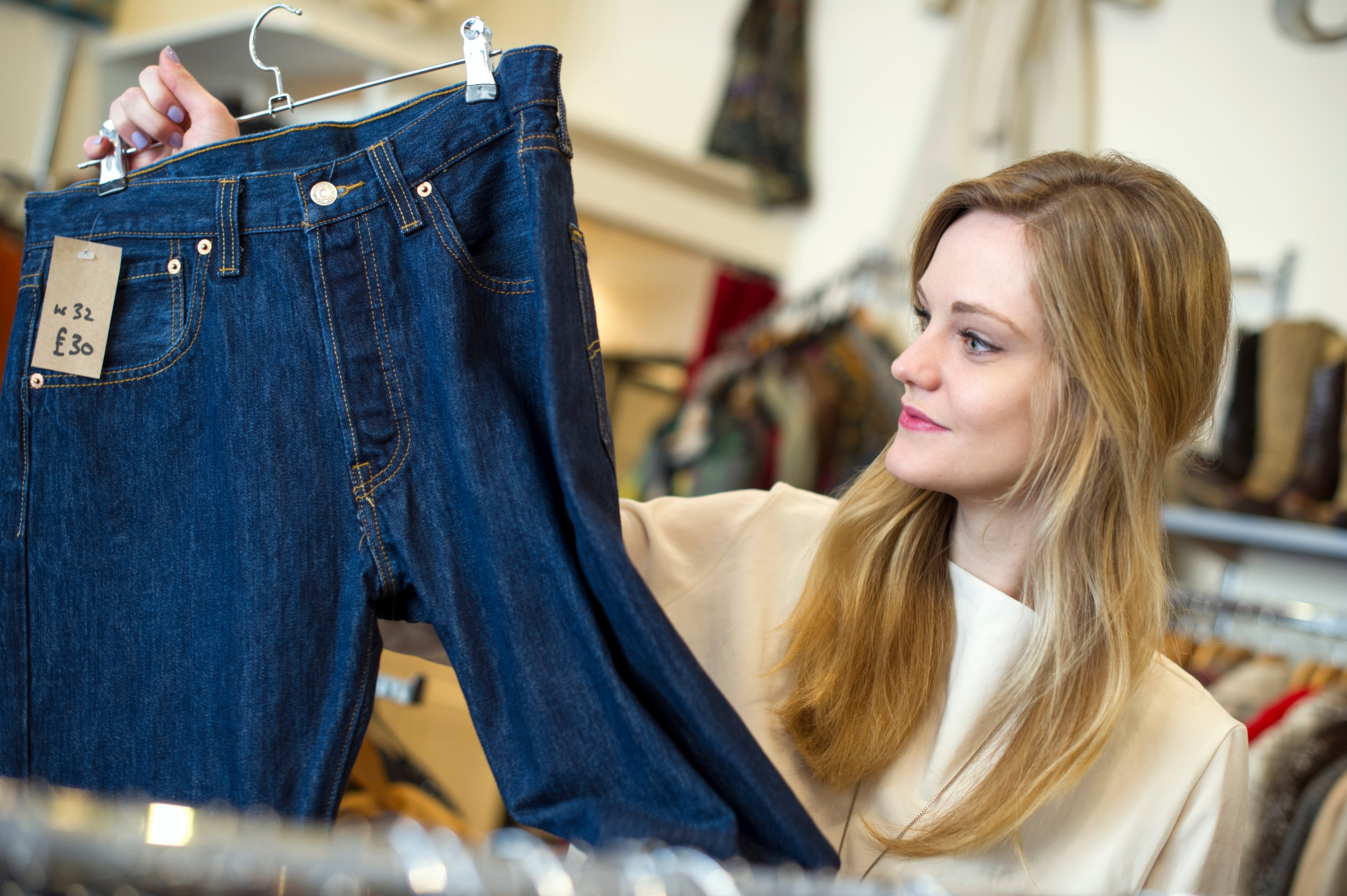 A woman shopping for jeans | Source: Getty Images
Straight-cut vintage-styled jeans with a mid-rise are perfect for those with boyish figures. They can also wear high-waisted jeans for a voluptuous silhouette.
Skinny jeans or straight-cut jeans are ideal for people with rounded hips. The skinny jeans will enhance their hips, while the straight cut with a mid-rise will hide them. These styling tips will be handy if you prefer corduroy pants over denim.