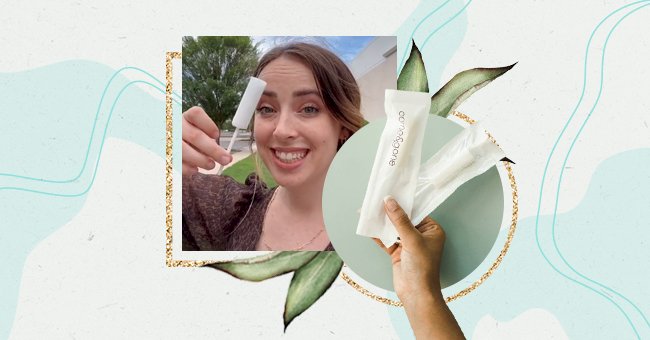 Dripstick: What Is The Post-Sex Cleanup Sponge From Tiktok?
A viral TikTok video of someone explaining the nifty post-coital tool as "a cum sponge, on a stick" has people intrigued but also asking some questions.
Let's face it; sex can get messy, emotionally and physically. After a tumble in the sheets, there's often some cleanup to be done.
Well, it turns out there's a new company called Awkward Essentials that's making waves on TikTok with a nifty tool you insert into your vagina after sex and then give it a whirl around to absorb the extra semen.
Awkward Essentials' Dripstick
The medical-grade sponge looks almost like a tampon on a little stick but is designed to absorb those thick liquids significantly faster. The basic function of the Dripstick is after-sex cleanup and eliminate the risk of further mess and dripping during your post-intimacy journey to the bathroom.
The person in the video explains "You put it in and give it a little spin, or don't, they add, "Pull it out, and it soaks up all the semen that is left in the vaginal canal."
The video on the popular video streaming platform has garnered over 14 million views and north of 2 million likes in the few weeks that it's been up.
Reactions To The Dripstick
But knowing that sex requires cleaning up, there hasn't been a mainstream product dedicated to addressing this. But Frances Tang, the company's founder, saw to meet the challenge, creating a solution for people with vaginas.
The initial reaction to this product might include a lot of questions. Essentially you might wonder if it's really necessary, as many of the commenters on social media?
On the other hand, reviewers on the brand's website have had an overwhelmingly positive view of the product, praising it for its convenience and efficacy.
Do You Need A Dripstick?
The brand has made it clear that the Dripstick is by no means a form of contraceptive. It is purely to clear semen from the vaginal canal after the fact.
Furthermore, "Vice" spoke to Dr. Sherry Ross, a women's health expert, in their opinion. They shared that essentially, the choice is yours.
"Using the Dripstick would seem to be a personal choice. If the after fluids of sex is a problem or disruption for you, using the Dripstick could be a useful solution."

Ross said.
The Dripstick is available in a box of 10 disposable Dripsticks ($15) from the Awkward Essentials online store. For the curious but not yet converted, Awkward Essentials sells sample packs for just ($4.)