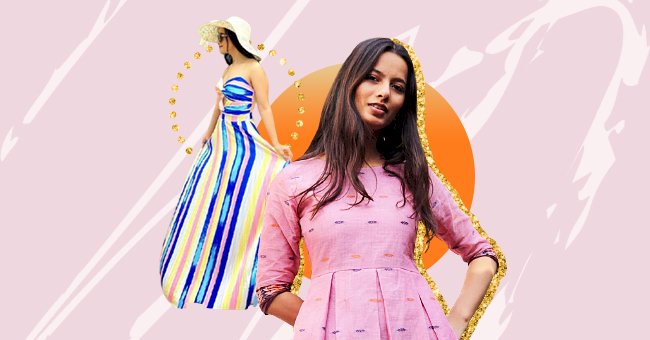 Exploring Different Dress Cuts
Liking the new dress on the block but not sure about its cut and style? This happens to many of us, but you don't have to worry about forgetting those pretty peplum, maxi, and strapless dresses anymore with our comprehensive dress style guide.
"Shop till you drop" has encouraged all of us to stack our wardrobes with every dress that catches our attention. Sometimes, we see a gorgeous attire in a movie or TV show, but the moment we get down to searching for that particular piece, we have no idea what to look for.
Buying the same old dresses in different color palettes isn't always fun, so it's best to get some know-how on the latest trends and styles. Let's explore some of the most signature dress cuts in our fashion guide, so your closet can make room for all things new and chic.
1.Black & Bold
An asymmetrical dress will highlight your silhouette and let your curves do all the talking while you walk the walk.
2.Stunning In White
Channel your inner diva and make your special day memorable with an off-shoulder stunning ball gown.
3.Bedazzling Peach
Charm the crowd with this one-shoulder bedazzling short body dress that speaks "sensual" like nothing else.
4.Pretty In Pink
Add this pink pleated saree dress to your spring/summer wardrobe and rock your elegant style like never before.
5.Smart & Sultry
Maxi dresses have a unique vibe and can be worn in a variety of styles. We love beach-inspired clothing that looks both comfy and chic.
6.Modest In Blue
Modest clothing lovers will love this brilliant navy blue peplum dress paired with a nude headscarf. So much for balancing elegance and style.
7.Evergreen
With this beautiful green and white printed sundress, you can welcome the upcoming season with a renewed fashion spirit.
8.Smoking Hot
You can never go wrong with a classic strapless bandeau-style dress. Highlight your feminine curves and stop hearts with this attractive choice.
9.Casual & Chic
When all goes down, save the day with an oversized short shirt and some knee-high black boots to go along.