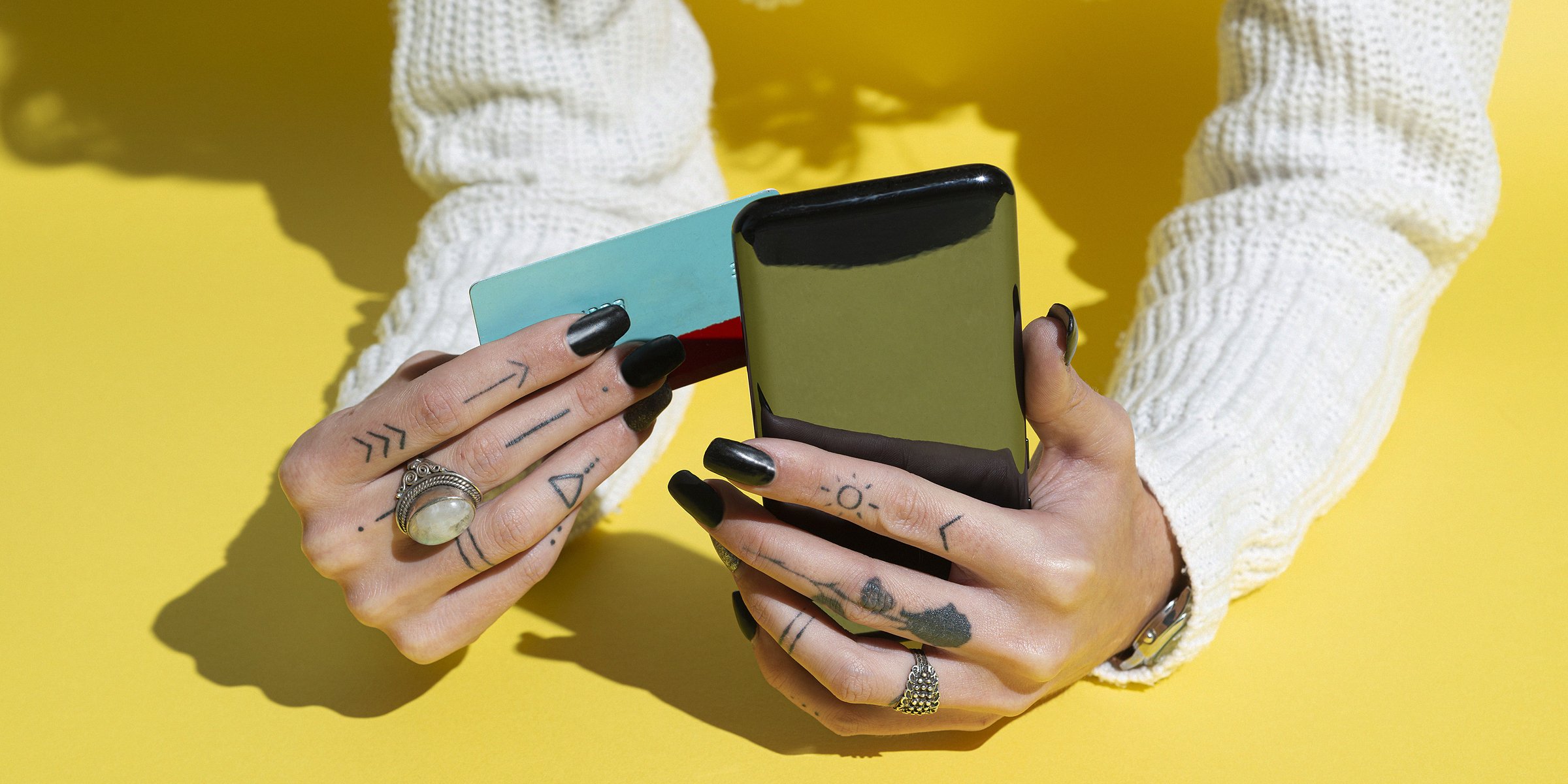 A Close-up Photo of a Woman with Hand Tattoos | Source: Getty Images
Hand Tattoo Ideas & What to Expect before and after the Procedure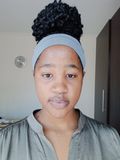 While inked hands are a sure way to make bold personality statements, the designs can also have more profound and spiritual meanings depending on their inspiration source. For various reasons, however, they're the most painful to get done.
Hand tattoos are a beautiful way to adorn the body, as their placement is on one part of the body that's rarely covered. Though the wiggle room on the hand may seem relatively small, there are plenty of creative ways to complement its anatomy.
Depending on the design, hand tattoos can stretch up to the wrists or cascade down to the fingers. They can be bold, saturated in color, and eye-catching, or minimal and dainty based on one's preference.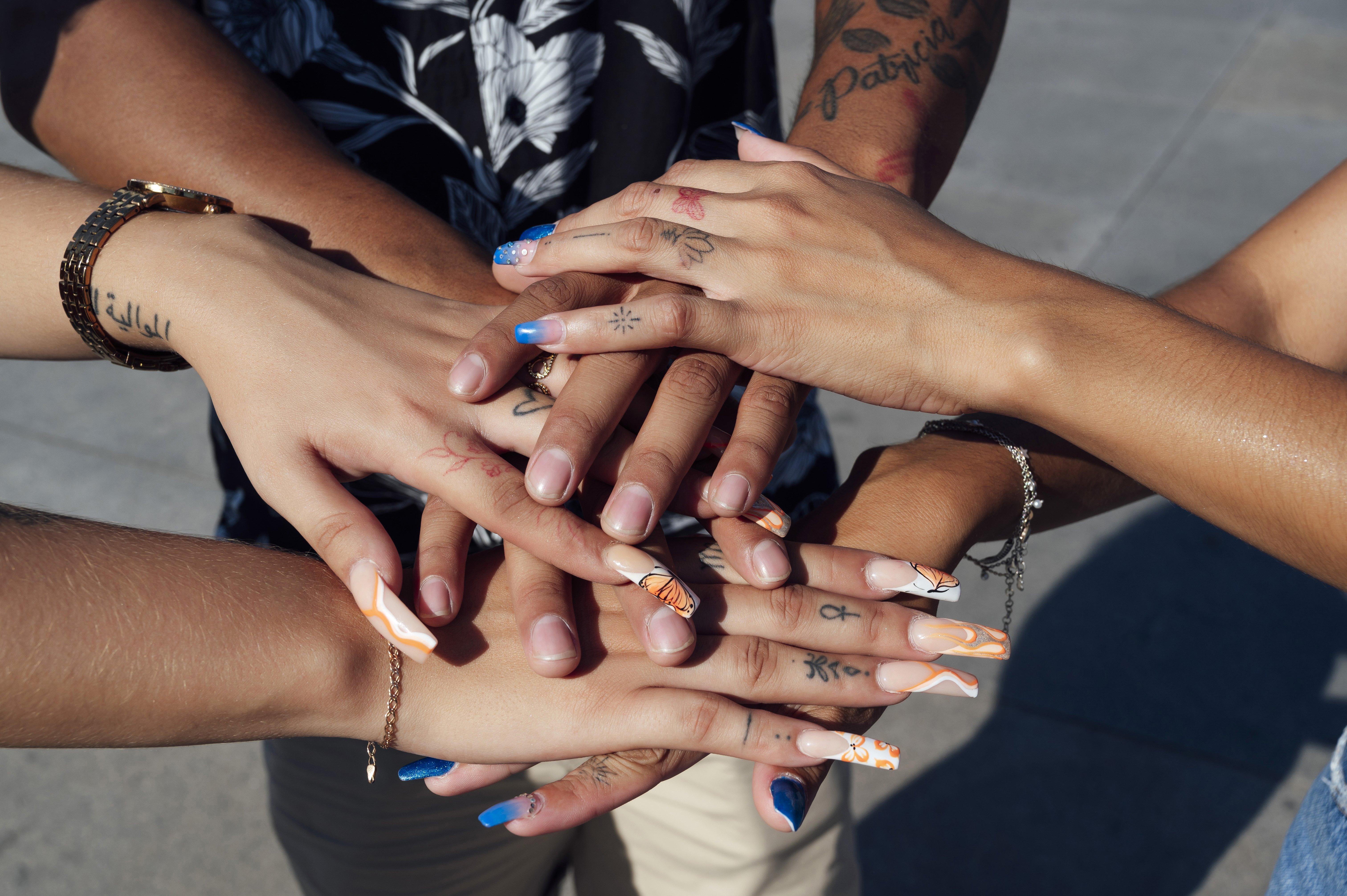 Friends are pictured stacking their hands together on a sunny day. | Source: Getty Images
And because art is versatile, inked hands can create mesmerizing visual effects that can be a conversation starter for those who enjoy socializing. However, before taking the plunge, there's much to consider when getting inked hands or fingers.
For various reasons, hand tattoos are considered the most painful, even for those already with a good amount of tattoos on their bodies. They are also likely to fade quicker since they are constantly exposed to all the elements and other substances.
Hand tattoos also require much consideration regarding one's profession and the general public perception of such body adornment. Still, there are ways to deal with the cons of hand tattoos, and this article will provide a few guides and some cool ideas for designs.
Hand Tattoo Ideas
A common floral design for hands is the rose (or the marigold), which can look pleasing to the eye anywhere on the hand's structure. A unique placement for a rose, whether in black-and-white or in color, is right above the thumb. It can be minimal and dainty or even have some light shading.
Another idea would be to choose any desired artwork, such as geometric patterns, and place it on the back of the hand, ensuring it takes up enough space to stand out. Experts recommend choosing circular lines that disrupt the hand's natural shape for a pleasing visual effect.
Hand tattoo artwork can also span over both hands, creating a symmetrical design that's only complete when the hands are brought together. Alternatively, one can go for a minimal design that takes a fraction of hand space, such as a significant date, either on the back of the hand or the palm.
Sticking to thin and dotted lines can allow for more intricate designs similar to geometric patterns. One can also go for designs that give the illusion of movement, thereby complimenting the hand's natural gestures, or vine tattoos that cascade from the wrists down to the fingers.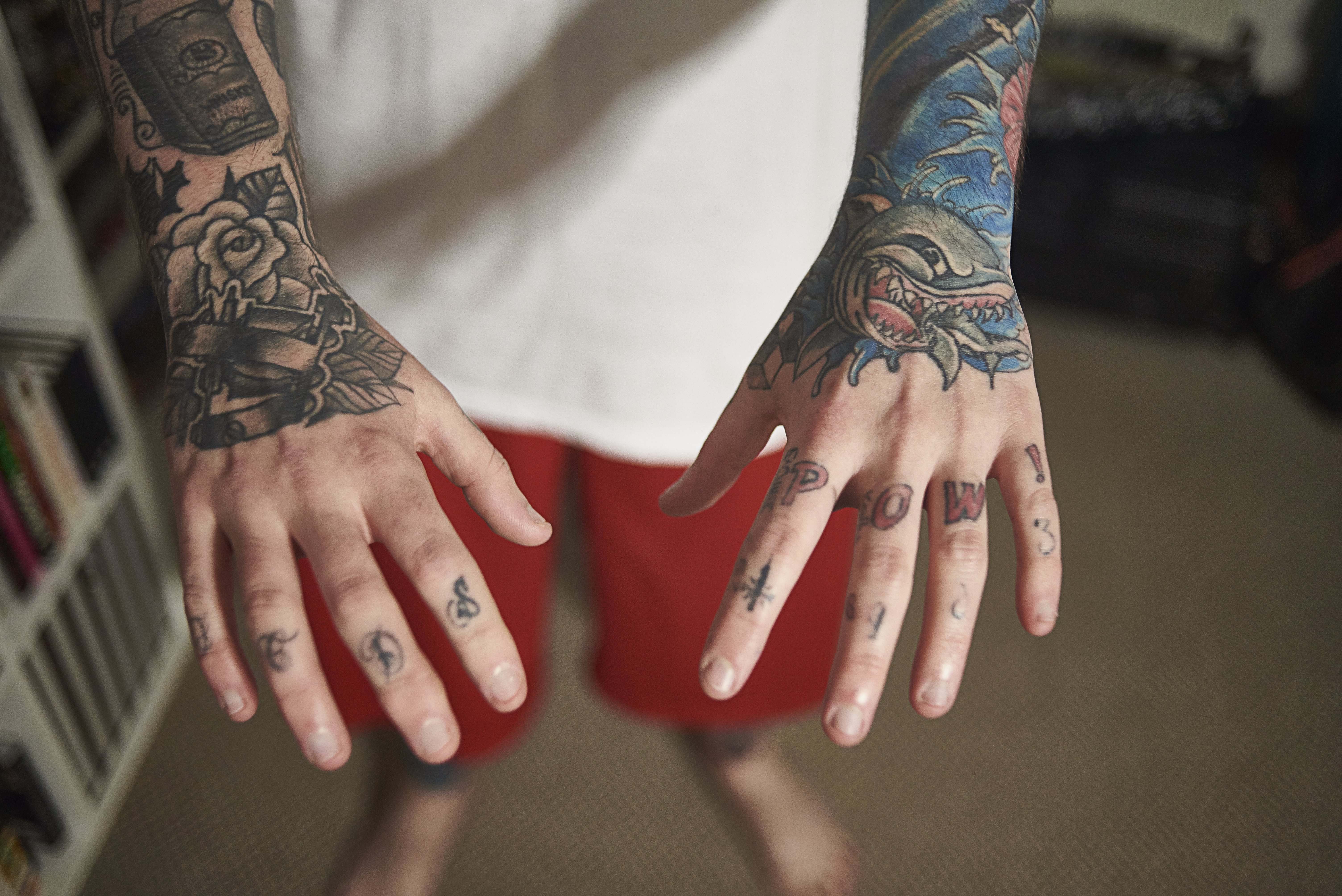 A close up image of a tattoo enthusiast holding out his hands to show the art work he has on his hands. | Source: Getty Images
Now looking specifically at the fingers, the wiggle room is smaller, but one can still get creative. Inner finger placement designs can range from childhood nicknames to singular floral designs. Other placements, such as the hand's outer and inner edges, can be adorned with small animal artwork like the snake.
For more spiritual and profound hand tattoos, one can source inspiration from henna. Henna, also known in India as "mehndi," is a form of body adornment usually done during Arabic or Indian traditional ceremonies, including weddings, engagements, and Diwali.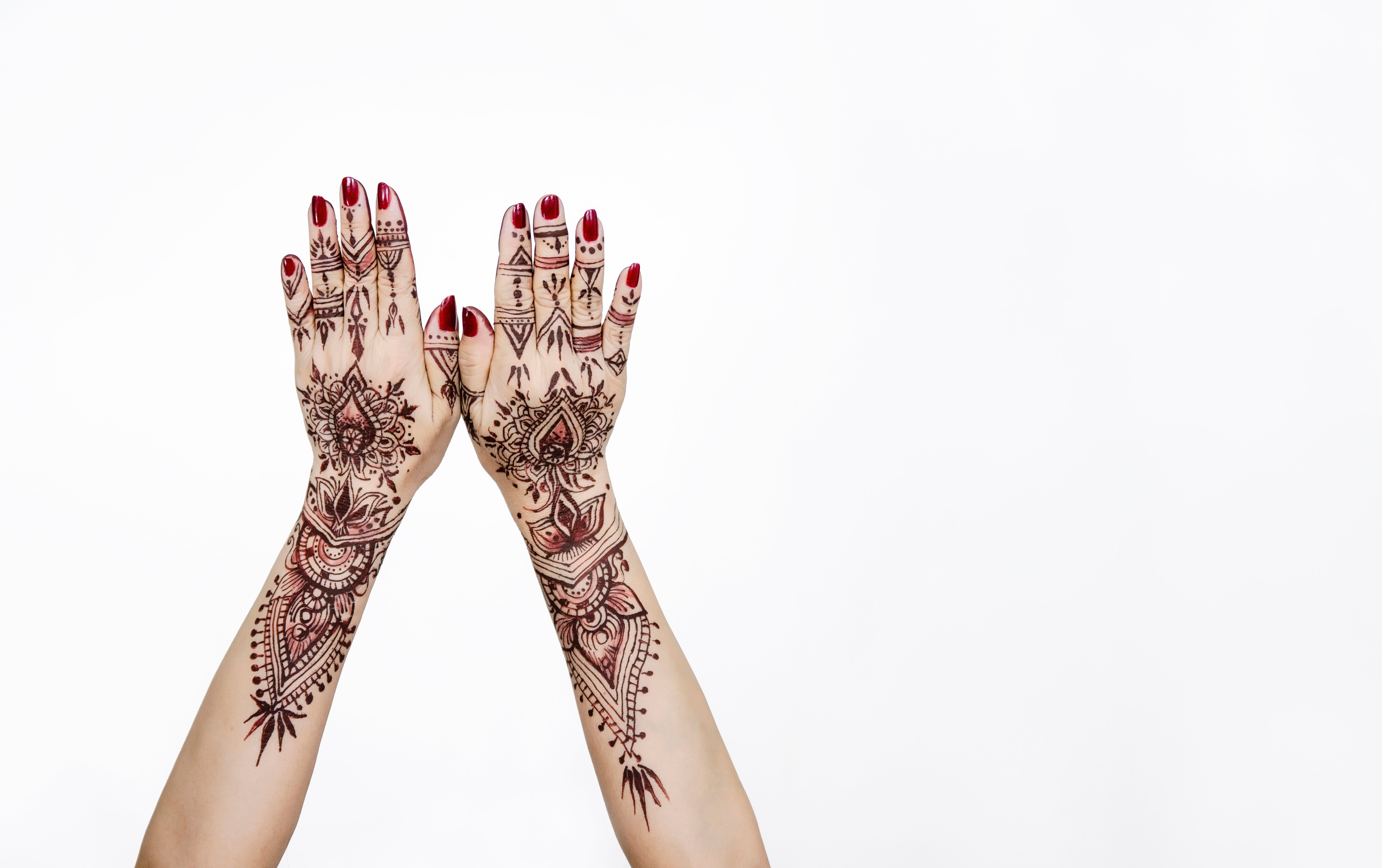 A close-up image of a woman's hands with henna tattoos against a white background. | Source: Getty Images
Its origins date back at least five millennia, and it can be applied anywhere on the body; however, certain parts hold more significance than others.
Some henna designs include the peacock, the Indian national bird. Its wings are thought to bring prosperity, and it is believed to represent the link between heaven and earth.
Insects such as dragonflies and butterflies, as well as the lotus flower, represent rebirth and new beginnings and can be incorporated into a design.
Pain during Tattooing on Hands
Hands are considered the most painful body parts to tattoo because they're bony, have a higher concentration of pain receptors, and are covered by a thin layer of skin. However, the pain level can also vary depending on the design's size, exact placement, and detail.
Experts have observed that the closer the design is to the knuckles, the more painful the procedure of getting inked. Another factor that adds to the pain is that artists usually need to go over the design a few times to ensure the ink penetrates well into the skin, which will elongate the process and the agony.
Negative Aspects of Hand Tattoos
Hand tattoos are generally frowned upon, as the public may draw harsh conclusions about the people who bare them. However, getting a hand tattoo may not be a bad idea if one is prepared to deal with those unsolicited judgments.
It's also essential to carefully consider age and career trajectory, as hand tattoos are highly likely to affect job opportunities. Hand tattoos are typically not tolerated in conservative workspaces or professions, such as teaching, law enforcement, or banking.
Still, some jobs allow room for this kind of creative expression. Hand tattoos also fade faster than tattoos on other locations, and need frequent upkeep, so one's financial standing is also essential to consider.
And in addition to these cons, hand tattoos can pose dermatological health risks, just like glow-in-the-dark tattoos. These include allergic reactions to tattoo dyes such as red and yellow, skin infections, keloids, bloodborne diseases from contaminated equipment, and even MRI complications.
Healing & Care of Hand Tattoos
Despite the negative aspects already spelled out above, taking good care of a hand tattoo and doing proper research on the studio, the chosen artist, the risks, and the cost before getting it done can make it all worth it.
The artist will provide their client with aftercare instructions after the procedure, which will include washing the fresh tattoo at least three times a day using non-fragrant pump soap, keeping it moisturized with non-fragrant cream or lotion to abate the itching, and protecting it with sunscreen.