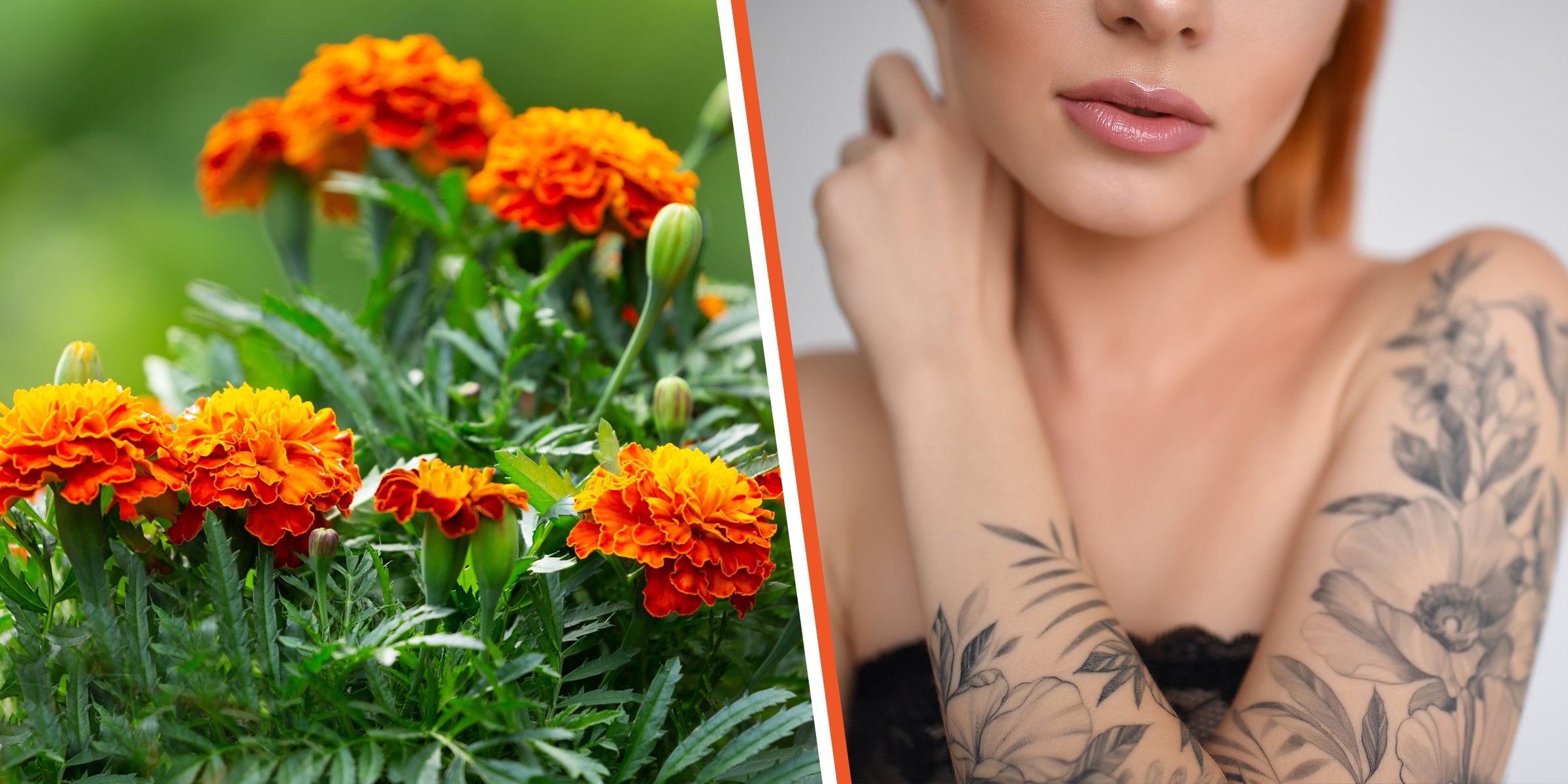 Marigolds and woman with marigold flower tattoos. | Source: Shutterstock
Marigold Flower Tattoos and the Historical Meaning behind Them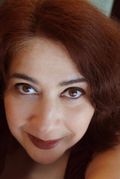 Many flaunt marigold tattoos but often don't know the history and the meaning behind the design they've chosen. Marigolds carry a special significance in many parts of the world.
Tattoos have become incredibly popular, and everyone is getting them. It has become a rite of passage for the young and a sign that they're still relevant to the older generation. Everyone, from the famous to the infamous and the unknown, is sporting ink -- but those tats may have meanings people are unaware of.
Tattoos have been part of human culture for thousands of years. Usually acquired in rituals and rites of passage, the tattoos became a road map to the person's life; each design had a meaning and told a part of their story.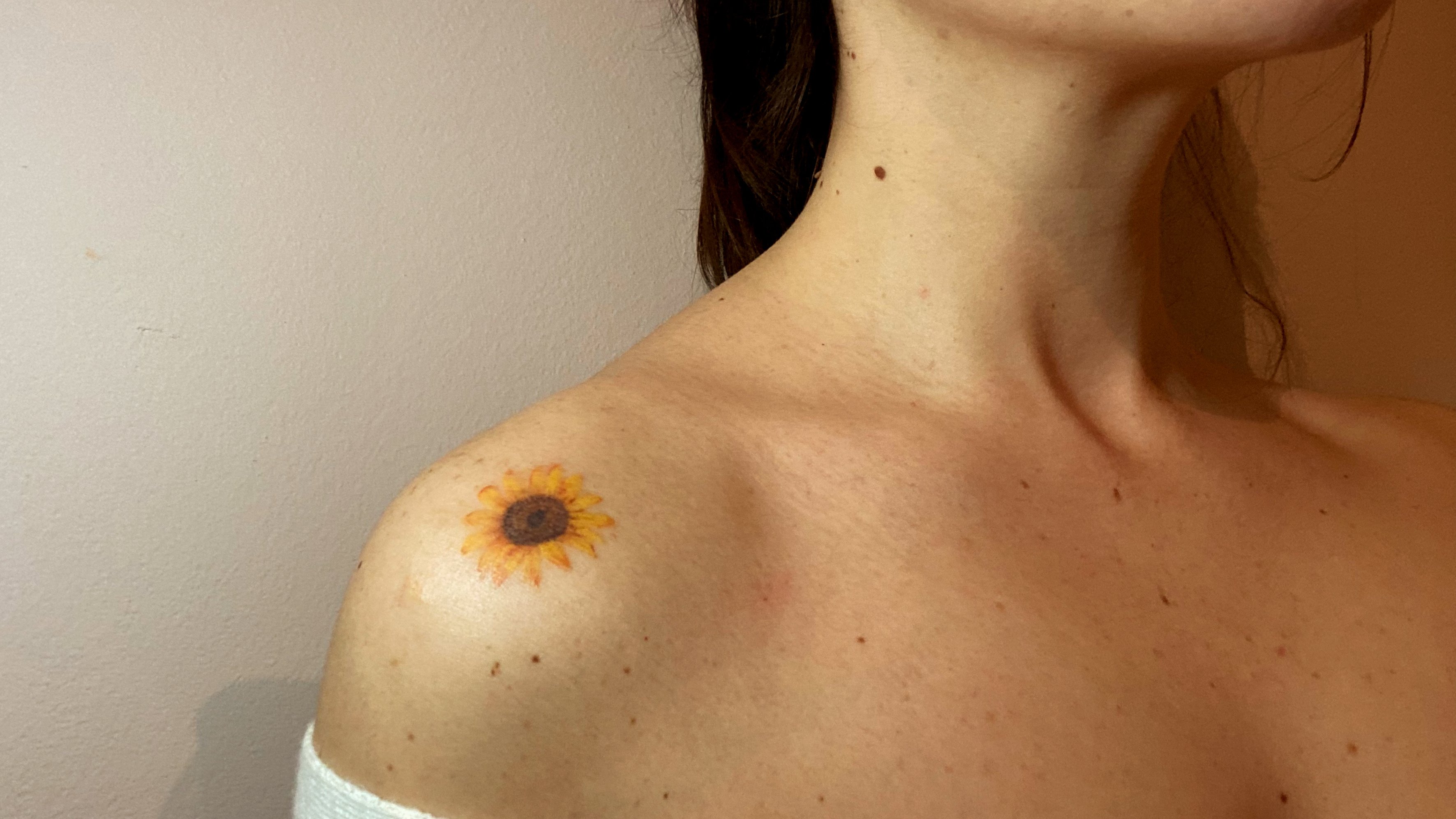 Woman with a flower tattoo on her shoulder. | Source: Getty Images
Today people go to a tattoo parlor and choose designs because they catch their eye, often unaware of the underlying meaning. One of these popular designs is the marigold.
Marigolds, with their vibrant, lively colors and fringed petals, have particular significance in several cultures around the globe. The marigold is indigenous to Central America and was considered sacred by pre-Columbian civilizations like the Aztecs and the Mayas.
The Day of the Dead is still celebrated in Mexico, with altars covered in marigolds. The flowers' scent is believed to guide the souls of the beloved departed to the memorial altars set up by the families.
No matter what marigold best suits you, getting a tattoo involves a lot of decision-making.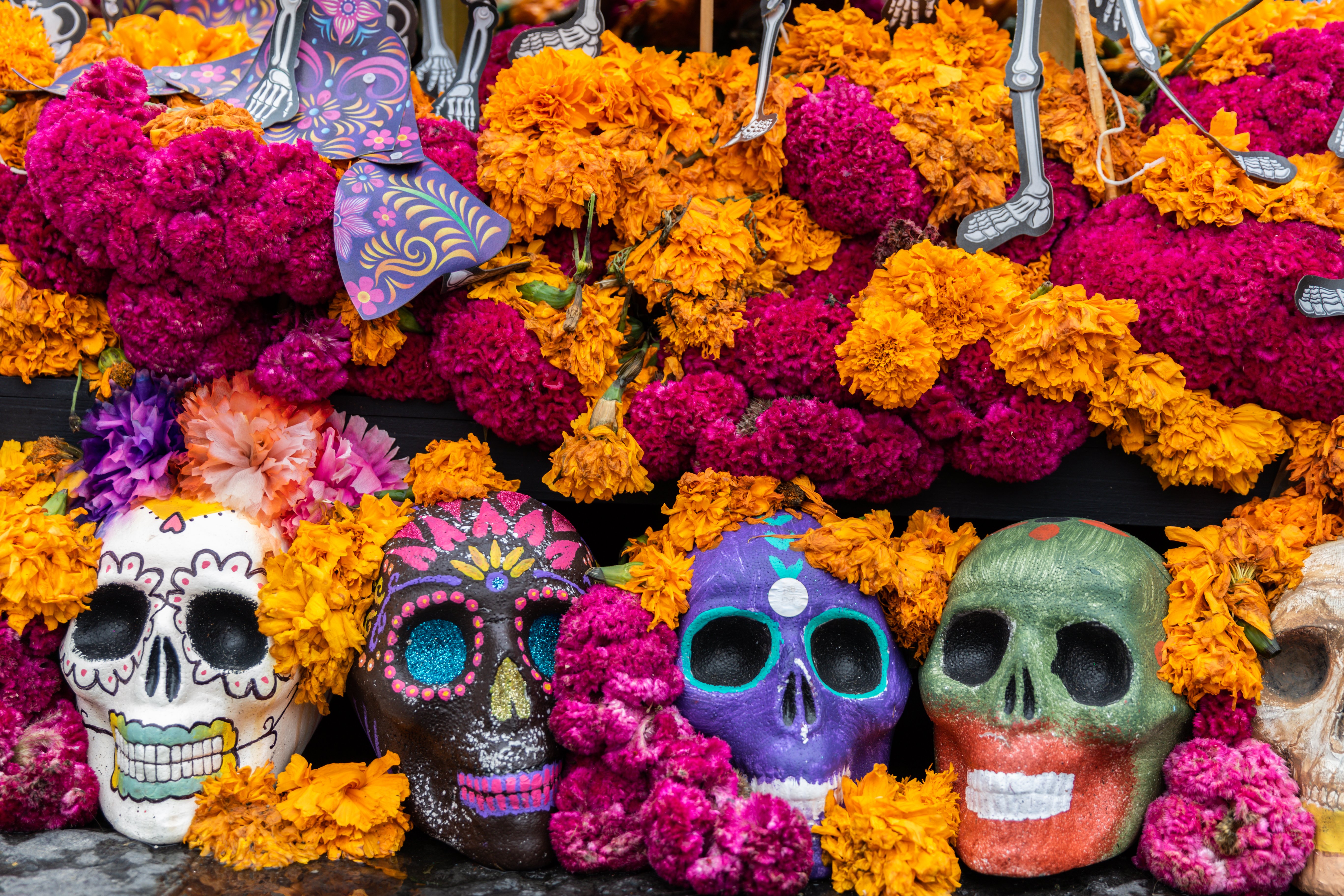 Marigold flowers and skulls in Day of the Dead celebrations altar decorations in Mexico City. | Source: Getty Images
Introduced into India by the Portuguese in the 16th century, marigolds became an instant favorite and are the flowers of choice to symbolize joy at weddings. From an offering to the dead to celebrating a wedding, these are just two of the meanings that can be attached to the marigold, mainly when it is applied in the form of a tattoo,
Marigold Tattoos: The Meaning in Different Cultures
In India, the marigold represents joy, happiness, and good luck, or they can also indicate their opposites: cruelty, grief, and jealousy. The flower representing optimism can also symbolize obsession, depending on the color.
The sunny yellow marigold is about belief in the future and good energies. Red is for love, orange is for passion, and color combinations add layers of meaning. When choosing a marigold tattoo, it is imperative to consider every nuance.
A marigold with a skull may look stylish, or a marigold with a serpent -- but the message behind those tattoos may not be as charming. Things get even more complicated when you consider the different species of marigolds, and there are over 50 of those.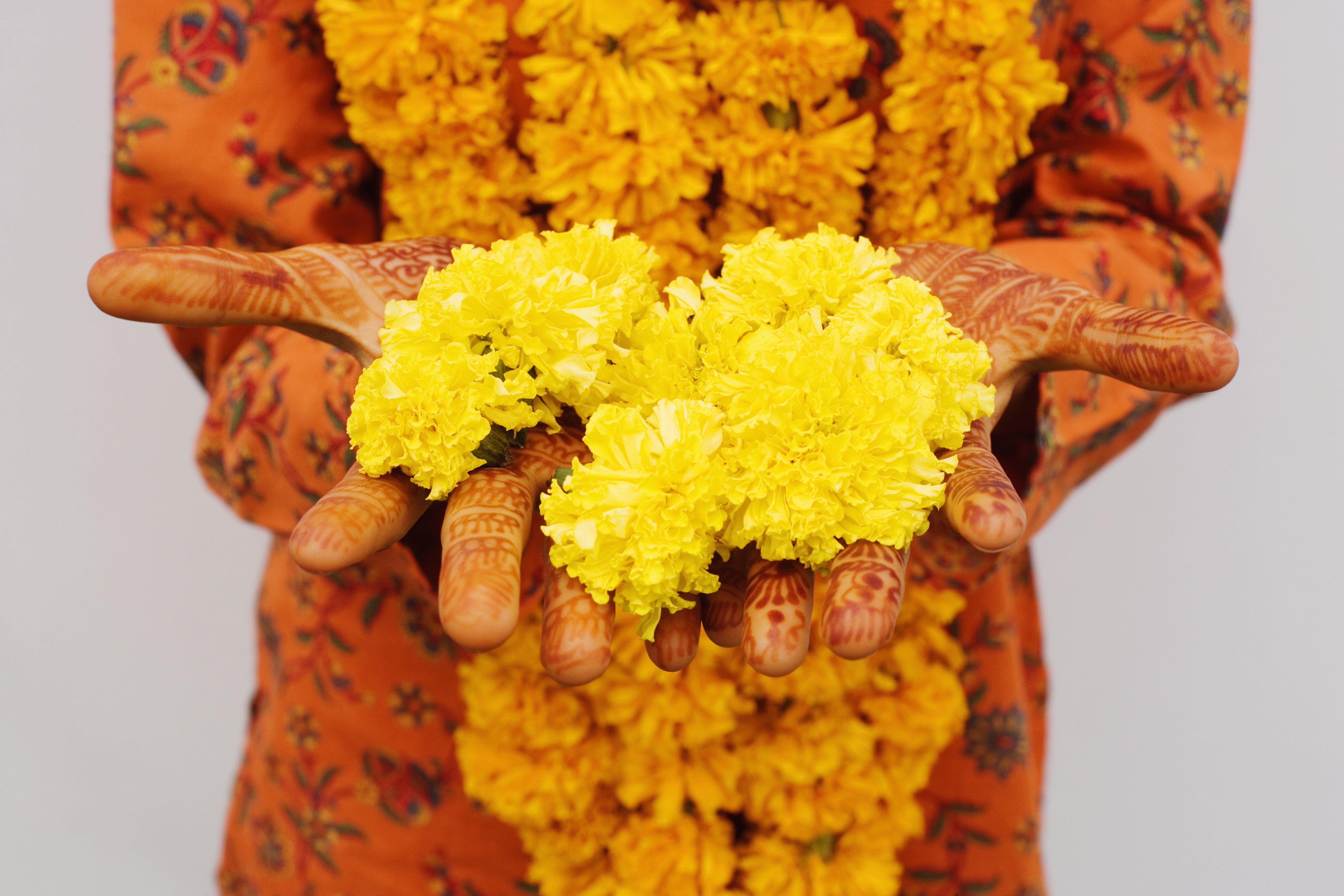 Woman holding marigolds. | Source: Getty Images
Marigold Flower Tattoos Communicate Positivity, Experts Say
Despite all the nuances, experts seem to agree that if you are attracted to marigold tattoos, you are a person with an upbeat, optimistic outlook on life. Others opine that people who choose marigold designs are hard-working and pragmatic.
Marigolds indicate a desire for wealth and success, a warm disposition, and strong values. Creative people are also likely to choose marigolds, as are kindhearted and emphatic ones. The type of marigold chosen can also help to define the person's character.
A French Marigold Tattoo indicates creativity, passion, and psychic abilities; a Signet Marigold Tattoo can indicate a passionate nature and an interest in the arts, and a Southern Cone Marigold Tattoo suggests a loving and generous heart.
A Pot Marigold Tattoo is appropriate for volatile creative people with a lot of energy, but it can also hint at a passionate nature. A Snake and Marigold Tattoo is more ominous. It speaks to the dual nature of man and the end reward: Heaven or Hell.
Another Flower Tattoo Idea
No matter what marigold best suits you, getting a tattoo involves a lot of decision-making and shouldn't be taken lightly. It will be with you for the rest of your life and requires appropriate care, such as applying sunblock to prevent ink fading.
For those who want something a little different, an alternative to traditional tattooing is particularly appropriate to flower themes: The watercolor tattoo. Unlike traditional tattoos, watercolor tattoos don't have black outlines; it uses tones and colors to give depth and definition.
Watercolor tattoos are more like artistic illustrations than the cartoonish look of traditional tattoos. Tattoo artist Bryan Gutierrez explained:
"Some artists are more expressive with their work, adding brush strokes and color splashes and sketchy lines. Others do a more refined look, using more pastel and muted-down colors."
Whichever type of tattoo you choose, and whatever marigold you like, it will add color, warmth, and happiness to your life.