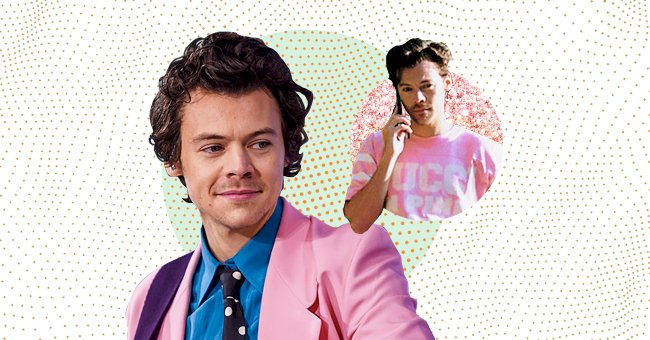 Harry Styles Makes Appearance In Gucci's Latest Lookbook
Harry Styles, Billie Eilish, Arlo Parks, and Gucci's other friends make an appearance in the brand's latest collection in the fashion film, 'Ouverture of Something That Never Ended.'
In "Ouverture of Something That Never Ended," directed by Gus Van Sant and Alessandro Michele, big named Gucci friends make an appearance wearing clothing from the brand's latest collection.
Gucci's weeklong streaming event comes with plenty of celebrity appearances. On Wednesday, audiences received the third episode in the seven seven-part miniseries featuring a very good friend of the brand, Harry Styles.
Harry Styles Makes His Appearance
Styles appears in episode three of the series. The singer and other good friends of Gucci are outfitted in a pair of jorts, classic horsebit loafers, crisp white socks, and a light pink T-shirt with the text "Gucci Loves Pink Eschatology 1921."
In the episode, the main character Silvia (Silvia Calderoni) is in a Roman post office, where Italian art critic Achille Bonito Olivia is also waiting on the line talking to Harry on the phone.
Other Appearances
According to Vogue, in episode five, Billie Eilish appears in a look that nods to Michele's numerology obsession. Her hoodie features both the number twenty-five, which is supposedly the designer's lucky number, and 1921, the year Gucci was founded. She has also contributed soundtracks for several episodes.
Other appearances from longtime Gucci muse Florence Welch stars in episode six wearing a ruffled maxi dress. And in the final episode, episode seven, Chinese musician Lu Han is dressed in the brand's pale pink button-down.
"Ouverture of Something That Never Ended"
Essentially the mini-series follows a day in the life of Ms. Calderoni, a performer who erases the whole concept of gender. The series follows her in her apartment and where the audience meets her random assortment of well dress roommates. The film then takes the audience on a journey with Ms. Calderoni through her journeys in Rome.
We take a journey to a cafe, a post office, a dance rehearsal of the Sasha Waltz troupe, vintage shopping, and an evening visit with a friend.
Other Designers
A few designers created some genuinely stand-out pieces. Mowalola Ogunlesi, the Nigerian-British designer who is also the creative director of Kanye West's Gap collection. Also, Bianca Saunders teamed up with the filmmaker Akinola Davies Jr. to create a short based on the 1978 Hans Eijkelboom work "The Ideal Man".
Despite some critical opinions on the main showing "Ouverture of Something That Never Ended" the works from the handpicked up and coming artists proved to be worth the watch.
GucciFest
Of course, we haven't had much opportunity to visit a film festival or a fashion show with the pandemic. But then came Gucci with the promise of a very interesting marriage between the two.
Gucci announced it's week-long mini-film festival called GucciFest. The festival features fifteen short films from emerging designers around the world, produced by Gucci.