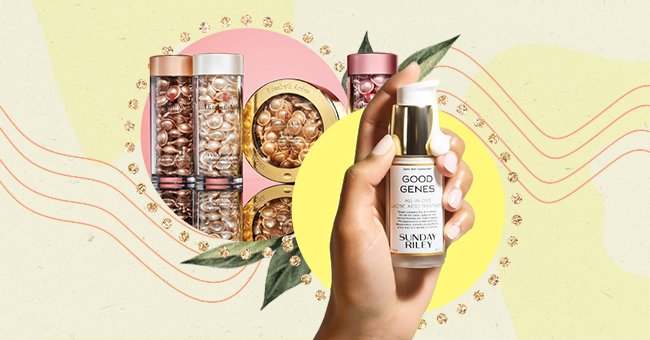 Our Pick: The Best Serums For Oily & Acne-Prone Skin
Oily skin woes can worsen in the hot summer months, leading to acne and breakouts. However, choosing the right products to combat excess oil without over-drying your skin can be tricky. And that's where we come to the rescue.
Believe it or not, the hot and humid weather can take a toll on your skin. When the temperatures rise, our skin tends to produce more sebum, which results in clogged pores and excess oil. This is why we should use hydrating and lightweight products during summer.
While a moisturizer may feel too heavy on your skin, a face serum can address your specific concerns. People with oily or acne-prone skin should use water-based serums packed with hyaluronic acid, salicylic acid, and vitamin C. Keep scrolling to find the right one for yourself.
Sunday Riley Good Genes All-In-One Lactic Acid Treatment
Price: $85
Sunday Riley's cult-favorite serum is packed with the goodness of lactic acid. It gently exfoliates the skin to remove excess oil and reduce the appearance of dark spots.
Furthermore, it clarifies the skin, making it smooth and glowy.
Elizabeth Arden Retinol Ceramide Capsules Line Erasing Night Serum
Price: $107
If you suffer from acne and breakouts, chances are you're also tired of acne scars. So to reduce the dark spots and scarring effects on your skin, try Elizabeth Arden's Retinol Ceramide Capsules Line Erasing Night Serum.
This innovative formula helps stimulate cell repair, delivering anti-aging benefits to the skin. Finally, ceramide strengthens the skin's protective barrier and provides a soothing effect.
Klur Stellar Restoration Corrective Complex
Price: $98
Klur Stellar Restoration Corrective Complex is designed to restore and correct lackluster skin. It is packed with powerful ingredients like vitamins A, C, and B, which clarify, calm, and boost the skin's healthy glow.
Paula's Choice Resist Ultra-Light Antioxidant Serum
Price: $9
Paula's Choice Resist Ultra-Light Antioxidant Serum is powered by hyaluronic acid and vitamins. This lightweight, hydrating serum unclogs pores and clarifies the skin, making it smooth and firm.
Moreover, it also draws moisture towards the skin, thus strengthening its natural barrier layer. As a result, your skin will feel soft, healthy, and youthful.
Vintner's Daughter Active Botanical Serum
Price: $185
While it may break your bank, its transformative performance can do wonders for your skin. This powerful serum contains botanical and essential oils which reduce sebum production and acne scars.
The Ordinary Niacinamide 10% + Zinc 1%
Price: $6
The Ordinary is a revolutionary skincare brand touted for its innovative ingredients. This potent serum contains niacinamide (vitamin B3) and zinc. These powerful ingredients reduce sebum levels and blemishes and help correct the skin tone.