Our Pick: Top 10 Vibrators For Beginners
There is no such thing as a vibrator for all. As you begin your sexual self-care, you may be browsing for an upgrade from your 'free' self-care to vibrators. Vibrators can seriously upgrade your experience; however, you have to find what works for you like most things in the world. And if you are a beginner, there are a few things to consider.
There are internal and external vibrators. The internal will pleasure the G-spot, whereas the external vibrators massage the clit and labia. Moreover, there is a combination of the two (rabbit-style) which give pleasure simultaneously. Another one is the anal vibrators (they flare so that nothing will get lost up there) and penis vibrators, also known as cock rings.
Next, determine what you are looking for. The sensations you need are entirely up to you to look out for the vibrator's features, such as the levels if they are cordless, waterproof, etc. However, the most important thing is your health so stay away from those that are jelly rubber toys. They are not as easy to clean as the rest and could be toxic to you. For first-timers, you are advised to use lube with your vibrator. Enough chat. Here are ten vibrators for beginners to try.
The Magic Wand
This classic was first introduced in 1968 as a personal massager. If that doesn't speak quality, we don't know what will. The Magic Wand isn't waterproof. However, it is easy to clean, cordless, and comes with four intensity levels and four patterns.
Zee
For a first-timer, a bullet vibrator with multiple settings is best because it's the least expensive. Start on the lowest setting and along the outer labia, and around the clitoral hood before cranking up the intensity. The Zee is waterproof, comes with three speeds, is cordless, and comes with a rechargeable battery.
The Cici
The Cici comes with a flexible head and is long enough to ensure you have a good grip. It also has six settings for better control. The Cici is also multi-purpose; you can use it internally or externally. However, if you do not like direct clitoral stimulation, this is perfect for you as it targets the clit from within. A bonus: it's very quiet.
Emojibator
Okay, how fun looking is this one. While you may need to change out the battery quite often, the Emojibator comes with ten settings and is petite, silky, and firm. Moreover, if you choose the lower setting, you can control the intensity of stimulation on your labia and clit. For a heightened experience, press the top of the eggplant.
Vibrating Butt Plug
For those looking for anal play, The Shimmy is a must-try. This vibrating butt plug is hands free, so if you are a beginner it takes the work out fro you. Moreover, you can use it during partnered sex. It has five speeds and patterns for more control plus it's easy to clean and lube-friendly. A bonus: you can also use it for clitoral stimulation.
First Time Fun Vibrator Starter Kit (4 Piece)
A kit is the best way to experiment. You can try many things, and if one sticks, then it's a match. Not only is this entire kit aesthetically pleasing, but it doesn't cost a mortgage, and you can try a bullet, a classic larger vibrator, a textured internal vibrator, and a small, wired egg vibrator. Make sure you are stocked up on three AA batteries, one AAA battery, and two C batteries to use accordingly.
Ignite 20 Function Finger Vibrator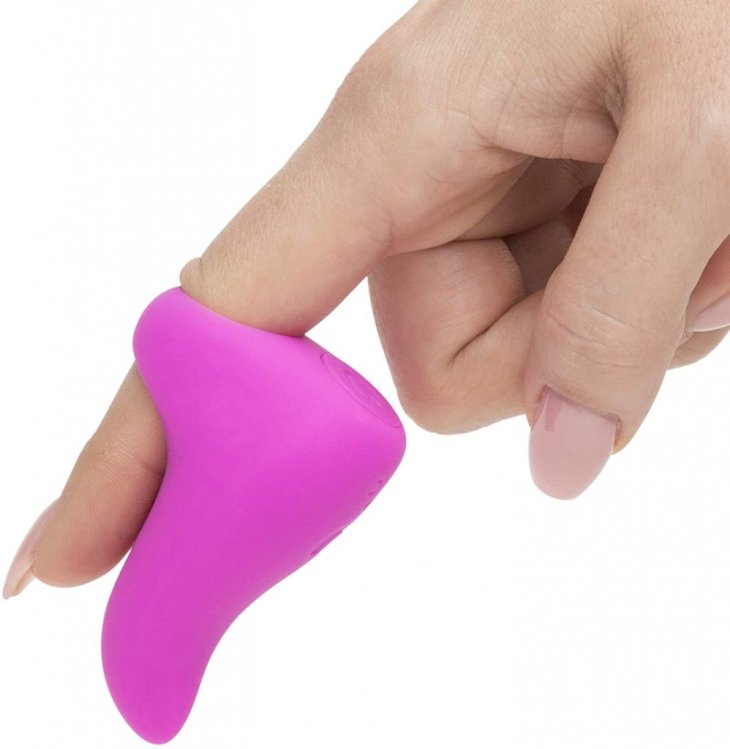 amazon.com
The Ignite 20 Function Finger Vibrator is quite simply the easiest way for you to go from no-assisted masturbation to using a vibrator. Think of it as your touch but better. Easily slip it over your finger and use it. The vibrations come in 20 modes; it is also waterproof, rechargeable, and made of silicone like most on this list.
Womanizer Classic Clitoral Stimulator
If you are looking for something closer to oral sex, this vibe is right up your alley. It comes with a seal that suctions around your clitoris and sends rumbly vibes that mimic oral sex. Moreover, it is quiet.
Sweet Treat
This fun-designed vibrator is all about treating your clitoris to a heightened experience. The 'spinnator' spins around its soft silicone to pleasure your clitoris. Pair it with water-based lube to get the most out of your experience.
Stronic Drei Thrusting Vibrator
We love easy, and this vibe does precisely that. You can experiment with the ten different patterns and play around with the intensity of the internal stimulations. Enjoy the textured ridges as it actually thrusts. It is also rechargeable.