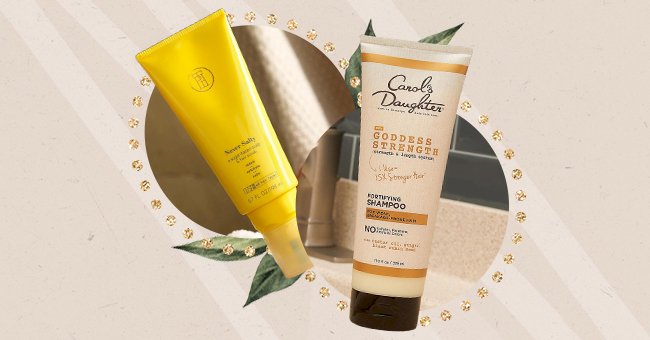 Our Pick: Top 20 Products For Natural Hair
Choosing natural hair can be overwhelming with the number of products on the market, promising to do several things and under-delivering.
Just a few years ago, getting your hands on the best products for your natural hair was a challenge. Going to the store, was most likely met with a lack of variety.
Thankfully, a lot has changed over the years, and kinky/curly hair types are being better accommodated in the hair aisle. Here are twenty products for natural hair that are worth trying out.
Carol's Daughter Fortifying Shampoo
Price: $11
This shampoo ticks all the boxes without sulfates, or parabens. It's formulated with castor oil to combat hair breakage and strengthen weak strands.
Design Essentials Almond & Avocado Moisturizing & Detangling Sulfate-Free Shampoo
Price: $12.99
Get rid of build-up on the scalp without stripping your hair of it's beneficial, naturally occuring oils. The shampoo aims to help you cut down on your detangling time by doing some of the work for you.
TPH by TARAJI Never Salty Sugar Scalp Scrub
Price: $14
Scalp care is an important yet often overlooked part of healthy hair. This sugar scalp scrub looks to optimize the conditions of your scalp by removing dead skin cells and dirt.
Dark & Lovely Protective Styles Cleansing Water
Price: $8.99
Cleaning your hair and scalp when you've got a protective style on without wearing out your hair and creating product build-up can be a challenge. This cleansing water is specifically designed to clean your hair while you wear your protective style.
SheaMoisture Cannabis & Ginseng Lush Length Conditioner
Price: $11.49
Moisture is one of the most important considerations to promote healthy hair and conditioning helps retain that moisture. This conditioner is formulated CBD-free Cannabis Sativa seed oil and ginseng to promote lush hair.
Vernon Francois Pure Fro Conditioner
Price: $18
This conditioner is formulated with eucalyptus oil which stimulates the hair follicles to promote healthy hair. The ingredients also include lavender oil and, amino acids.
Olaplex Hair Perfector No. 3
Price: $28
This is a bestseller at Sephora. The treatment works on a variety of hair types and textures to repair damage and promote strength.
Kreyol Essence Pure Haitian Black Castor Oil
Price: $28
Castor oil used in hair is notorious for its ability to promote hair growth and thickness. Apply to hair or edges to strengthen or help restore your hairline.
Flawless by Gabrielle Union Detangling Leave-In Conditioner
Price: $9.99
Detangling hair is made so much simpler when you have a product that melts away your knots with ease. This leave-in also contains coconut oil and shea butter.
Pantene Curl Defining Pudding
Price: $7.98
When you want to achieve good definition on your curls without weighing them down in heavy product. A lightweight pudding like this does the trick.
Kiehl's Olive Fruit Oil Deeply Repairative Hair Pak
Price: $32
Formulated for dry hair and can assist in preventing future damage that may occur like breakage that dryness and brittle hair may bring.
Camille Rose Algae Renew Deep Conditioner
Price: $20
A regular deep condition can help for the overall health of your hair in the long run especially. With aloe vera juice, this conditioner is also hydrating.
Maui Moisture Curl Quench + Coconut Oil Ultra-Hold Gel
Price: $8
If you're a fan of a sleek hairstyle, you know what a gel with a decent hold can do a few hours into wearing your do. But you also want a gel that doesn't flake and dry your hair out. This gel is moisture and holds in on.
Eden Bodyworks Papaya Castor Foam Hair Conditioner
Price: $9
Generously apply to damp hair reduce frizz and flyaways. It may look like a mousse, but it is in fact a leave-in conditioner.
Carol's Daughter Hair Milk Original Leave-In Moisturizer for Curls, Coils, Kinks, and Waves
Price: $9.76
A lightweight curl-defining leave-in to get your hair texture moist and popping. The leave-in is formulated to hydrate low porosity curly and kinky hair.
Camille Rose Honey Dew Liquid Moisture Refresher
Price: $13.49
Wearing your twist-outs for more than a day often results in less defined and frizzy curls in a few days. This spray will refresh your hair for a fresh look days later.
Pattern Edge Control
Price: $12
Finish off your slick hairstyle with an edge control that will swirl and hold your baby hairs in place. It has a lovely floral scent.
Maui Moisture Nourish & Moisture + Coconut Milk Weightless Oil Mist
Price: $8.99 $6.99
This mist is formulated with coconut milk, guava extracts, and mango butter. It's ideal for the tightest coils or the loose waves.
Creme of Nature Pure Honey Hydrating Color Boost Semi-Permanent Cream Hair Color
Price: $7.80
Being home during the pandemic may have made you interested in coloring your hair. For a semi-permanent change, this a hydrating dye.
Bread Beauty Hair Oil Everyday Gloss
Price: $24
Add a coat of shine to your precious tresses with this hair oil, formulated with Kakadu plum and safflower oil. You can also use it as a pre-poo.