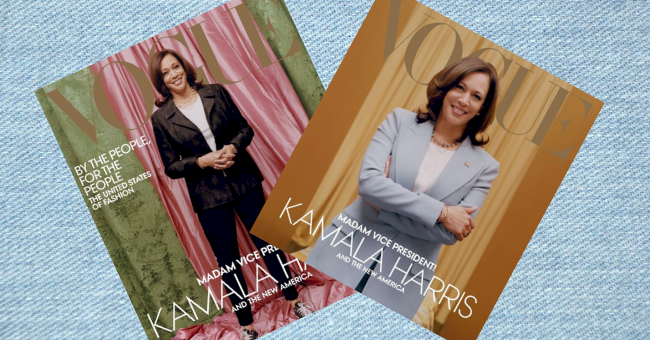 Vogue To Print Alternative Kamala Harris Cover Following Backlash
Following heavy criticism over their image choice featuring Kamala Harris, "Vogue Magazine" will be publishing a new version of their February issue.
Initially meant for the digital edition, the widely preferred image of vice president Kamala Harris in a powder blue, Michael Kors suit, and gold background will now appear on the cover of "Vogue's" February issue.
"In recognition of the enormous interest in the digital cover, and in celebration of this historic moment, we will be publishing a limited number of special edition inaugural issues."

Vogue announced on its website on Tuesday.
The Original Cover
Vogue had justified the use of pink and green colors for the backdrop as a tribute to a Harris' days at Howard University in the Alpha Kappa Alpha Sorority.
Criticism Of The Original Cover
CNN reports that playwright and lawyer Wajahat Ali described it as a "mess up," adding that Vogue editor-in-chief Anna Wintour "must really not have Black friends and colleagues."
While senior critic-at-large, Robin Givhan wrote in a "Washington Post" article that the cover did not give Harris "due respect" and "was overly familiar." These were just some of the words used to essentially express peoples' disappointment over the image choice.
Vogue's Editor Defends The Cover
This after Wintour found herself under fire a few months ago during the Black Lives Matter protests. At the time, she apologized for not making enough room for black creatives.
The Alternative Cover
When the image of Harris in the light blue suit was announced, critics and social media users felt that it was more appropriate and formal.
According to a close source, Harris' team had initially believed the blue and gold cover would appear on the print edition. CNN reports, however, that Wintour said there had been "no formal agreement."
"Special Edition #InaugurationDay Issue"
Vogue said that only a "limited quantity" of magazines would be printed with the alternative cover as a celebration of the moment.